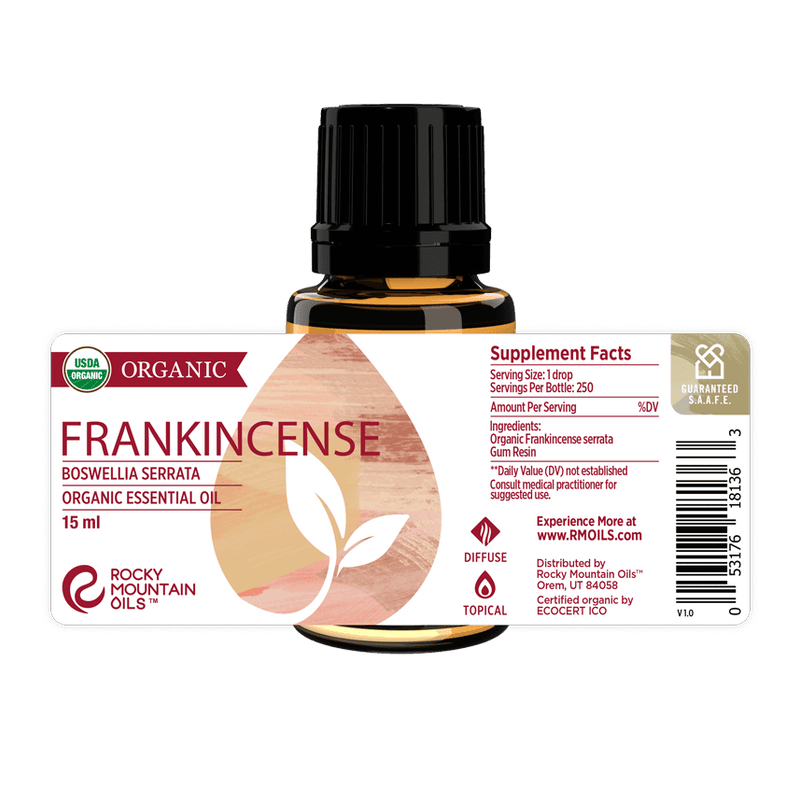 Organic Frankincense Essential Oil
GC/MS
TESTING
90 DAY
RETURNS
100% RECYCLED
PACKAGING
S.A.A.F.E
PROMISE
Originating from India, our USDA Certified Organic Frankincense Serrata Essential Oil (Boswellia serrata) has a medium warm spicy balsamic and woodsy scent. Commonly known as Olibanum, Olibanum Indicum, Olibanum Tree Oil, or Shallaki, our Organic Frankincense Serrata can help support meditation, promote emotional healing, and improve skin health.
Our Organic Frankincense Serrata Essential Oil is part of our Skin Care and Wellness collections. 
Don't know which frankincense essential oil is the best for you? Check out our This or That: Frankincense blog post to find your perfect fit!
---
The statements contained herein have not been evaluated by the Food and Drug Administration. Neither Rocky Mountain Oils nor its products are intended for the purpose of diagnosing, treating, curing or preventing any disease. If you are pregnant, nursing, taking medication, or have a medical condition, consult your physician before using these products.
Organic Frankincense Essential Oil Uses
Diffuse Organic Frankincense oil to balance emotions, promote deep relaxation, and enhance meditation.
Dilute and topically apply to face to tone and tighten skin. You can also add a couple drops of frankincense oil to your lotion to soothe dry skin and reverse aging effects.
Dilute and use frankincense oil in your favorite roll-on for easy application. Topically apply and massage into inflamed or aching areas for pain relief.
Diffuse, inhale, or topically apply frankincense essential oil to help kill bacteria and support your immune system.
Add a couple drops of frankincense essential oil to your DIY cleaner to kill germs and purify your home.
Looking for more ways to use frankincense oil? Check out our Frankincense Essential Oil Uses blog post!
Organic Frankincense Essential Oil Recipes
Frankincense Immunity Boosting Diffuser Blend
10 drops frankincense essential oil
8 drops lemon essential oil
6 drops eucalyptus radiata essential oil
Frankincense essential oil diffuser benefits: This diffuser blend can help kill germs, purify your space, and support a healthy immune system. It can also help clear up congestion and promote easier breathing.
Botanical Name: Boswellia serrata
Country of Origin: India
Extraction Method: Steam Distilled
Plant Part: Resin
Aroma: Woody, Earthy
Consistency: Thin
Non-toxic, generally non-irritating.
Click here for dilution rates.
Kids Safety: Safe to use topically with children 2 years of age and older. Dilute to a .5-2% dilution rate for topical application.
Practice safe diffusing:
- Diffuse in an open, well-ventilated area.
- Keep children out of the direct line of mist.
- Diffuse in 30-60 minute intervals with ample break periods for safe and effective use.
Your trust and confidence is very important to us. As part of our S.A.A.F.E. Promise™ to you, we provide GC/MS (Gas Chromatography / Mass Spectrometry) test results from a verified third party, independent lab for each one of our essential oil products.
GC/MS tests verify purity and quality of the oils we sell, so you can be sure you're using the highest quality oils available on the market today.
GC/MS Test: Click Here
For batch specific GC/MS test Click Here.
Organic Frankincense Essential Oil FAQ
Is frankincense essential oil safe for dogs?

Frankincense essential oil is generally considered safe for dogs when used in small doses and properly diluted. However, it is important to always consult with a veterinarian before using essential oils on your pet.

Is frankincense essential oil safe for cats?

Frankincense essential oil is generally considered safe for cats when used in small doses and properly diluted.

Are there any frankincense essential oil warnings?

Pregnancy and breastfeeding: Frankincense oil should be avoided during pregnancy and breastfeeding as it may have uterine-stimulating effects
Allergic reactions
Drug interactions: Frankincense oil may interact with certain medications, including blood thinners and immunosuppressants. If you are taking any medications, consult with your doctor before using frankincense oil.
Overuse: Overuse of frankincense oil can lead to skin irritation, headaches, and nausea. Always dilute it with a carrier oil before using it on skin, and avoid using it near the face, nose, or eyes.

Can you use frankincense oil directly on the skin?

You can, however it is recommended to dilute frankincense essential oil with a carrier oil.

Does frankincense make you sleepy?

Frankincense oil does have sedating and relaxing properties which can help you achieve a better and deeper quality of sleep. The essential oil can also help you get to sleep faster as well as help promote a healthier sleep schedule.