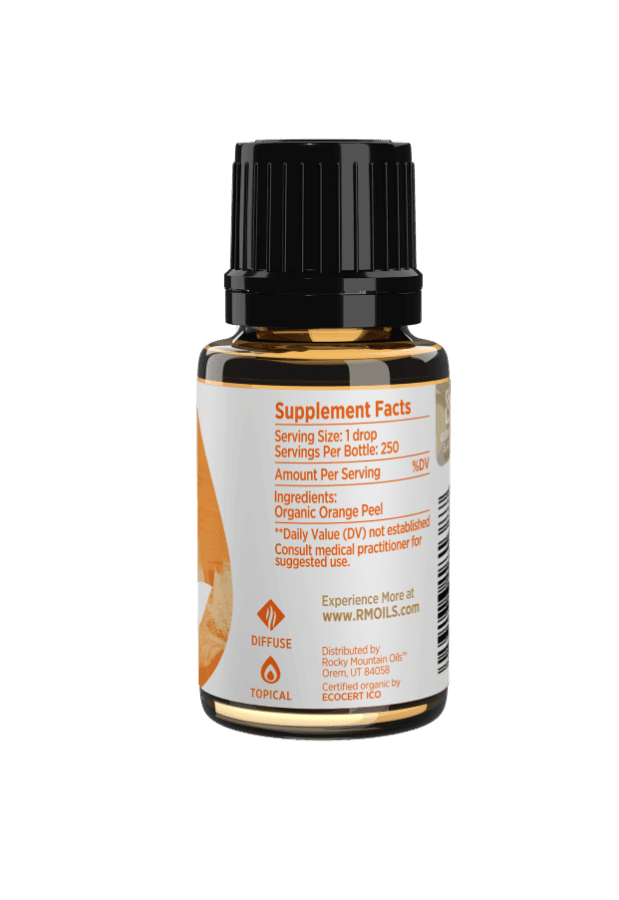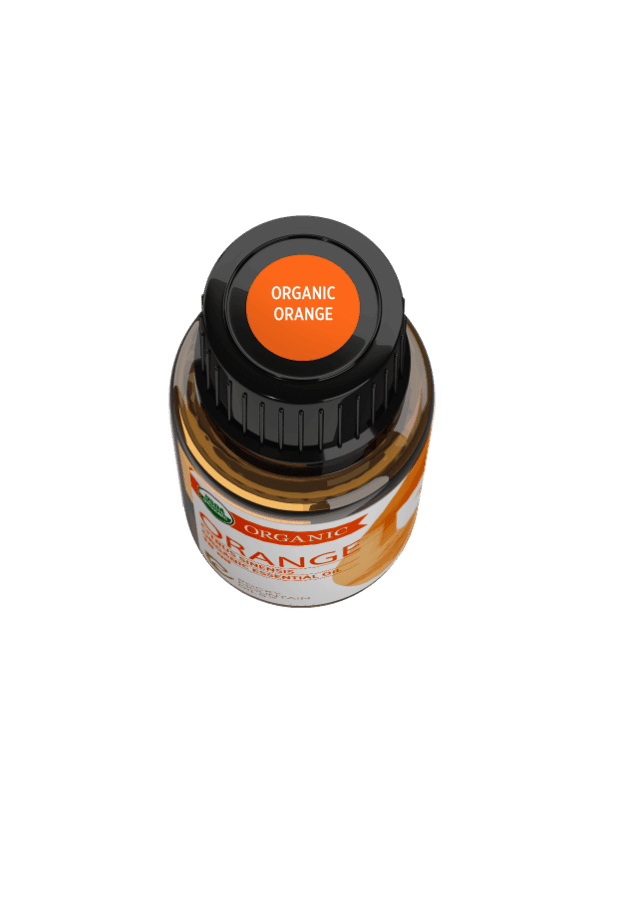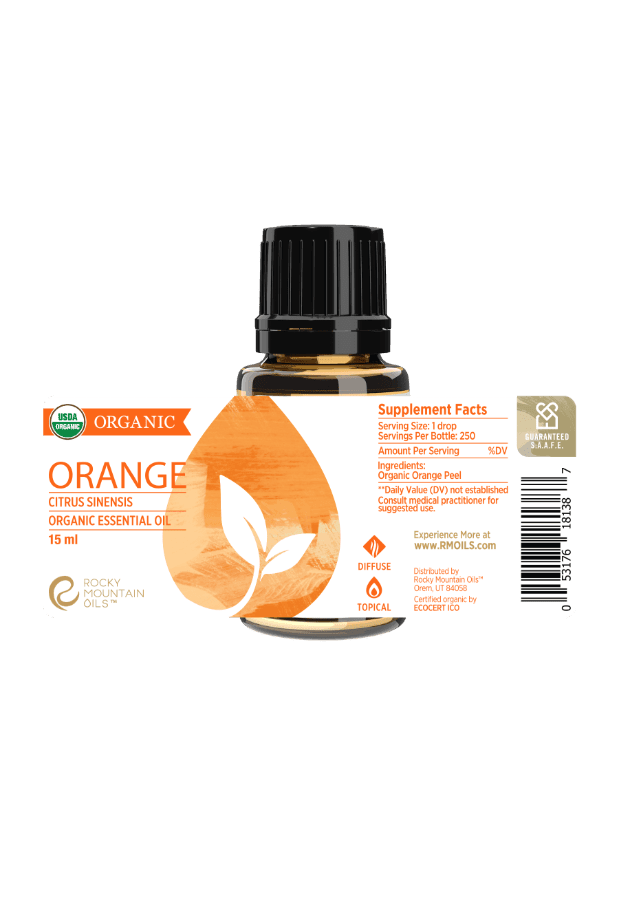 Organic Orange Essential Oil
GC/MS
TESTING
90 DAY
RETURNS
100% RECYCLED
PACKAGING
S.A.A.F.E
PROMISE
Create tranquility with the delightfully delicious aroma of Organic Orange Essential Oil. Also known as Organic Sweet Orange Oil, this oil offers an energizing citrus scent that's sweet and gentle. It will help you feel uplifted and supported while inspiring calm, clean energy.
As a rich source of vitamin C and antioxidants like limonene, organic Orange essential oil also benefits the immune system and helps reduce inflammation in the body. Try diluting it with a carrier oil, then massage it into sore muscles to soothe pain, ease discomfort, and release tension. You can also use this essential to deodorize and sanitize.
Cold pressed from the peels of one of the world's most popular citrus fruits, orange is perfect for aromatherapy, DIY cleaning, haircare, skincare, and more. Its benefits for skin include anti-aging, clearing dead skin cells, and promoting a smoother and brighter complexion. 
The refreshing scent of organic Orange can also help you feel more energized during the day while supporting better quality sleep at night. Diffuse this essential oil whenever you need to let go of stress or anxiety. It's a classic citrus scent the whole family will love.
Click here to learn more about Organic Orange Essential Oil.
---
The statements contained herein have not been evaluated by the Food and Drug Administration. Neither Rocky Mountain Oils nor its products are intended for the purpose of diagnosing, treating, curing or preventing any disease. If you are pregnant, nursing, taking medication, or have a medical condition, consult your physician before using these products.
Diffuse or use in a room spray to reduce anxiety and depression while naturally boosting energy, promoting mental clarity and concentration, and promoting a joyful and serene mood. Also helps with brain fog, insomnia, and mood irritability.
Dilute with a carrier oil, then apply to the skin to hydrate and heal skin conditions like acne, eczema, psoriasis, rosacea, and more.
Use on the scalp to control dandruff, strengthen hair at the roots, stimulate new hair growth, and create natural highlights.
Add to DIY soaps, furniture polish, bathroom cleaners, air sprays, hand sanitizer, deodorant, candles, and more.
Mix with water and white vinegar to spray along doorways and windowsills as a natural insect repellent and mold-killer.
Use for meditation, yoga, and self-care practices to feel uplifted and purposeful.
Organic Orange Lip Scrub
Soothe dry, chapped lips and exfoliate dead skin cells with this hydrating lip scrub made using organic Sweet Orange oil and other natural ingredients.
¼ cup fine-grain Brown Sugar
¼ cup Olive Oil
3 drops Organic Orange
2 drops Cucumber Seed
Instructions: Combine all ingredients in a Ziploc bag, then close tightly and massage the bag to blend the ingredients. With clean hands, apply a small dab to your lips, massage with fingertips, then rinse and pat dry. Transfer the leftover scrub to a clean glass jar or other sealable container. Store in a cool, dark place and use within 3 months.
For external use only. Do not ingest. Always dilute with a carrier oil and patch test prior to extensive topical use. Do not use if pregnant or breastfeeding. Keep out of reach of children and pets.
Safe to use topically with children ages 2 and up when diluted to a 1-2% dilution rate. Click here to learn more about using essential oils for kids.
CAUTION: Orange oil is phototoxic and may temporarily increase sun sensitivity and risk of sunburn. Avoid exposure to direct sunlight and tanning beds for 12 hours after topical use.
Practice Safe Diffusing:
Diffuse in an open, well-ventilated area with plenty of airflow.
Keep children and pets out of the direct line of mist.
Diffuse for 30-60 minutes, then take a break.
Your trust and confidence matter to us. As part of our S.A.A.F.E. Promise™, Rocky Mountain Oils offers GC/MS (Gas Chromatography/Mass Spectrometry) test results verified by a third-party, independent lab for every essential oil and essential oil blend in our catalog.
GC/MS tests verify the purity and quality of all Rocky Mountain Oils products, so you can be sure you're using the safest, highest-quality essential oils available on the market.
GC/MS Test: Click Here
For batch-specific GC/MS tests, click here.
Organic Orange Essential Oil FAQ
Can I add organic Orange oil to water or other drinks?

No. Organic Orange essential oil is for external use only. We know the scent of orange oil is delightfully delicious, but essential oils are highly concentrated and should never be ingested. Do not use this essential oil product in recipes. To flavor your water or other drinks, we recommend adding a slice of fresh orange, fresh orange zest, or a squeeze of fresh orange juice.

What are the side effects of organic Orange essential oil?

Organic Orange essential oil is not known to have major side effects. However, like many citrus oils, it may temporarily increase sun sensitivity and risk of sunburn when used topically. If you are planning a day in the sun or going to a tanning salon, avoid using organic Orange oil for 12 hours before exposure.

Before using topically, we also recommend a precautionary patch test to ensure you are not allergic. To patch test, dilute with a carrier oil and apply a small drop to one area of the skin. Wait for 15 minutes to make sure irritation, swelling, or other signs of allergic reaction do not occur.

What are the benefits of organic Orange essential oil for skin?

Organic Orange essential oil is a natural astringent that also brightens skin and reduces the appearance of hyperpigmentation, sun spots, redness, and other discoloration. It also boosts natural collagen production, promotes elasticity, shrinks pores, and helps exfoliate dead skin cells to reveal softer, smoother, more supple skin below. Additionally, orange oil has antimicrobial, anti-inflammatory, and antifungal properties for healing.

Does organic Orange essential oil help with mood?

Yes! Orange is one of the most popular scents in aromatherapy because of its uplifting, invigorating effects. The scent of orange oil promotes happiness and good cheer, while also reducing stress, anxiety, and depression. Like most citrus scents, orange evokes a pleasant feeling of sunshine and summertime. It may help with seasonal depression and "winter blues," and may also help you feel more naturally energized. If you are struggling to reset your biological clock due to jet lag or time changes, try diffusing organic Orange essential oil in the morning.