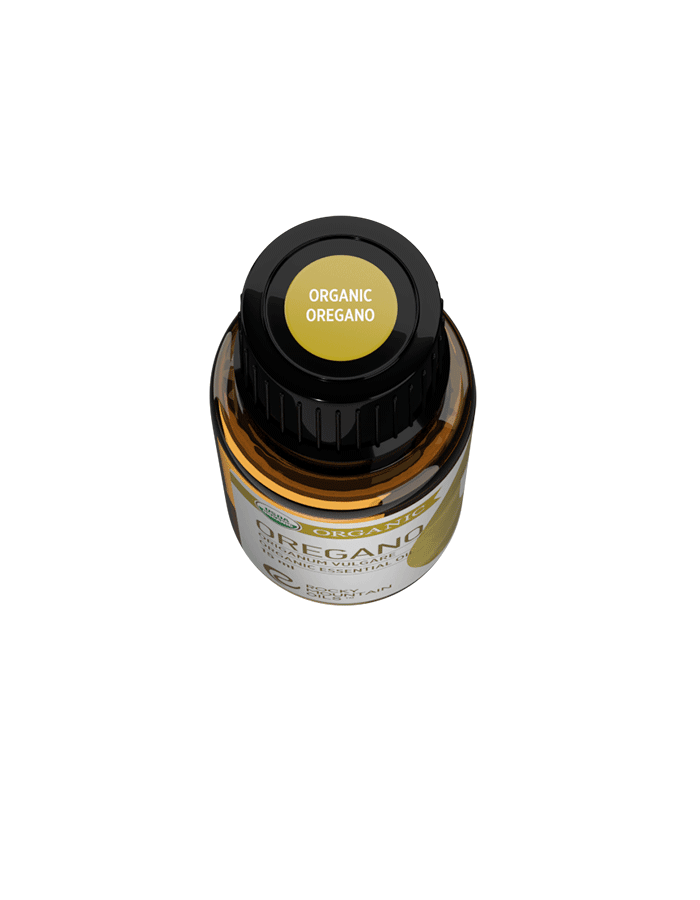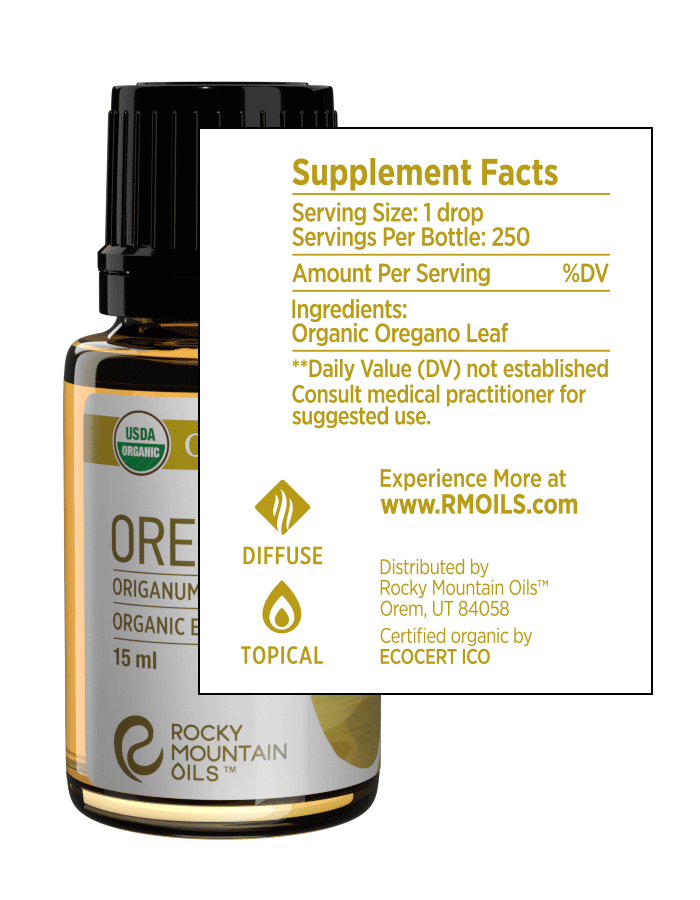 Organic Oregano Essential Oil
GC/MS
TESTING
90 DAY
RETURNS
100% RECYCLED
PACKAGING
S.A.A.F.E
PROMISE
Enhance your health and wellness naturally with the soothing scent of Organic Oregano Essential Oil. Steam distilled from 100% organic oregano leaves, this essential oil offers some of Mother Nature's best medicine for respiratory health, digestive support, and immunity boosting.
You may be familiar with oregano from your spice rack, but did you know this herb also makes a powerful essential oil for aromatherapy and healing? Organic Oregano essential oil has a sharp, invigorating aroma that's herbal and slightly spicy. When diffused or inhaled, this scent invites you to let go of stress and anxiety while inspiring greater focus and mental clarity. It's calming yet uplifting and helps you feel more centered.
This is the best organic Oregano oil because it's also anti-inflammatory, astringent, and antiseptic. It functions as a natural expectorant to loosen mucus and phlegm when you have a cold, sinus infection, or bronchitis. Organic Oregano also treats stomach aches, gas pains, and cramps.
Thanks to its ability to eliminate harmful bacteria and viruses, it's also a perfect addition to DIY household cleaners, hand sanitizers, bathroom tile spray, and more. Try adding a few drops to your favorite all-purpose cleaner to purify and deodorize your home without harsh chemicals or artificial ingredients. You can also use it as a natural insect repellent to keep away bugs like mosquitoes.
---
The statements contained herein have not been evaluated by the Food and Drug Administration. Neither Rocky Mountain Oils nor its products are intended for the purpose of diagnosing, treating, curing or preventing any disease. If you are pregnant, nursing, taking medication, or have a medical condition, consult your physician before using these products.
Our Organic Oregano Essential Oil is USDA certified.
Diffuse to neutralize odor-causing bacteria and freshen the air while relieving respiratory symptoms and boosting the immune system.
Dilute with a carrier oil, then apply to the upper chest as a natural expectorant to loosen phlegm and bacteria, soothe coughing fits, and promote faster healing.
Apply topically with a carrier oil and massage into the abdomen for relief from digestive issues like gas and bloating, stomach aches, nausea, indigestion, and menstrual cramps.
Add to DIY household cleaning products, soaps, hand sanitizers, and more, to sanitize surfaces and leave your home feeling fresh and clean.
Add a few drops to your shampoo or conditioner to reduce dandruff, balance the scalp, promote new hair growth, and restore a healthy shine while repairing dry or damaged hair.
Dilute with a carrier oil and apply to the face to control excess oil, heal acne, tone, brighten, fade scars and discoloration, and reduce signs of aging.
Organic "Under The Weather" Pick-Me-Up Blend
If you're feeling sick or know you've been exposed to a cold or flu bug, try this immunity-boosting blend made with pure Oraganic Oregano oil and other pure essential oils.
Instructions: Add all the oils into a 15ml bottle and shake to combine. Apply topically to the back of the neck or the bottoms of the feet. (If diffusing, omit the carrier oil.)
Botanical Name: Origanum vulgare
Country of Origin: Turkey/Hungary/Greece*
Extraction Method: Steam Distilled
Plant Part: Leaves of the Flowering Plant
Aroma: Herbal, Spicy, Sharp
Consistency: Thin
Blends Well With:
Popular Organic Oregano Collections: Organic Essential Oil Kit, Organic Essential Oil 4-Pack
*Some of our oils have multiple countries of origin. To confirm which country your specific bottle of oil originates from, please click here to consult its GC/MS test.
Always dilute prior to topical application. Avoid contact with mucous membranes, eyes, and the inside of the mouth, nose, and ears. Do not ingest. Do not use while pregnant or breastfeeding.
Caution: Oregano is a "hot" essential oil. When used topically, irritation may occur. Always patch test to confirm that you are not allergic and dilute with extra carrier oil if needed. Do not use with heating pads or hot water bottles.
Kids Safety: Safe to use topically with children ages 10 years old and up. Dilute to a .5% dilution rate for topical application.
Practice Safe Diffusing
Diffuse in an open, well-ventilated area.
Keep children and pets out of the direct line of mist.
Diffuse in 30-60 minute intervals, with ample break periods for safe and effective use.
At Rocky Mountain Oils, your trust and confidence matter to us. As part of our S.A.A.F.E. Promise™, we offer third-party verified GC/MS (Gas Chromatography/Mass Spectrometry) test results from an independent lab for every essential oil and blend in our line.
GC/MS tests verify the purity and quality of our essential oils, so you can be sure you're using the safest, highest-quality essential oils available today.
GC/MS Test: Click Here
For batch-specific GC/MS tests, click here.
Organic Oregano Essential Oil FAQ
Can I cook with organic Oregano oil?

No. Although oregano is a common spice for flavoring dishes, essential oils are for external use only and should never be ingested. Rocky Mountain Oils' Organic Oregano Oil is not a cooking oil. If using topically, avoid contact with the lips and mouth to prevent accidental ingestion.

Is pure organic Oregano oil anti-inflammatory?

Yes! Pure organic Oregano oil is rich in natural plant compounds that reduce inflammation in the body, including thymol and carvacrol. Studies indicate that thymol and carvacrol support faster healing, pain relief, and may reduce the risk of certain cancers and conditions like diabetes. When diluted with a carrier oil, organic Oregano oil helps soothe pain, stiffness, and discomfort caused by chronic inflammation.

Does organic Oregano essential oil boost the immune system?

Yes! Oregano essential oil, including the organic variety, is antimicrobial and helps neutralize bacteria, viruses, and other germs that may lead to infection. It is also antifungal and eliminates molds, mildew, fungi, and environmental irritants like pollen that may trigger allergy attacks. If you're feeling under the weather, try diffusing organic Oregano or use it for a soothing, DIY decongestant chest balm.

Who should not use organic Oregano essential oil?

Both organic and non-organic Oregano oil may interfere with certain medications, including blood thinners and mental health medications such as lithium. Oregano is also not recommended for pregnant or nursing women. If you have any medical conditions or believe you may be pregnant, consult your physician before using organic Oregano essential oil.