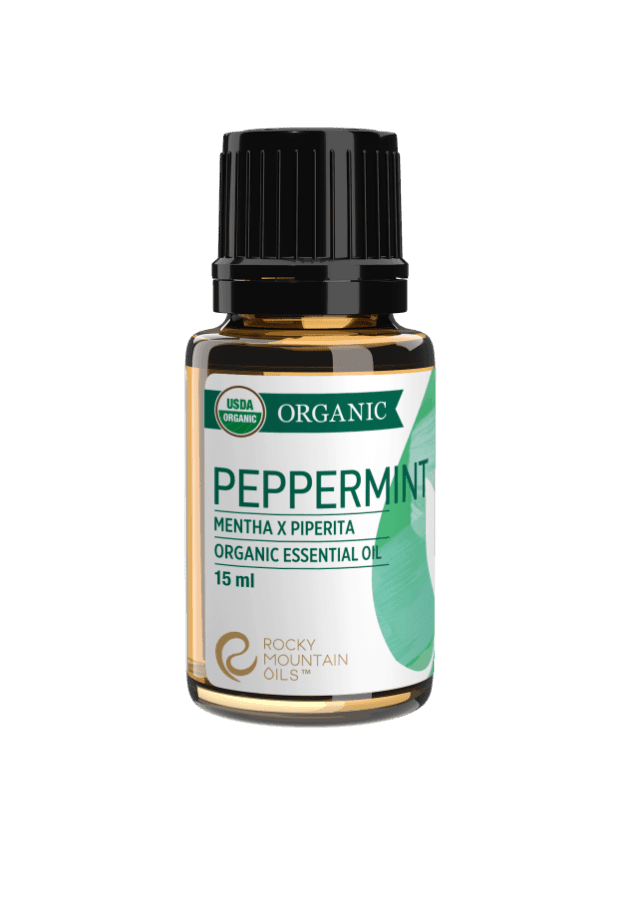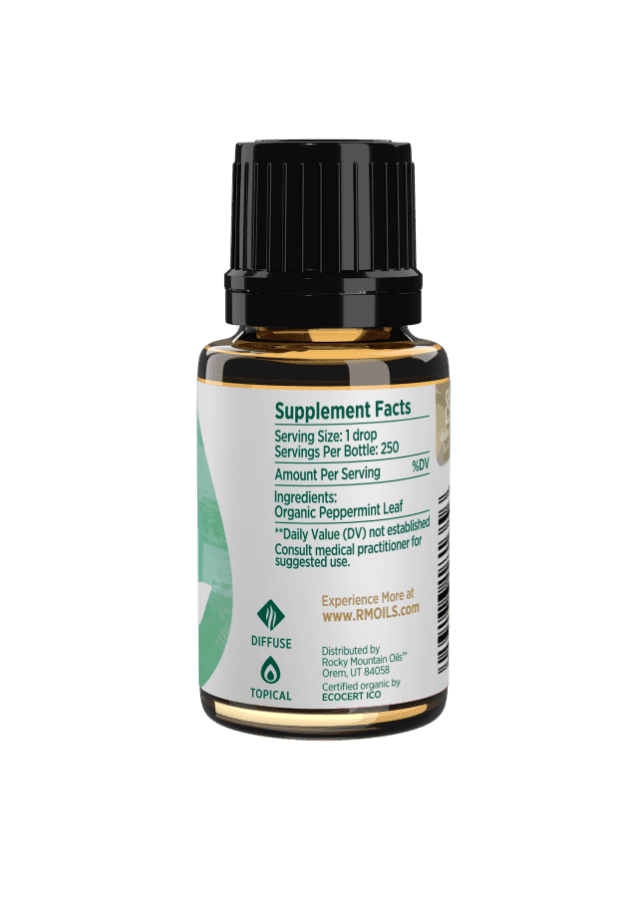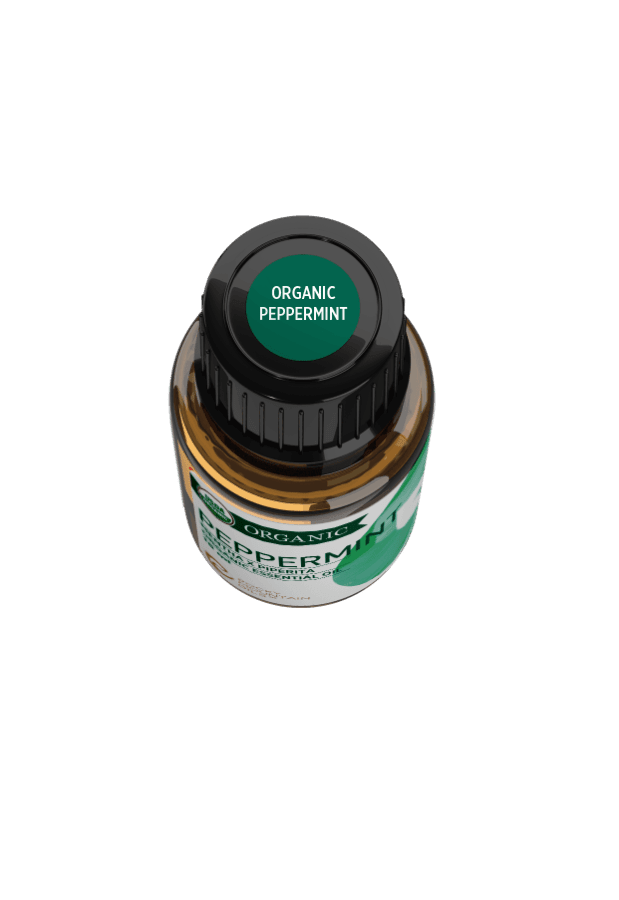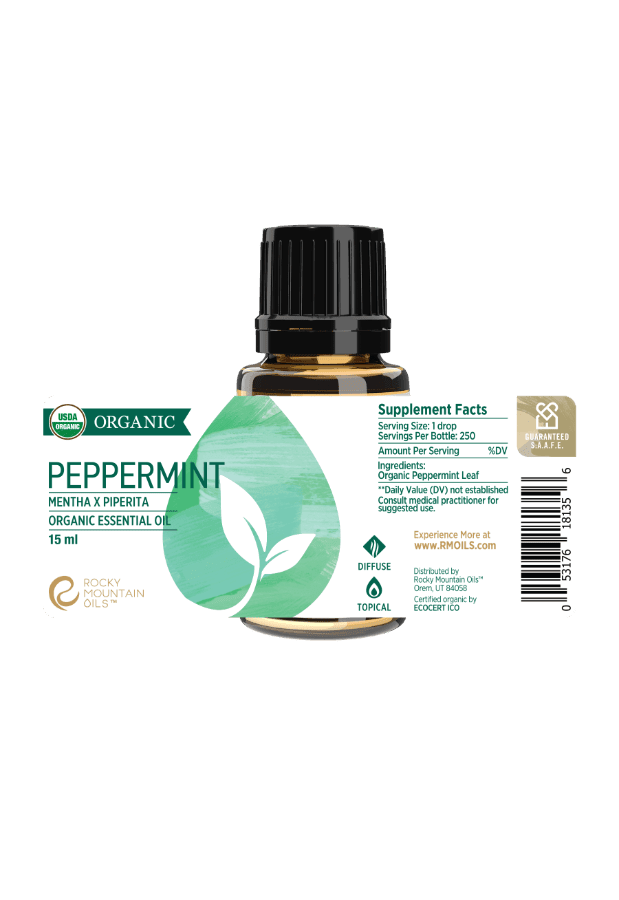 Organic Peppermint Essential Oil
GC/MS
TESTING
90 DAY
RETURNS
100% RECYCLED
PACKAGING
S.A.A.F.E
PROMISE
Inspire clean, invigorating energy and promote natural healing with Organic Peppermint Essential Oil. This essential oil offers a sweet, minty aroma that's crisp and cooling, with a middle-top fragrance note. When used topically, it creates a gentle tingling effect that functions as an analgesic pain reliever.
Peppermint has a rich history in traditional medicine and home remedies, where it has been used for centuries to promote digestive health, support the respiratory system, and boost immunity. It's high in natural menthol, which soothes sore muscles, helps with stomachaches and nausea, and acts as a natural expectorant to thin mucus and phlegm. 
At Rocky Mountain Oils, we offer the best Organic Peppermint Oil for healing, aromatherapy, skincare, haircare, and more. Try diffusing this oil to purify the air in your space and feel more energized. Peppermint is known to help reduce brain fog, increase focus and memory, and provide a burst of natural energy when you need a quick pick-me-up.
You can also use this essential oil in many homemade cleaning products. Peppermint sanitizes surfaces like tile, wood, and glass while neutralizing odor-causing bacteria and filling your home with minty-clean freshness. Try adding a few drops to baking soda and sprinkling along your carpet or soft furniture for a DIY deodorizing vacuum powder. 
Click here to learn more about Organic Peppermint Essential Oil.
---
The statements contained herein have not been evaluated by the Food and Drug Administration. Neither Rocky Mountain Oils nor its products are intended for the purpose of diagnosing, treating, curing or preventing any disease. If you are pregnant, nursing, taking medication, or have a medical condition, consult your physician before using these products.
Dilute with a carrier oil and use to soothe sore muscles and stiff joints, reduce swelling, and relieve digestive issues like cramps, stomach aches, gas and bloating, nausea, and more.
Diffuse or dilute with a carrier oil and apply to the upper chest to clear lung congestion, calm coughing fits, relieve sinus congestion, or relieve allergies and asthma attacks.
Add a few drops to your regular skincare products or dilute with a carrier oil and use to clean, tone, and brighten skin while relieving redness, healing acne and other blemishes, and reducing the appearance of fine lines and hyperpigmentation.
Blend with coconut oil to make a DIY hair mask to nourish and hydrate the scalp while strengthening hair follicles at the roots, resulting in thicker, shinier, healthier hair.
Use in homemade first aid balms, bug sprays, and burn salves.
Use to add a clean, bright fragrance and antiseptic properties to cleaning products, soaps, hand sanitizers, and deodorants.
Diffuse or inhale to stimulate memory recall, enhance focus and concentration, and reduce anxiety.
Peppermint Wake-Up Shower Rinse
Want to feel more energized in the morning? Try this tingling shower rinse first thing in the morning to nourish your skin with the best organic Peppermint oil and add some pep to your step for the day ahead.
2 cups Sparkling Mineral Water or Seltzer Water
2 drops Organic Peppermint
1 drop Eucalyptus Citriodora
1 fresh Lemon, Juiced
Instructions: Mix all ingredients together into a bowl or jar. In the shower, after washing yourself but before your final rinse, use a sponge or bath poof to apply the mixture from head to toe. Do your final rinse, then gently pat dry and follow with your regular body lotion or moisturizer.
Botanical Name: Mentha x piperita
Country of Origin: India/USA*
Extraction Method: Steam Distilled
Plant Part: Leaf
Aroma: Mint, Sweet
Consistency: Thin
Blends Well With: Eucalyptus, Lavender, Lemon, Orange, Ravintsara, Rosemary
Popular Organic Peppermint Collections: Organic Essential Oil Kit
**Some of our oils have multiple countries of origin. To confirm which country your specific bottle of oil originates from, please click here to consult its GC/MS test.
Always dilute with a carrier oil and patch test prior to extensive topical use. Do not use if pregnant or breastfeeding. Keep out of reach of children and pets.
Safe to use topically with children ages 6 and up when diluted to a 1-2% dilution rate. Click here to learn more about using essential oils for kids.
Practice Safe Diffusing:
Diffuse in an open, well-ventilated area with plenty of airflow.
Keep children and pets out of the direct line of mist.
Diffuse for 30-60 minutes, then take a break.
Your trust and confidence matter to us. As part of our S.A.A.F.E. Promise™, Rocky Mountain Oils offers GC/MS (Gas Chromatography/Mass Spectrometry) test results verified by a third-party, independent lab for every essential oil and essential oil blend in our catalog.
GC/MS tests verify the purity and quality of all Rocky Mountain Oils products, so you can be sure you're using the safest, highest-quality essential oils available on the market.
GC/MS Test: Click Here
For batch-specific GC/MS tests, click here.
Organic Peppermint Essential Oil FAQ
Can you cook with organic Peppermint essential oil?

No. Organic Peppermint essential oil is for external use only. Although we use the highest quality, certified organic peppermint in this product, essential oils are highly concentrated and should never be ingested. To add the flavor of peppermint to your recipes, we suggest using fresh mint leaves or peppermint extract instead.

Does Peppermint essential oil help upset stomach?

Yes! Peppermint is one of the best natural remedies for upset stomach, nausea, indigestion, gas, bloating, cramps, and other gastrointestinal issues. To use organic Peppermint essential oil to soothe your stomach and promote better digestion, dilute this oil with a carrier oil (such as Fractionated Coconut Oil) or your favorite lotion and then apply it to the abdomen. Gently massage the oil in a slow, clockwise direction until you feel relief. You can also apply organic Peppermint oil to the soles of the feet to absorb its anti-inflammatory properties and promote better gut health.

Can you use organic Peppermint oil for hair?

Yes! To use organic Peppermint oil for hair, dilute it with a carrier oil or add a few drops to your regular shampoo or conditioner. Gently massage into the scalp to stimulate hair follicles and promote new growth, while soothing dry skin and balancing natural moisture levels to treat or prevent dandruff. Organic Peppermint also helps repair damage caused by over-washing or chemical treatments, detangles and de-frizzes, and smooths split-ends.

Will Peppermint oil keep ants away?

Yes! Organic Peppermint oil can be used as a chemical-free insect repellent against ants, spiders, mosquitoes, and other bugs. Try mixing 10 drops of organic Peppermint oil with 4 oz. distilled water, then spritz along windowsills, countertops, and other surfaces to deter insects. You can also diffuse this essential oil or add it to DIY bug-away candles to keep pesky insects away from your outdoor spaces.