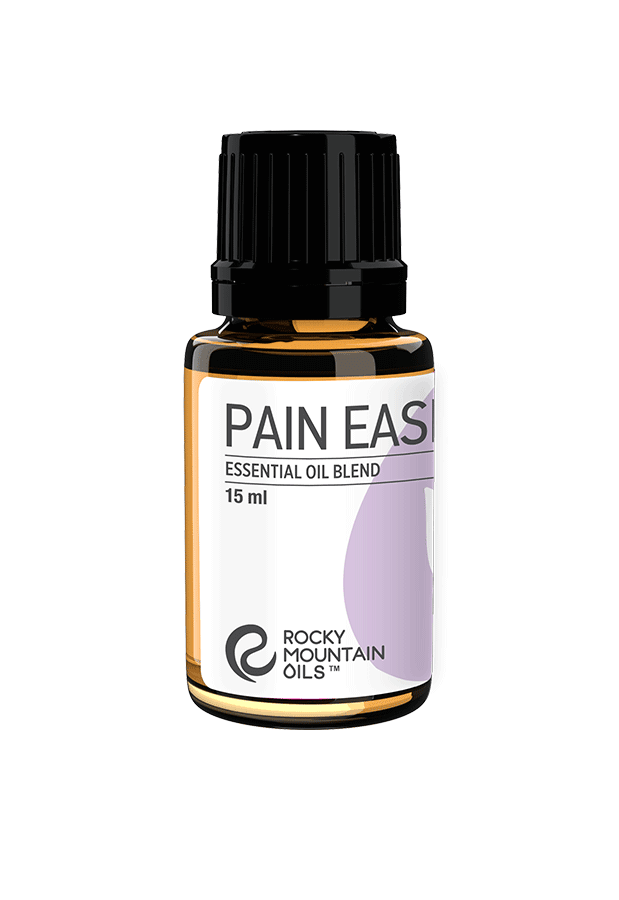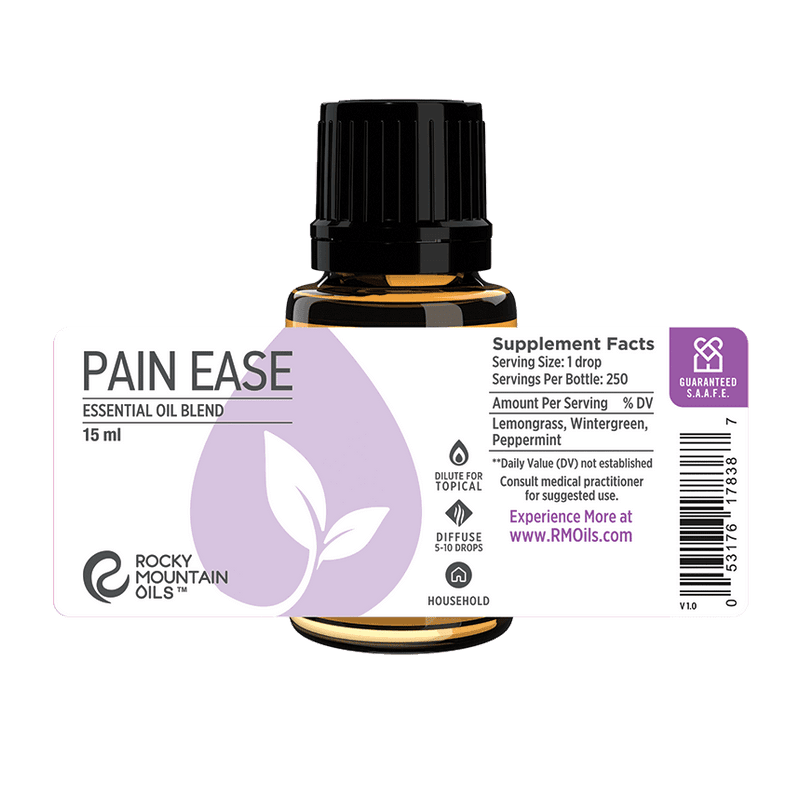 Pain Ease Essential Oil Blend
GC/MS
TESTING
90 DAY
RETURNS
100% RECYCLED
PACKAGING
S.A.A.F.E
PROMISE
Feel relief from aches, strains, and tension with our Pain Ease Essential Oil Blend. Pain Ease is a powerful combination of some of the best essential oils for sore muscles, inflammation, stiffness, and body aches. It consists of pure Lemongrass, Wintergreen, and Peppermint essential oils.
Whether you have a sports injury, a chronic condition like osteoarthritis, or simply find yourself feeling sore after a long day on your feet, try essential oils for muscle pain for natural relief without harsh chemical ingredients. The oils in our Pain Ease Blend contain powerful anti-inflammatory compounds, as well as natural menthol that acts as a topical analgesic. 
Dilute this blend with Fractionated Coconut Oil (FCO) or another carrier oil, then massage it into the affected area to release tension and numb pain. These essential oils promote better circulation and help repair cellular damage, which can shorten recovery time after a workout. 
Try Pain Ease in a diffuser to feel calmer and more uplifted, while strengthening your mind-body connection so you can boost your body's natural healing abilities. You can also use this blend as a pre-workout balm to loosen tight muscles and improve flexibility.
Dilute with a carrier oil or use in a DIY salve, then massage into the skin for relief from muscle soreness, tension, body aches, cramps, sprains and strains, tendonitis, osteoarthritis, or other conditions.
Add 2-3 drops to a warm bath to soak away muscle tension and feel more relaxed.
Apply to muscles after an intense workout or other physical activity to help repair and shorten recovery time. You can also use it in a pre-workout blend to feel more limber and increase flexibility.
Add to a washcloth with warm water to make a hot compress for relief from menstrual cramps and stomachaches.
Rub diluted oils into the soles of the feet to reduce chronic inflammation.
Diffuse or use in a room spray to calm the central nervous system and feel more grounded, relaxed, and uplifted.
Pain Relief Massage Oil
When aches, pains, or stiff joints start to slow you down, try this Pain Relief Massage Oil to release muscle tension, reduce inflammation, and promote physical well-being.
Instructions: Blend all ingredients in a dark-colored glass bottle. Shake well for 1 minute, then seal and allow to sit for 24 hours so oils can synergize together. After 24 hours, the essential oils for sore muscles will be read to apply topically. Massage a small amount into the affected area 2-3 times a day.
Always dilute with a carrier oil and patch test prior to extensive use on the skin. Do not use while pregnant or breastfeeding. Do not use on broken skin or abrasions. For external use only, do not ingest.
Kids Safety: Safe to use on children ages 6 years and up. Dilute to a 1-2% dilution rate prior to applying topically on children. Click here to learn more about essential oils and kid safety.
Practice Safe Diffusing:
- Diffuse in an open, well-ventilated area.
- Keep children and pets out of the direct line of mist.
- Diffuse in 30-60 minute intervals with ample break periods.
As part of our S.A.A.F.E. Promise™ to you, Rocky Mountain Oils provides verified third-party GC/MS (Gas Chromatography/Mass Spectrometry) test results from an independent lab for every essential oil product in our collection.
GC/MS tests verify the quality and purity of every Rocky Mountain Oils product, which guarantees you're using the safest and highest quality essential oils and essential oil blends on the market.
To view the GC/MS test results for your essential oil blend, click here.
Pain Ease Essential Oil Blend FAQ
What are the best essential oils for muscle pain?

Some of the best essential oils for muscle pain include Lemongrass, Wintergreen, and Peppermint essential oils. These essential oils contain natural menthol, a topical analgesic that numbs pain and shortens recovery time after exercise. They also offer anti-inflammatory benefits and may help increase blood flow and circulation, which encourages muscle repair and relieves soreness.

How do I use essential oils for sore muscles?

To use essential oils for sore muscles, try a blend of pure anti-inflammatory oils like Pain Ease. Dilute this blend with a carrier oil such as FCO, warm it between your palms, then massage with gentle but firm pressure into the affected areas. Within moments, you'll begin to feel a cooling sensation that soothes away aches and pains. Use 2-3 times per day.

What is the strongest anti-inflammatory essential oil for pain?

Lemongrass, Peppermint, and Wintergreen are powerful anti-inflammatory essential oils that are known to help reduce pain in muscles. These essential oils reduce stress and anxiety, while improving circulation and numbing pain receptors in the nerves. When used topically, these anti-inflammatory oils can help you feel relief from injuries as well as chronic pain.

How often should I use an essential oil blend for pain?

Use an essential oil blend for pain 2-3 times per day if applying the oils topically. However, you may also diffuse pain relief essential oil blends as often as necessary (with ample breaks between diffusion cycles) to release tension and strengthen your mind-body connection for healing.

Note: If your pain worsens or persists, or if you have additional medical concerns, discontinue use and consult a physician.