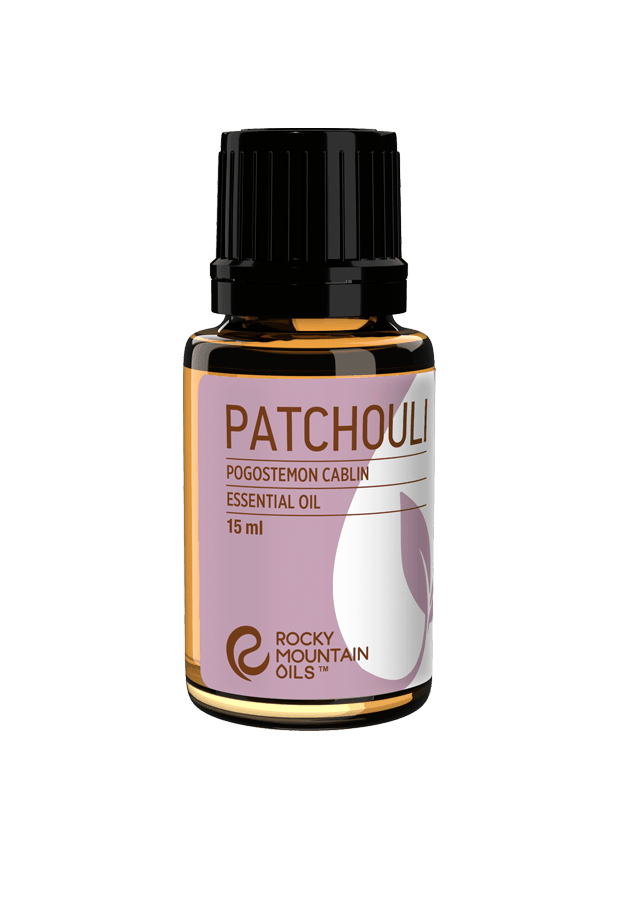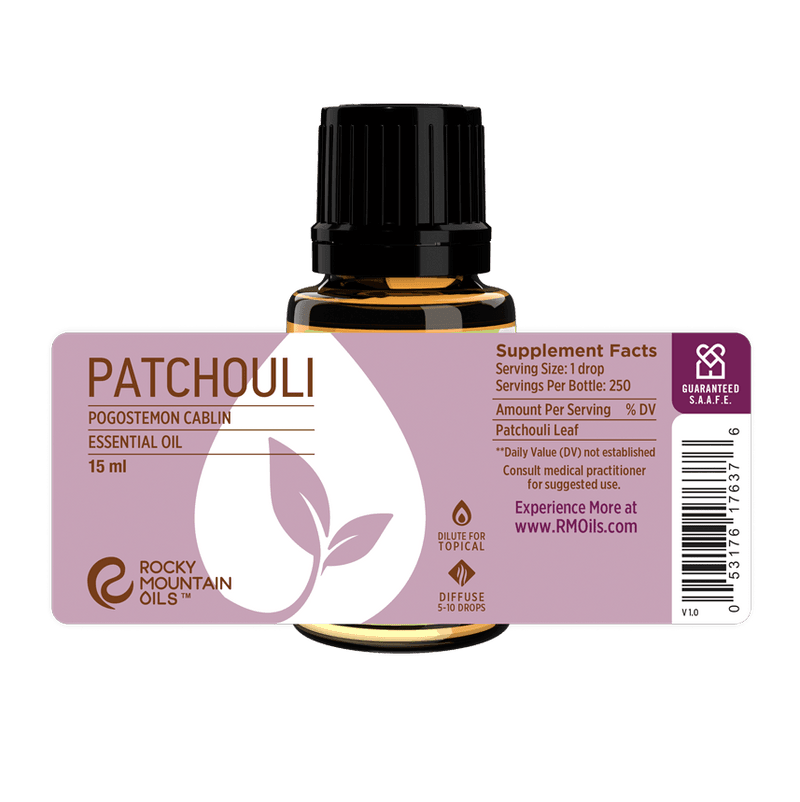 Patchouli Essential Oil
GC/MS
TESTING
90 DAY
RETURNS
100% RECYCLED
PACKAGING
S.A.A.F.E
PROMISE
Create good vibes and feel more grounded with Patchouli Essential Oil. Steam distilled from the leaves of the Pogostemon cablin plant, Patchouli is a classic scent that's rich, earthy, musky, and slightly sweet. It's a popular choice for diffuser blends, natural colognes and perfumes, and more.
When diffused or used in a room spray, Patchouli fills your space with a deeply relaxing aroma that lowers stress levels and promotes mental clarity. This essential oil inspires feelings of peace while purifying the air and clearing negative energy. It helps with depression, anxiety, burnout, insomnia, and more. Patchouli is also a natural aphrodisiac that stimulates libido and helps strengthen the sensual connection between you and your partner.
Dilute with a carrier oil like Fractionated Coconut Oil to enjoy Patchouli Essential Oil benefits like better digestion, less inflammation, immunity support, clearer skin, new hair growth, and more. Try adding 1-3 drops to your daily face moisturizer or conditioner to enhance hydration for your skin and scalp.
If you struggle with a noisy mind, Patchouli also helps reduce anxious thoughts and inspires deeper levels of meditation. Uncap and inhale whenever you need a moment of stillness in your busy life.
---
The statements contained herein have not been evaluated by the Food and Drug Administration. Neither Rocky Mountain Oils nor its products are intended for the purpose of diagnosing, treating, curing or preventing any disease. If you are pregnant, nursing, taking medication, or have a medical condition, consult your physician before using these products.
Diffuse or use in a room spray to reduce anxiety and promote tranquility. Diffusing Patchouli also helps ground you in your body for deeper levels of meditation, and acts as a natural insect repellent.
Dilute with a carrier oil and apply to the skin to reduce inflammation, prevent infections and promote faster healing of small wounds, and treat itchy insect bites.
Use in a sensual massage oil to stimulate libido, enhance stamina, and strengthen your romantic connection with your partner.
Apply to the abdominal area to support gut health and ease cramps, bloating, stomach aches, or other digestive issues.
Dilute with a carrier oil or add 1-3 drops to your regular skincare products for toning, brightening, and reducing signs of aging.
As a popular essential oil for men, use as a DIY natural cologne or beard oil.
Soothing Body Lotion
Use the deeply moisturizing, emollient and anti-inflammatory properties of Patchouli to nourish skin and restore hydration.
6 drops Patchouli oil
2 tsp. natural, unscented lotion
Instructions: Blend oil with lotion and transfer to a clean, sealable container. Massage into the hands, feet, knees, elbows, or anywhere you experience dry skin as often as needed.
Botanical Name: Pogostemon cablin
Country of Origin: India/Indonesia*
Extraction Method: Steam Distilled
Plant Part: Leaf
Aroma: Spicy, Earthy, Woody
Consistency: Medium to Thick
Blends Well With: Bergamot, Black Pepper, Clary Sage, Frankincense Serrata, Lavender, Sandalwood, Rose
Popular Patchouli Blends: Dreamtime, Tranquility, Skin Tone, Calming, Aura Awakening
*Some of our oils have multiple countries of origin. To confirm the country of origin for your specific bottle of oil, please consult its GC/MS test here.
For external use only. Do not ingest. Always dilute in a carrier oil and patch test prior to extensive topical use. Click here to learn more about dilution rates.
Safe to use topically with children ages 2 and up when diluted with carrier oil to a .5-2% dilution rate for topical application. Click here to learn more about using essential oils for kids.
Tips for Safe Diffusing:
Diffuse in an open, well-ventilated area.
Keep children and pets out of the direct line of mist.
Diffuse in 30-60 minute intervals with ample break periods.
Your trust and confidence are very important to us. As part of our S.A.A.F.E. Promise™, Rocky Mountain Oils offers GC/MS (Gas Chromatography/Mass Spectrometry) test results verified by a third-party, independent lab for every essential oil and essential oil blend in our catalog.
GC/MS tests verify the purity and quality of all Rocky Mountain Oils products, so you can be sure you're using the safest, highest-quality essential oils available on the market.
GC/MS Test: Click Here
For batch-specific GC/MS tests, click here.
Patchouli Essential Oil FAQ
What is Patchouli Essential Oil good for?

Patchouli Essential Oil uses include anxiety and stress relief, aromatherapy, meditation, insect repellent, skincare, haircare, beard oils, pain relief, first aid, diffuser blends, DIY household cleaners and antiseptic sanitizers, candle making, soap making, bath bombs, sensual couples' massages, and more.

What are the benefits of Patchouli?

Patchouli Essential Oil benefits include anxiety and stress relief, emotional balance, mental clarity, anti-inflammation and pain relief, better sleep, gut health, and libido. Patchouli is also antimicrobial and antifungal, which makes it a great oil to use in DIY cleaning products, hand sanitizers, air fresheners, laundry detergents, and more.

Can I use Patchouli Essential Oil on skin?

Yes! One of the most popular uses for Patchouli Essential Oil is skincare. Patchouli heals dry, irritated skin, helps treat eczema and dermatitis, soothes redness and inflammation, and may reduce the appearance of fine lines and wrinkles. To use Patchouli on skin, dilute with a carrier oil such as Jojoba or FCO, then apply with clean fingertips or a cotton pad. You can also add 1-3 drops of Patchouli to your regular daily cleanser or moisturizer.

Is Patchouli Essential Oil safe for dogs and cats?

If you're wondering whether Patchouli essential oil is safe for cats, dogs, or other pets, the answer is no.

Although pet owners can diffuse this essential oil in their home, always be mindful to diffuse it in a well-ventilated area with plenty of airflow. Be sure to keep animals away from the direct line of mist and make sure they have an open exit to leave the room where you're diffusing. If your pet shows signs of illness or distress, discontinue use immediately and consult your veterinarian.

Do not use topically on pets or allow your pet to ingest Patchouli, as it may cause irritation, respiratory problems, seizures, or organ damage. Always keep essential oils out of reach of pets.