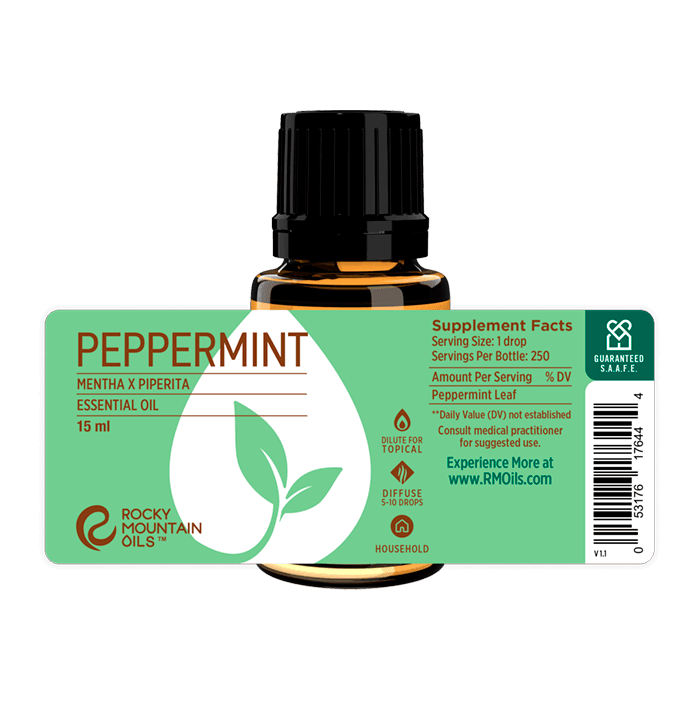 Peppermint Essential Oil - 15ml
GC/MS
TESTING
90 DAY
RETURNS
100% RECYCLED
PACKAGING
S.A.A.F.E
PROMISE
Peppermint essential oil (Mentha x piperita) is part of the Lamiaceae family. Peppermint essential oil has a strong minty, cool, invigorating, and sharp aroma presenting a middle-top fragrance note.
Peppermint's refreshing aroma and powerful anti-bacterial, anti-microbial, and anti-inflammatory properties make it great for diffusing or spritzing throughout a room to help disinfect, clean, and purify your home. When properly diluted, peppermint essential oil has an icy-hot effect on the skin, that makes it great for pain relief. 
Add peppermint essential oil to DIY cleaning sprays to refresh your home and keep it free from germs. Use this oil to boost your mental health as well as encourage creativity and self-confidence. Diffuser peppermint essential oil to uplift your mood, ease tensions, and calm overwhelming emotions.
Our peppermint essential oil is extracted from the plant's leaf using steam distillation. This is the most common way to extract oils from a plant. By combining gentle pressure and heated steam, steam distillation releases the essential oil from the plant and into the steam vapor.
---
The statements contained herein have not been evaluated by the Food and Drug Administration. Neither Rocky Mountain Oils nor its products are intended for the purpose of diagnosing, treating, curing or preventing any disease. If you are pregnant, nursing, taking medication, or have a medical condition, consult your physician before using these products.
Peppermint Essential Oil Uses
Diffuse peppermint oil to promote creativity, confidence, and energy. Peppermint oil can also help alleviate fatigue, tension, or stress.
Dilute a few drops of peppermint oil with a carrier oil before applying it to your abdominal region to improve digestive health and reduce discomfort.
Dilute with a carrier oil or use our peppermint essential oil roll-on to apply to your temples, neck, or forehead to relieve headaches and pain.
Diffuse, inhale, or topically apply peppermint oil to your chest region to help promote easier breathing.
Dilute peppermint oil before applying it to your skin, to help with conditions like acne or eczema.
Mix a couple drops of peppermint oil into your shampoo to help improve scalp wellness and hair growth.
Combine 5-10 drops of peppermint oil with water in a spray bottle, and spray around corners or areas where bugs, ants, or spiders seem to frequent.
Want to explore more peppermint essential oil uses? Check out our Peppermint Essential Oil Uses blog here!
Peppermint Essential Oil Recipes
Peppermint Essential Oil DIY Room Freshener: Mix 10 drops of peppermint essential oil with 1 cup of water in a spray bottle. Shake well and use as a room freshener.
Botanical Name: Mentha x piperita
Country of Origin: USA
Extraction Method: Steam Distilled
Plant Part: Leaf
Aroma: Mint, Sweet
Consistency: Thin
Blends Well With: Eucalyptus, Lavender, Lemon, Orange, Ravintsara, Rosemary
Apply with a carrier oil for topical application.
Click here for dilution rates.
Kids Safety: Safe to use topically with children 6 years of age and older. Dilute to a 1-2% dilution rate for topical application.
Practice safe diffusing:
- Diffuse in an open, well-ventilated area.
- Keep children out of the direct line of mist.
- Diffuse in 30-60 minute intervals with ample break periods for safe and effective use.
Your trust and confidence is very important to us. As part of our S.A.A.F.E. Promise™ to you, we provide GC/MS (Gas Chromatography / Mass Spectrometry) test results from a verified third party, independent lab for each one of our essential oil products.
GC/MS tests verify the purity and quality of the oils we sell, so you can be sure you're using the highest quality oils available on the market today.
GC/MS Test: Click Here
For batch specific GC/MS test click here.
Peppermint Essential Oil - 15ml FAQ
Is peppermint essential oil safe for dogs?

Peppermint essential oil is generally considered safe for use around dogs, but it should be used with caution. It can be toxic if used in large amounts, and the strong scent can also be overwhelming for some dogs because they have a stronger and more sensitive sense of smell.

Is peppermint essential oil safe for cats?

Peppermint essential oil is generally considered to be toxic to cats, and should be avoided.

What is peppermint essential oil good for?

Digestive support, respiratory support, pain relief, energy boost, stress relief, pest repellent, skincare, and haircare.

Do spiders hate peppermint?

Peppermint oil seems to be a natural insecticide and its scent can help keep spiders away from your home.