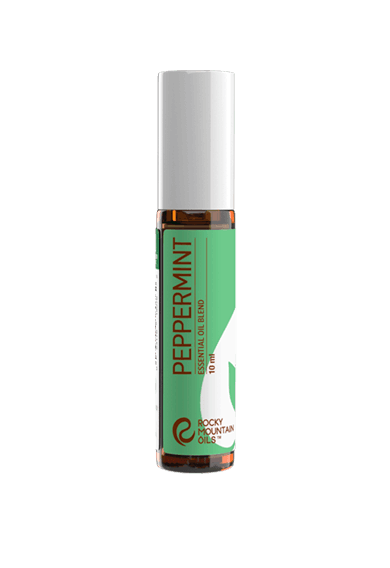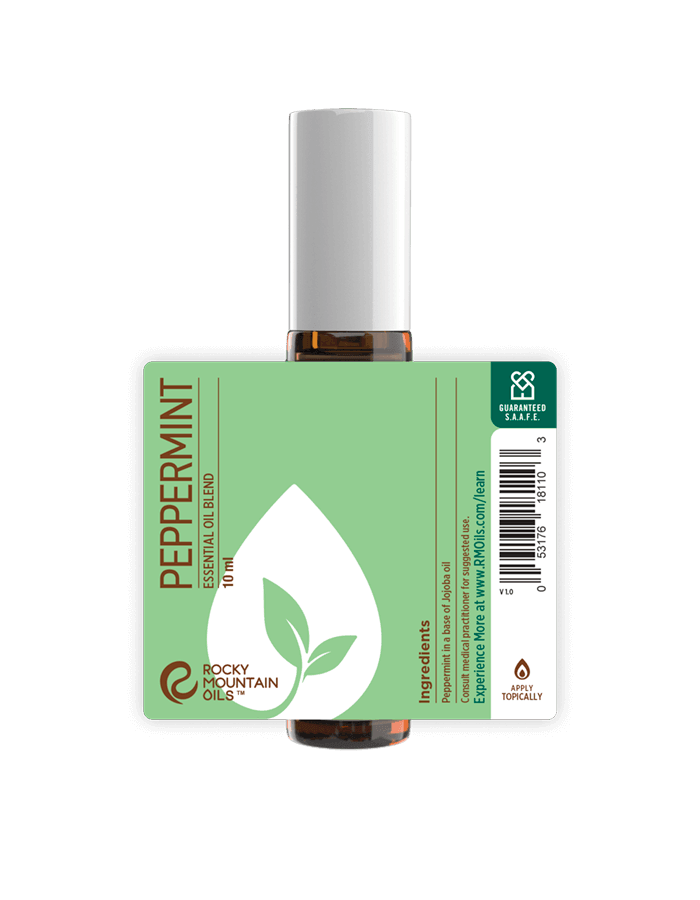 Peppermint Roll-on
GC/MS
TESTING
90 DAY
RETURNS
100% RECYCLED
PACKAGING
S.A.A.F.E
PROMISE
Feel invigorated and get fast relief with this Peppermint Roll-on. Our 10mL Roll-on provides all the healing and aromatherapy benefits of Peppermint Essential Oil, conveniently prediluted in a Jojaba oil base for ready-made topical use.
This Peppermint Roll-on features a bright, minty, cooling scent with a middle-top fragrance note that's sharp, clean, and energizing. Try it for reducing brain fog, increasing focus and memory, or a burst of icy-hot natural energy when you need to feel more alert.
With a rich history in traditional medicine, peppermint is more than just minty-fresh. Studies show that this powerful herb, known scientifically as Mentha x piperita, offers a number of medicinal benefits. Peppermint Essential Oil is a natural source of menthol, which thins mucus, helps with abdominal pain and nausea, and soothes sore muscles.
Other Roll-on Peppermint Oil uses include calming itchy or irritated skin, acne, cleansing minor cuts and burns, or as a moisturizing hand sanitizer. Safe for use on kids ages 6 and older.
Peppermint Roll-on Uses
10mL Peppermint Oil Roll-on that's already diluted in a carrier oil and ready for use on skin, in a travel-friendly roll-on that's the perfect size for carry-on luggage, gym bags, diaper bags, and more.
Roll onto abdomen, upper chest, neck, temples, or other areas as necessary.
Apply this Peppermint Essential Oil Roll-on to help feel relief from stomachaches and nausea, or use its naturally soothing, icy-hot aroma to open congested airways and blocked sinuses.
Relaxes sore muscles and helps promote faster recovery time after intense physical activity.
Use on pulse points when you need to feel more energized and alert, or to help with memory recall.
Safe for use on kids ages 6 and older.
Safe for topical use. It is always recommended to patch test before committing to topical application. Patch test by rolling a small amount of oil onto one section of skin. After 15 minutes, check for any skin irritations or allergic reactions before committing to topical use.
Click here to learn more about Essential Oils and child safety.
You can also learn more about dilution rates here.
Your trust and confidence is very important to us. As part of our S.A.A.F.E. Promise™ to you, we provide GC/MS (Gas Chromatography / Mass Spectrometry) test results from a verified third party, independent lab for each one of our essential oil products.
GC/MS tests verify the purity and quality of the oils we sell, so you can be sure you're using the highest quality oils available on the market today.
GC/MS Test: Click Here
For batch specific GC/MS test click here.
Peppermint Roll-on FAQ
What is a peppermint oil roll-on good for?

Roll-on Peppermint Oil uses include digestive problems, nausea, upset stomach, bloating, itchy skin and bugs bites, pain from chronic inflammation, depression, brain fog, lack of motivation, and more.

Can you use a peppermint roll-on essential oil on your belly?

Yes. Using a Pepperment Essential Oil Roll-on directly on your belly and abdominal area for relief from stomach cramps, constipation, gas, and bloating. Peppermint Oil may also help with IBS and other gastrointestinal issues. However, always consult your doctor before use if you have a medical condition.

Where do you roll peppermint oil for colds and congestion?

Peppermint Oil is a natural source of menthol, which may help open airways and nasal passages for better breathing. If you have a cold or sinus congestion, use our Peppermint Oil Roll-on on the upper cheset, neck, temples, or forehead for relief. Avoid contact with eyes and do not ingest.

Where do you roll peppermint oil for nausea?

For nausea or other tummy troubles, apply this Peppermint Oil Roll-on directly to the stomach and upper abdomen as needed. You may also benefit from dabbing on the chest or neck to breathe in the cooling, soothing aroma of this pure essential oil.

However, we always recommend a patch test prior to extended use on skin. Roll on a small amount of oil and wait about 15 minutes, then check for skin irritation prior to further use.

Will a peppermint oil roll-on support brain health?

Peppermint Essential Oil may help stimulate memory, promote better concentration, and may boost overall mental performance. In one study, participants who used Peppermint Essential Oil reported feeling less mental fatigue or "brain fog" after doing high-performance tasks.