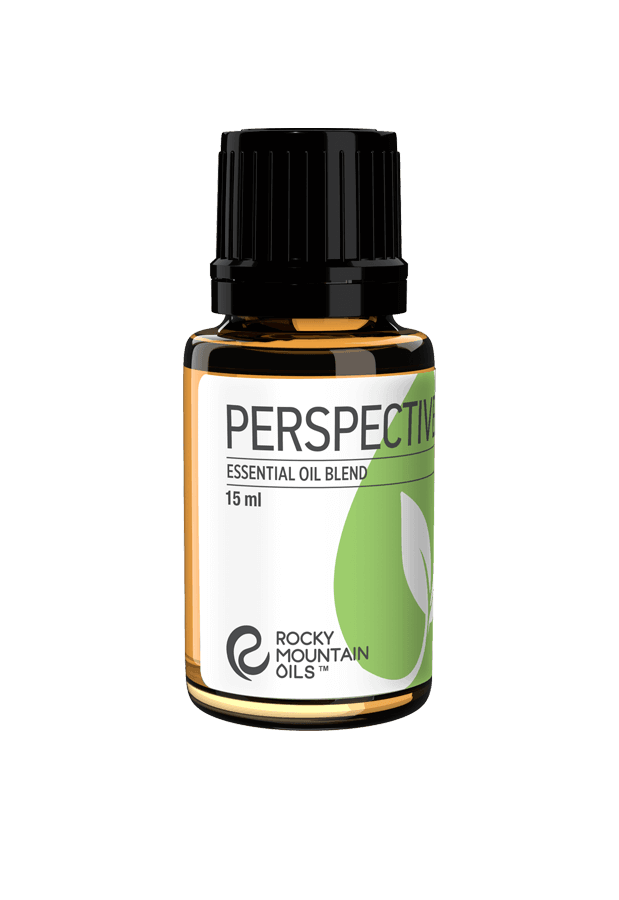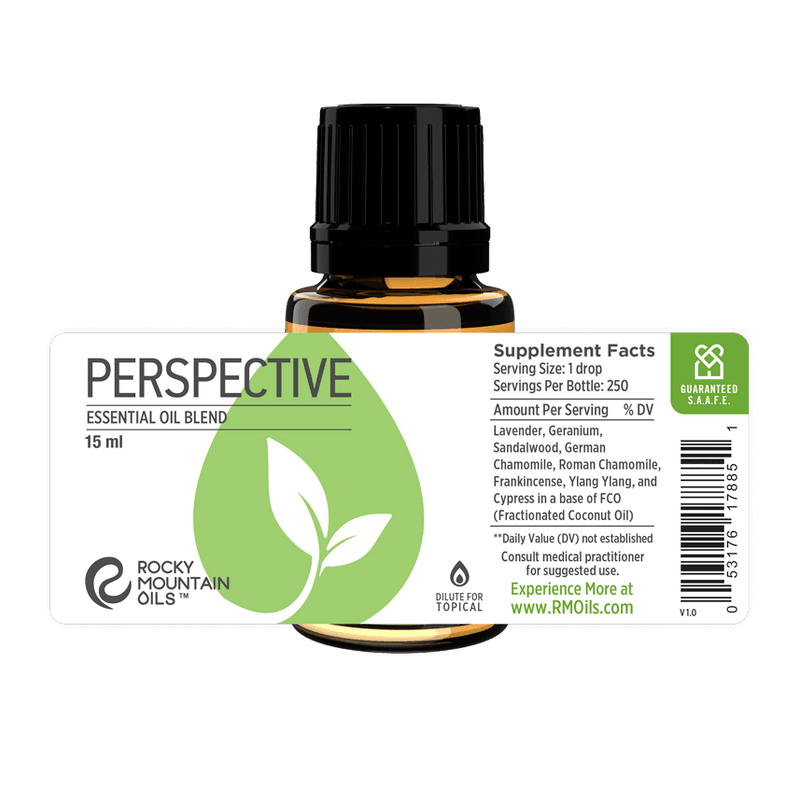 Perspective Essential Oil Blend - 15ml
GC/MS
TESTING
90 DAY
RETURNS
100% RECYCLED
PACKAGING
S.A.A.F.E
PROMISE
When you need a little help seeing someone else's point of view, try our Perspective Essential Oil Blend. Perspective is a unique blend of essential oils for anger, frustration, and fear: Lavender, Geranium, Sandalwood, Frankincense Carterii, Ylang Ylang, German and Roman Chamomile mix, and Cypress.
Offering a floral, earthy aroma that's strong and uplifting, this blend helps you release any trauma stored in the body that may be preventing you from connecting with others. It enhances empathy, reduces judgment, and shifts your focus away from the ego. When life feels heavy or wrought with conflict, use Perspective to center yourself.
Prediluted in a silky-smooth base of FCO carrier oil, this blend is ready for immediate topical use on adult skin and children ages 2 and up when diluted with extra carrier oil. Try applying 1-3 drops to pulse points, temples, or behind the ears to clear negative energy and feel more balanced.
Use this anti-inflammatory healing blend in skincare, haircare, and massage oils to soothe sore muscles. It's also great for adding natural fragrance to candles, soaps, cleaning products, and more.
---
The statements contained herein have not been evaluated by the Food and Drug Administration. Neither Rocky Mountain Oils

®

nor its products are intended for the purpose of diagnosing, treating, curing, or preventing any disease. If you are pregnant, nursing, taking medication, or have a medical condition, consult your physician before using these products. 
Apply to the temples, behind the ears, or pulse points to feel more grounded, reduce stress, and elevate your perspective to feel a greater connection with others.
Inhale while meditating, or apply it to wooden mala beads or rosaries, to feel gratitude and release trauma, anger, frustration, and loneliness.
Massage into stiff joints and sore muscles to relieve pain.
Use as a natural cologne or perfume to carry feelings of peace and strength wherever you go.
Add to DIY skincare, haircare, cleaning products, candles, soaps, and more.
Perspective Massage Cream
30 drops Perspective
1 teaspoon FCO (Fractionated Coconut Oil)
1 cup shea butter
Instructions: Melt the shea butter in a double boiler over low heat. Once melted, remove from the heat, then add the FCO and Perspective oils. Mix to combine. Pour the mixture into a container and allow to cool completely before closing the lid. Once fully cooled, massage the cream into the shoulders, neck, and arms 2-3 times a day, as needed. You can also apply the cream to the bottoms of your feet.
For external use only. Do not ingest. Always patch test prior to extensive use on the skin. Avoid contact with the eyes, nose, mouth, sensitive areas, and broken skin. Do not use while pregnant or breastfeeding.
Kids Safety: Safe to use topically with kids 2 years of age and older when diluted with extra carrier oil to a .5-2% dilution rate. Click here to learn more about essential oils and kid safety.
Not recommended for diffusing.
Keep out of reach of children and pets.
As part of our S.A.A.F.E. Promise™ to you, Rocky Mountain Oils offers GC/MS (Gas Chromatography/Mass Spectrometry) test results from an independent, third-party lab for all of our essential oils and essential oil blends.
GC/MS tests verify the quality and purity of every Rocky Mountain Oils product, which guarantees you're using the safest and highest quality essential oils and essential oil blends available anywhere in the world.
To view the GC/MS test results for this essential oil blend, click here.
Perspective Essential Oil Blend - 15ml FAQ
What are the best essential oils for anger and frustration?

Some of the best essential oil for frustration and anger include Lavender, Geranium, Sandalwood, Frankincense Carterii, Ylang Ylang, German and Roman Chamomile, and Cypress. If you're frequently feeling angry or frustrated, we've included these oils in our unique Perspective Blend to help shift your mindset toward more positivity and empathy.

How do essential oils for negative energy work?

Essential oil for negativity works by cleansing the energy in your space and helping you feel lighter. The distinct aroma of essential oils will awaken your senses and promote positive feelings, which allows you to let go of anger, frustration, anxiety, or other dense emotions that may be creating a dark mood around you. Many essential oils also purify the air by neutralizing odor-causing bacteria, allergens, and pollutants.

What are some uses for Perspective Blend?

Use this aromatherapeutic blend to inspire you to see the world around you from a clear, unbiased perspective. This blend also enhances empathy, reduces judgment, and helps you feel more connected to other people, animals, and plants. We recommend using Perspective for mindfulness, meditation, journaling, affirmations, yoga, balancing emotions, and remaining level-headed when engaged in conflict. You can also use this essential oil for loneliness.

Is Perspective safe for kids and pets?

This essential oil blend is safe to use topically on children above the age of 2. However, because children are more sensitive than adults, you will need to dilute this blend with extra carrier oil to a kid-safe .5-2% dilution rate.

We also recommend conducting a patch test on your child before continuous use to ensure that he or she does not have an allergic reaction or sensitivity to any of the specific oils in the blend. Click here to learn more.

We do not recommend using this blend for dogs, cats, or other pets.

Always keep essential oils out of reach of children and pets. Never allow children or pets to ingest essential oils.

You can also try our Concentrate Roll-on for Kids.