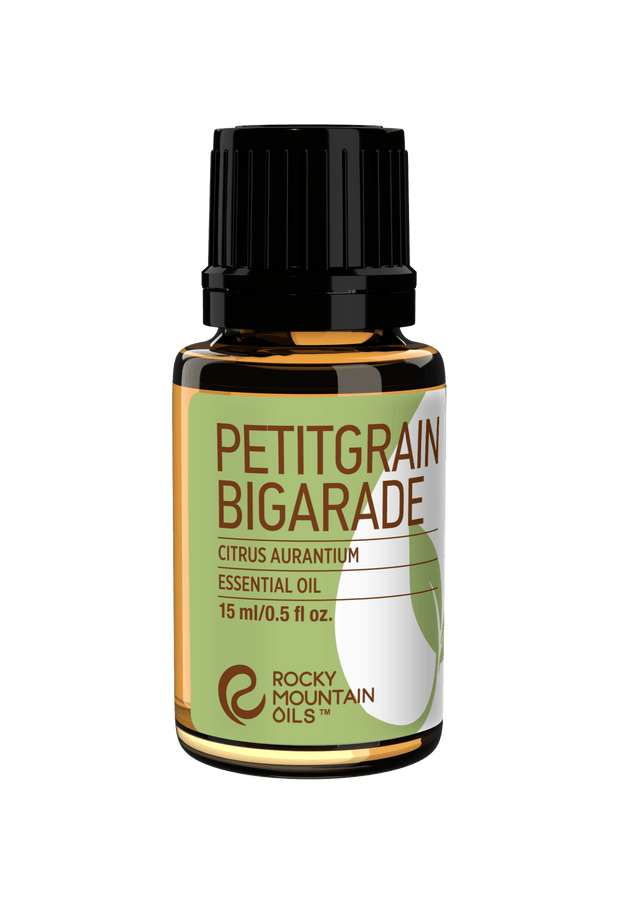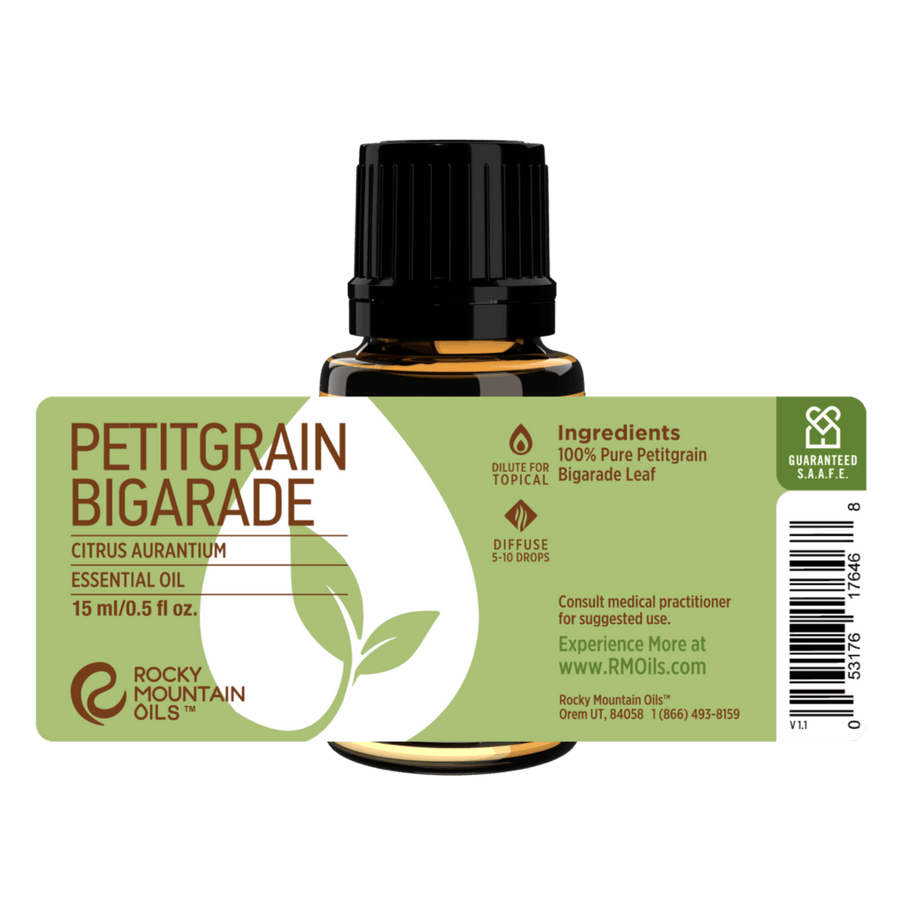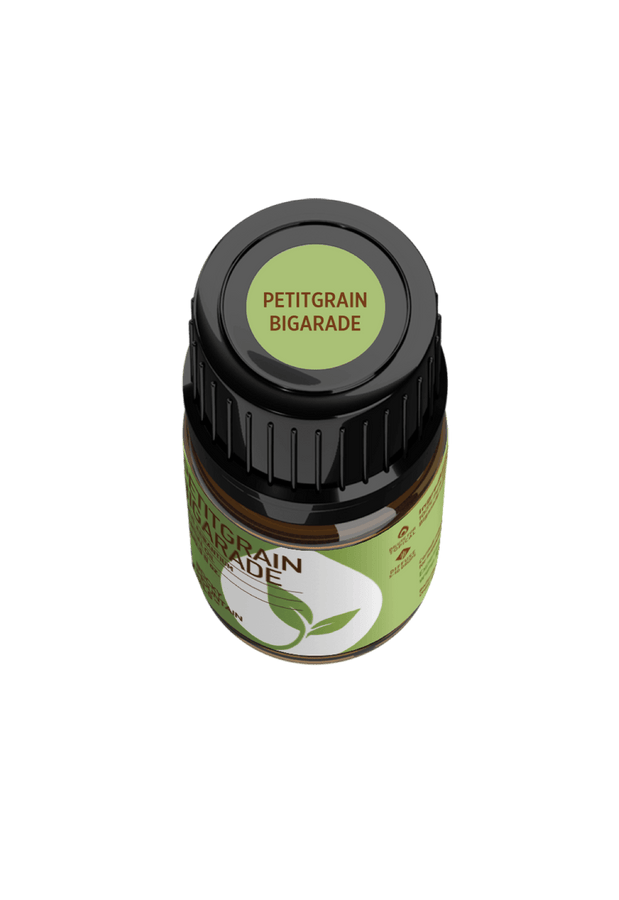 Petitgrain Bigarade Essential Oil
GC/MS
TESTING
90 DAY
RETURNS
100% RECYCLED
PACKAGING
S.A.A.F.E
PROMISE
Feel calm yet energized with the vibrant, citrusy aroma of Petitgrain Bigarade Essential Oil. Also known as bitter orange, Petitgrain Bigarade has a fresh scent that brings to mind citrus flowers with an earthy, woody undertone. 
Petitgrain Bigarade Oil uses include aromatherapy, skincare, haircare, and DIY household cleaners, making it a highly versatile essential oil to add to your collection. Like all Rocky Mountain Oils, our Petitgrain Bigarade is 100% pure and GC/MS tested by an independent, third-party lab to guarantee quality and safety. (Learn more here.)
When you diffuse Petitgrain Bigarade Essential Oil or add a few drops to personal care products, you'll feel both lighter and more grounded. Petitgrain Bigarade is recommended for stress, depression, anxiety, insomnia, and for improving focus and concentration. 
Used topically in a carrier oil, Petitgrain Bigarade benefits both skin and hair. It's naturally astringent and anti-inflammatory, which helps brighten the skin, control dandruff, and reduce blemishes like acne, while also helping treat skin irritations, small cuts, and bug bites. Try it in your conditioner, or create a deep-moisture hair mask, for promoting new hair growth that's thicker, shinier, and less oily.
Petitgrain Bigarade Oil Control Hair Mask
This deep-conditioning hair mask harnesses the healing benefits of Petitgrain Bigarade oil to help balance scalp pH, reduce excess oil, and create healthier, shinier, thicker hair.
4 drops Petitgrain Bigarade Essential Oil
4 drops Red Mandarin Essential Oil
10mL Jojoba Oil
Instructions: Mix all ingredients together, then apply to dry or wet hair. Massage into the scalp, making gentle circles from the crown of the head downward. Wash with shampoo to immediately rinse out, or leave in for 20-30 minutes for deep conditioning to repair damaged hair.
Botanical Name: Citrus aurantium var. amara
Country of Origin: Paraguay
Extraction Method: Steam Distilled
Plant Part: Leaves and Twigs
Aroma: Floral, Herbaceous, Earthy, Slightly Citrusy
Consistency: Oily Liquid
Blends Well With: Bergamot, Clary Sage, Geranium, Lavender, Lemon, Lime, Red Mandarin, Rosemary, Sandalwood, Ylang Ylang
Popular Petitgrain Bigarade Essential Oil Blends: Skin Tone, Dreamtime, Feminine Aid, and Heart Health
Add to a diffuser or homemade air freshener to create a tranquil, uplifting mood in your home or workspace.
Dilute in a carrier oil for topical use as a natural first-aid salve to help prevent infections and promote faster healing from small wounds, insect bites, or other skin irritations.
Also helps brighten and tone the complexion when used in skincare products. Use topically in a carrier oil to control oil, fade scars, reduce acne breakouts, and help heal sun damage.
Use the antimicrobial properties of Petitgrain Bigarade essential oil for sanitizing surfaces, neutralizing germs, and eliminating bacteria that cause odors. It's a perfect essential oil to add to DIY kitchen cleanser, bathroom tile scrubs, or furniture polish.
Use in hair care products to reduce excess sebum and balance scalp pH. Petitgrain Bigarade Essential Oil may help stimulate new hair growth, control dandruff, and reduce dry, damaged, frizzy hair.
Always dilute with a carrier oil prior to topical use. Possible skin sensitivity may occur. Keep out of reach of children.
Practice safe diffusing:
Diffuse in an open, well-ventilated area.
Keep children and pets out of the direct line of mist.
Diffuse in 30-60 minute intervals with ample break periods for safe and effective use.
At Rocky Mountain Oils, your trust and confidence matter to us. As part of our S.A.A.F.E. Promise™, we offer third-party verified GC/MS (Gas Chromatography/Mass Spectrometry) test results from an independent lab for every essential oil and blend in our line.
GC/MS tests verify the purity and quality of our essential oils, so you can be sure you're using the safest, highest-quality essential oils available today.
GC/MS Test: Click Here
For batch-specific GC/MS test, click here.
Petitgrain Bigarade Essential Oil FAQ
What is Petitgrain Bigarade Essential Oil used for?

Petitgrain Bigarade Oil benefits include aromatherapy, meditation, sleep, immune support, sanitizing surfaces, DIY skincare, haircare, candlemaking, soap making, healing abrasions, bug bites, deep relaxation, seasonal depression, and more.

What are the emotional benefits of Petitgrain Bigarade oil?

With its slightly earthy and citrusy aroma, Petitgrain Bigarade oil benefits the emotions as well as the body. Using this oil reduces anxiety and depression while creating a tranquil, happy mood. Diffuse Petitgrain Bigarade Oil to cleanse and uplift your space, or apply to aromatherapy jewelry to carry this gently energizing scent wherever you go.

Can I put Petitgrain Bigarade Essential Oil on skin?

Yes! Petitgrain Bigarade Essential Oil can act as a natural toner to help control oily skin and reduce breakouts. It also helps reduce redness, heal blemishes, and fade scars. Unlike some citrus oils, Petitgrain Bigarade is non-photoxic and will not increase sensitivity to the sun. However, before topical use on the skin, Petitgrain Bigarade Oil should be diluted in a carrier oil to avoid possible irritation. Click here to learn more about

dilution rates

.

Does Petitgrain Bigarade Oil benefit sleep?

Yes, Petitgrain Bigarade Essential Oil benefits sleep. This oil has deeply calming effects that can relax tense muscles, quiet a busy mind, and help you fall asleep faster and sleep more deeply. You can also use Petitgrain Bigarade to help you fall back to sleep if you wake up in the middle of the night.