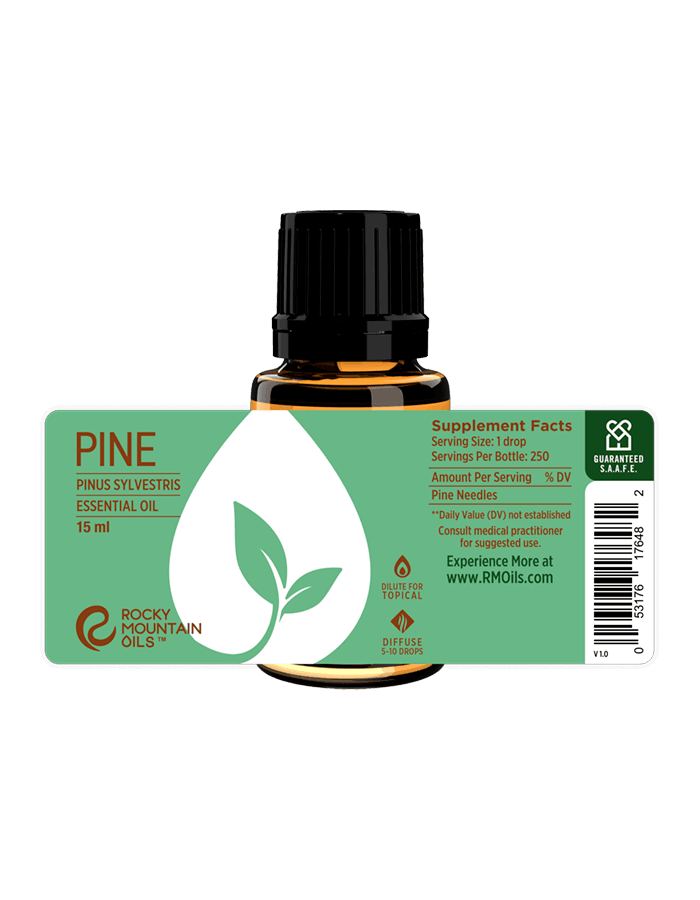 Pine Essential Oil
GC/MS
TESTING
90 DAY
RETURNS
100% RECYCLED
PACKAGING
S.A.A.F.E
PROMISE
Fill your space with the clean, refreshing scent of nature with Pine Essential Oil. Also known as Scotch Pine, Scots Pine, or Pine Needle essential oil, this oil has a fresh, uplifting, woody scent that calls to mind tranquil forests and cozy Christmas trees.
Pine essential oil benefits include reducing inflammation, neutralizing bacteria and viruses, and eliminating mold and fungi. It's an excellent oil to use in home cleaning products because it purifies and leaves surfaces shiny and sweet-smelling. Pine oil also has natural insect-repelling properties, so it can keep pesky bugs like mosquitoes out of your space – without harsh chemicals like DEET.
Diffuse Pine in your home to purify the air while creating a comfortable atmosphere that promotes balance and stability. The scent of Pine can help you focus, enhance memory, and stimulate creativity. When used for meditation or yoga, it also helps you connect with Mother Earth and clear negative energy.
When diluted with a carrier oil for topical application, you can enjoy anti-aging Pine essential oil benefits while nourishing dry, cracked skin and treating acne. Try adding a few drops to your regular cleanser or moisturizer, then massage into the skin to tone and brighten. You can also use Pine oil with Fractionated Coconut Oil to make a deep-hydrating, clarifying hair mask.
---
The statements contained herein have not been evaluated by the Food and Drug Administration. Neither Rocky Mountain Oils nor its products are intended for the purpose of diagnosing, treating, curing or preventing any disease. If you are pregnant, nursing, taking medication, or have a medical condition, consult your physician before using these products.
Diffuse to reduce to relieve anxiety, stress, and depression, while enhancing concentration, focus, and memory.
Dilute with a carrier oil, then apply topically to heal acne and redness, reduce signs of aging, and restore the skin's natural protective barrier.
Use as a DIY massage oil to reduce inflammation and pain while stimulating blood flow.
Add a few drops to your home cleaning products to sanitize and refresh. Makes a great DIY wood polish.
Pine Room Spray
Fill your home, car, office, or any space with the refreshing aroma of Pine needle essential oil using this DIY room spray.
10 drops Pine essential oil
1 cup Distilled Water
3-5 drops Witch Hazel
Instructions: Add all ingredients to a clean spray bottle and shake well to combine. Shake again before each use. Spritz generously into the air or onto linens, pillows, and soft furniture for Pine essential oil benefits for aromatherapy and air purification.
Botanical Name: Pinus sylvestris
Country of Origin: Hungary/Austria/Bulgaria*
Extraction Method: Steam Distilled
Plant Part: Needles
Aroma: Herbal, Woody
Consistency: Thin
*Some of our oils have multiple countries of origin. To confirm which country your specific bottle of oil originates from, please click here to consult its GC/MS test.
Blends Well With: Bergamot, Cedarwood, Lavender, Lemon, Red Mandarin, Orange, Rose, Sandalwood, Ylang Ylang
Popular Pine Essential Oil Blends: Majestic Breeze, Third Eye, Breathe Ease, Joyful Moments
Always dilute prior to topical application. Avoid contact with mucous membranes, eyes, and the inside of the mouth, nose, and ears. Do not ingest. Do not use while pregnant or breastfeeding.
Kids Safety: Safe to use topically with children ages 2 years old and up. Dilute to a .5-2 % dilution rate for topical application.
Tips for Safe Diffusing:
Diffuse in a well-ventilated area with plenty of air flow.
Diffuse in 30-60 minute intervals, with ample break periods for safe and effective use.
Keep children and pets out of the direct line of mist.
At Rocky Mountain Oils, your trust and confidence matter to us. As part of our S.A.A.F.E. Promise™, we offer third-party verified GC/MS (Gas Chromatography/Mass Spectrometry) test results from an independent lab for every essential oil and blend in our line.
GC/MS tests verify the purity and quality of our essential oils, so you can be sure you're using the safest, highest-quality essential oils available today.
GC/MS Test: Click Here
For batch-specific GC/MS tests, click here.
Pine Essential Oil FAQ
What is the difference between Pine Nut oil and Pine essential oil?

Pine Nut oil is a vegetable oil that is used for cooking, similar to olive oil or peanut oil. Pine essential oil, meanwhile, is steam distilled from pine needles and used for aromatherapy or topical use. Do not ingest Pine essential oil.

Is Pine oil safe for wood?

Yes! When mixed with distilled water or white vinegar, Pine oil makes a great natural cleaner and wood polish for furniture, hardwood floors, musical instruments, and more. However, before using Pine on any wood item, apply a tiny amount on an inconspicuous area to ensure that staining does not occur.

Does Pine essential oil keep insects away?

Yes. Pine essential oil is high in natural compounds called terpenes, which offer multiple benefits including use as a natural, chemical-free insect repellent. While humans love the woodsy aroma of Pine, bugs can't stand it. Diffusing this essential oil or using it topically can help keep pesky insects like mosquitoes and flies from biting.

What are some Pine essential oil benefits for mood?

Essential oils like Pine offer many benefits to improve your mood. Pine is deeply relaxing, grounding, and helps alleviate anxiety and depression. You can also diffuse Pine needle essential oil to enhance your focus, concentration, and memory recall. It's a great essential oil for students as well as anyone who needs a little extra help tuning out distractions.