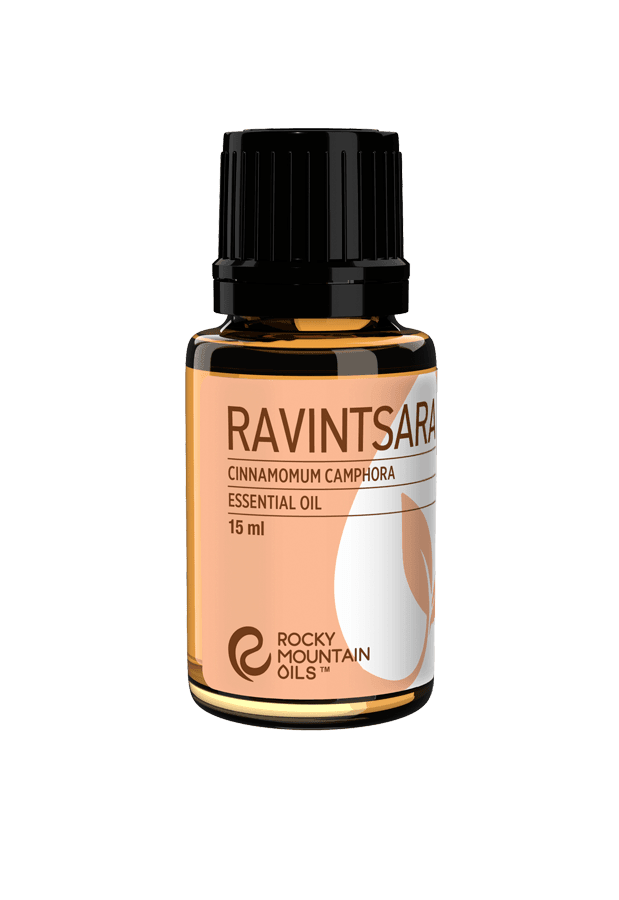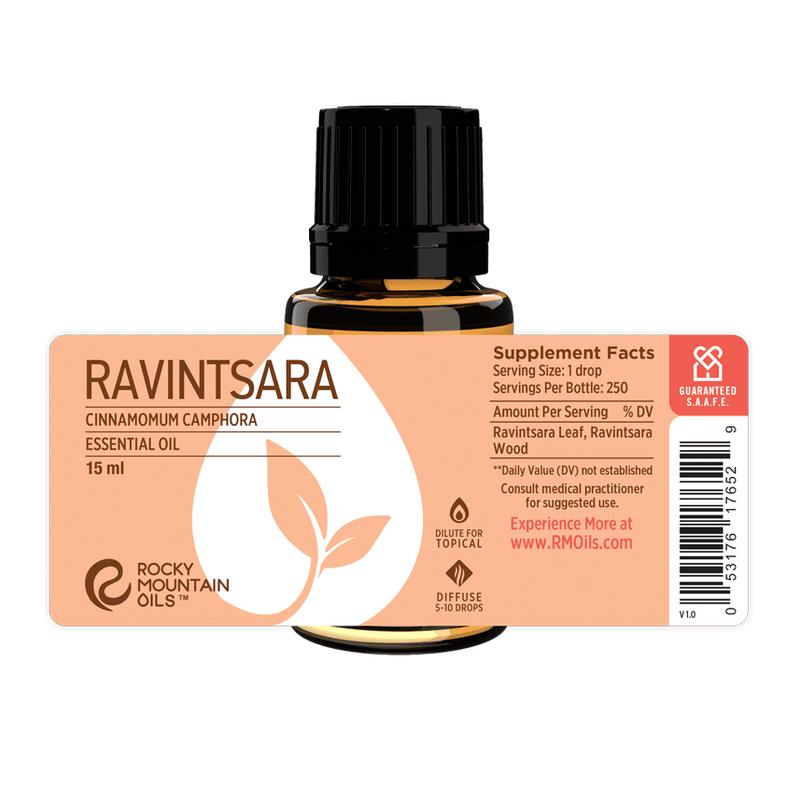 Ravintsara (Ho Wood) Essential Oil
GC/MS
TESTING
90 DAY
RETURNS
100% RECYCLED
PACKAGING
S.A.A.F.E
PROMISE
Breathe deeply and feel relaxed from your head to your toes with Ravintsara Essential Oil. Also commonly known as Ho Wood, Ho Leaf, or Camphor oil, this essential oil offers a deep, velvety, camphorous aroma that's reminiscent of eucalyptus and citrus. It promotes mental clarity while offering numerous healing benefits.
Ravintsara oil is steam distilled from the leaves of the Cinnamomum camphora tree, which is native to Madagascar. It has been used for generations in traditional medicine thanks to its antiseptic and anti-inflammatory properties. If you or someone in your family has a respiratory illness, Ravintsara can act as a natural expectorant to relieve chest and sinus congestion.
Other Ravintsara essential oil benefits include purifying the air from germs and bacteria, relieving pain in sore muscles and stiff joints, and promoting digestive health. When diluted with a carrier oil, Ravintsara (Ho Wood) oil can be massaged into the lower abdomen to relieve discomfort caused by gas, bloating, menstrual cramps, and more. This essential oil also offers benefits for skincare and haircare.
Ravintsara essential oil uses for aromatherapy include reducing stress and anxiety, lifting brain fog, and boosting focus and concentration. Try diffusing it to increase your productivity at work or school by letting the earthy aroma help you tune out distractions. Ravintsara also promotes creativity, motivation, and self-confidence.
---
The statements contained herein have not been evaluated by the Food and Drug Administration. Neither Rocky Mountain Oils nor its products are intended for the purpose of diagnosing, treating, curing or preventing any disease. If you are pregnant, nursing, taking medication, or have a medical condition, consult your physician before using these products.
Diffuse to freshen the air in your home, office, car, or any space. Ravinstara essential oil helps neutralize odor-causing bacteria while purifying the air against germs, mold spores and fungi, allergens, or other environmental pollutants.
Dilute with a carrier oil and apply topically for a soothing natural expectorant that loosens phlegm and mucus, clears sinus congestion, and promotes better breathing when you or your family has a respiratory illness.
Apply topically to the lower abdomen for relief from digestive issues like constipation, gas and bloating, nausea, or indigestion, as well as menstrual cramps.
Massage into sore muscles to relieve inflammation and promote faster recovery after workouts or strenuous physical activity.
Dilute with a carrier oil or add a few drops to your daily cleanser or moisturizer to tone, brighten, and hydrate skin.
Diffuse or use in a room spray to relieve stress and anxiety while creating a tranquil environment that promotes mental clarity and concentration.
Respiratory Support Diffuser Blend
Support your respiratory system against colds, flu, bronchitis, or allergies with this soothing DIY diffuser blend offering all the benefits of Ravintsara essential oil.
3-4 drops Ravintsara
3-4 drops Eucalyptus
2-3 drops Peppermint
Instructions: Add all ingredients to an essential oil diffuser and diffuser for 30-60 minutes to relieve chest congestion and promote better breathing.
Botanical Name: Cinnamomum camphora
Chemotype: 1,8 Cineole
Country of Origin: Madagascar/China*
Extraction Method: Steam Distilled
Plant Part: Leaf
Aroma: Spicy, Woody, Menthol
Consistency: Thin
*Some of our oils have multiple countries of origin. To confirm which country your specific bottle of oil originates from, please click here to consult its GC/MS test.
Blends Well With: Cedarwood, Cinnamon Bark, Eucalyptus, Lavender, Peppermint, Rosemary, Sandalwood
Popular Ravintsara (Ho Wood) Essential Oil Blends: Hair Support, Breathe Ease, Fortify, Revitalize
Always dilute prior to topical application. Avoid contact with mucous membranes, eyes, and the inside of the mouth, nose, and ears. Do not ingest. Do not use while pregnant or breastfeeding.
Kids Safety: Safe to use topically with children ages 2 years old and up. Dilute to a .5-2% dilution rate for topical application.
Tips for Safer Diffusing:
Diffuse in an open, well-ventilated area.
Keep children and pets out of the direct line of mist.
Diffuse in 30-60 minute intervals, with ample break periods for safe and effective use.
At Rocky Mountain Oils, your trust and confidence matter to us. As part of our S.A.A.F.E. Promise™, we offer third-party verified GC/MS (Gas Chromatography/Mass Spectrometry) test results from an independent lab for every essential oil and blend in our line.
GC/MS tests verify the purity and quality of our essential oils, so you can be sure you're using the safest, highest-quality essential oils available today.
GC/MS Test: Click Here
For batch-specific GC/MS tests, click here.
Ravintsara (Ho Wood) Essential Oil FAQ
What are the skincare benefits of Ravintsara essential oil?

Ravintsara essential oil is anti-inflammatory and antimicrobial. It also offers antioxidant benefits for anti-aging effects when used in skincare and natural beauty. To use Ravintsara for the skin, dilute it with a carrier oil or add a few drops to your regular skincare products like cleansers, toners, and moisturizers. Within a few uses, you'll discover that Ravintsara helps with acne, fine lines and wrinkles, discoloration and hyperpigmentation, dry skin, and more. It also promotes elasticity and collagen production.

What are some Ravintsara essential oil benefits for hair?

Ravintsara essential oil uses for hair include balancing scalp pH, controlling excess oil (sebum) production, treating and preventing dandruff, eczema, and psoriasis, and strengthening hair at the roots. This essential oil may also help stimulate new hair growth by increasing blood flow to the hair follicles and promote thicker, shinier, more voluminous hair.

Is Ravintsara (Ho Wood) essential oil good for sleep?

Yes! If you experience insomnia or other sleep disorders, Ravintsara or Ho Wood essential oil can help. Try diffusing this essential oil at bedtime or blend it with a carrier oil to make a soothing, relaxing muscle rub. Breathe into the deep, rich aroma and allow it to help quiet your mind so you can fall asleep faster and sleep more deeply. You can also keep Ravintsara in your nightstand and inhale from the bottle if you awaken in the middle of the night and need to fall back to sleep.

What are the emotional benefits of Ravintsara essential oil?

Ravintsara essential oil uses for emotion include calming the central nervous system and quieting anxious thoughts. When you inhale the grounding, tranquil aroma of Ravintsara (Ho Wood) essential oil, you'll feel your body release stress and tension, and find it easier to take a long, deep, calming breath. It's a great essential oil for finding your center and remaining cool under pressure.