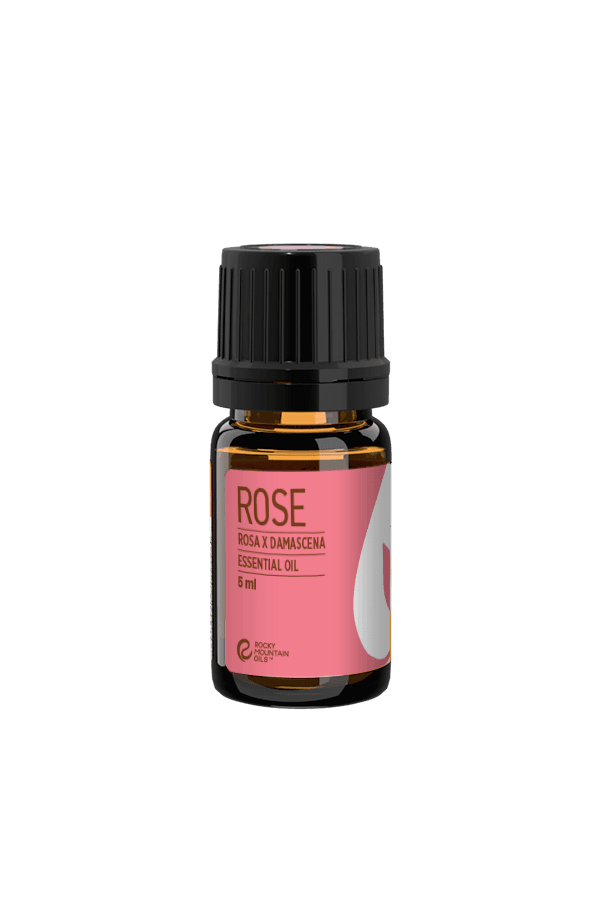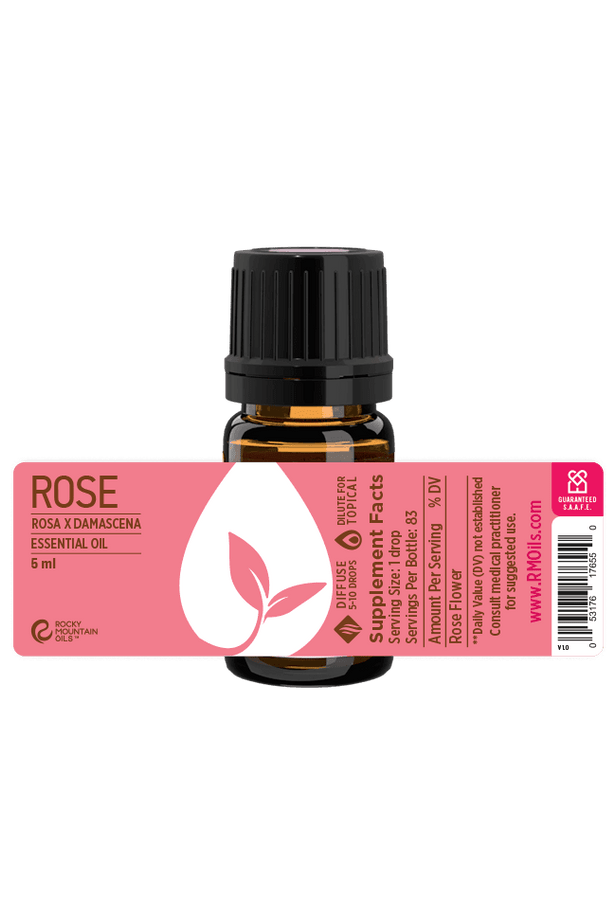 Rose Essential Oil
GC/MS
TESTING
90 DAY
RETURNS
100% RECYCLED
PACKAGING
S.A.A.F.E
PROMISE
Inspire more romance and bring fresh, uplifting energy into your life with pure Rose Essential Oil. Often considered the "queen of essential oils," Rose oil carries an irresistible aroma that tantalizes the senses while sparking passion and joy. The scent of Rose is known to be a powerful aphrodisiac that also promotes feelings of peace, comfort, love, and grace.
Steam distilled from rose petals, this essential oil has a deep aroma that's floral and luxurious. It is also known as Damask Rose, Rose of Castile, or Rose Otto essential oil. But as Shakespeare once wrote, a Rose by any other word would smell as sweet! No matter what you call it, this essential oil is undeniably delightful.
In addition to its benefits for libido, other Rose essential oil uses include diffusing, natural perfume, adding fragrance to home cleaning products, and skincare. Rose is a natural humectant moisturizer that heals dry skin and offers anti-aging benefits. Using Rose oils for face products will give your complexion a more toned, even appearance and a youthful glow. 
You can also use Rose essential oil in DIY haircare to promote new hair growth, control dandruff, and balance the scalp. Try adding 1-3 drops to your regular shampoo or conditioner, then massage into the scalp for healthier hair that smells amazing!
---
The statements contained herein have not been evaluated by the Food and Drug Administration. Neither Rocky Mountain Oils nor its products are intended for the purpose of diagnosing, treating, curing or preventing any disease. If you are pregnant, nursing, taking medication, or have a medical condition, consult your physician before using these products.
*NOTE* during transit in colder temperatures this product can solidify. To return back to its liquid state, keep it at room temperature or warm up in your hands or pocket. This does not affect the efficacy or potency of the product. 
Diffuse to reduce feelings of stress and anxiety, while promoting relaxation and positive energy. Essential oil from Roses is known to help you feel centered and emotionally balanced.
Dilute with a carrier oil, then apply to dry skin to nourish and restore your natural protective barrier.
Use to treat acne, eczema, psoriasis, or other skin irritations while reducing the appearance of scars, fine lines and wrinkles, discoloration, and age spots.
Diffuse or use it in a massage oil to enhance libido, create a romantic mood, and strengthen your intimate connection with your partner.
Dilute with a carrier oil, then massage into the abdominal region for relief from digestive issues and menstrual cramps.
Rose Oil Face Mist
Try this gentle mist of Rose oil for skin care and beauty to feel refreshed and promote a natural glow.
10 drops Rose essential oil
1 cup Distilled Water
Instructions: Add all ingredients to a clean, fine-mist spray bottle and shake well to combine. Shake again before each use. Mist generously onto the face (with eyes closed) to experience Rose essential oil benefits for the skin.
Botanical Name: Rosa x damascena
Country of Origin: Bulgaria/France*
Extraction Method: Steam Distilled
Plant Part: Flower
Aroma: Floral, Sweet
Consistency: Medium to Thick
*Some of our oils have multiple countries of origin. To confirm which country your specific bottle of oil originates from, please click here to consult its GC/MS test.
Blends Well With: Clary Sage, Sandalwood, Geranium, Frankincense Carterii, Patchouli, Ylang Ylang, Lavender
Popular Rose Essential Oil Blends: Baby Skin, Skin Care, Love, DNA Harmony
Always dilute prior to topical application. Avoid contact with mucous membranes, eyes, and the inside of the mouth, nose, and ears. Do not ingest. Do not use while pregnant or breastfeeding.
Kids Safety: Safe to use topically with children ages 7 months and up. Dilute to a .5-1% dilution rate for topical application.
NOTE: Rose oil may solidify in colder temperatures. This does not affect the quality, efficacy, or potency of the product. To return the oil to its liquid state, simply warm the bottle in your hands or place it in a pocket for a few minutes.
Practice safe diffusing:
Diffuse in an open, well-ventilated area.
Keep children and pets out of the direct line of mist.
Diffuse in 30-60 minute intervals, with ample break periods for safe and effective use.
At Rocky Mountain Oils, your trust and confidence matter to us. As part of our S.A.A.F.E. Promise™, we offer third-party verified GC/MS (Gas Chromatography/Mass Spectrometry) test results from an independent lab for every essential oil and blend in our line.
GC/MS tests verify the purity and quality of our essential oils, so you can be sure you're using the safest, highest-quality essential oils available today.
GC/MS Test: Click Here
For batch-specific GC/MS tests, click here.
Rose Essential Oil FAQ
Is Rose essential oil anti-inflammatory?

Yes! Many Rose essential oil benefits arise from its anti-inflammatory benefits, including its ability to soothe and heal skin. Rose oil is also antimicrobial, antifungal, and rich in antioxidants.

Does Rose oil help with sleep?

Yes, Rose essential oil uses include treating insomnia by helping you fall asleep faster and sleep more soundly. Try diffusing Rose essential oil at bedtime as you begin to wind down, and allow the soothing floral aroma to help you release any busy thoughts keeping you awake. The scent of Rose can also promote lucid dreaming.

Why is pure Rose essential oil so expensive?

Essential oil from roses is often very expensive due to the cost of production and steam distillation. It takes approximately 100 rose petals to make 1 drop of Rose oil! Despite its price, Rose essential oil is so highly concentrated that one bottle can last for multiple uses. For a more affordable alternative, try our Blend of Rose.

Is Rose essential oil the same as Rose Otto essential oil?

Yes! Rose Otto essential oil is another name for Rose oil. However, another type of rose oil called Rose Absolute is created using a solvent distillation process. Rose Absolute has a more intense fragrance that is preferred by the perfume industry, while pure Rose essential oil or Rose Otto essential oil is distilled using steam and is 100% natural.