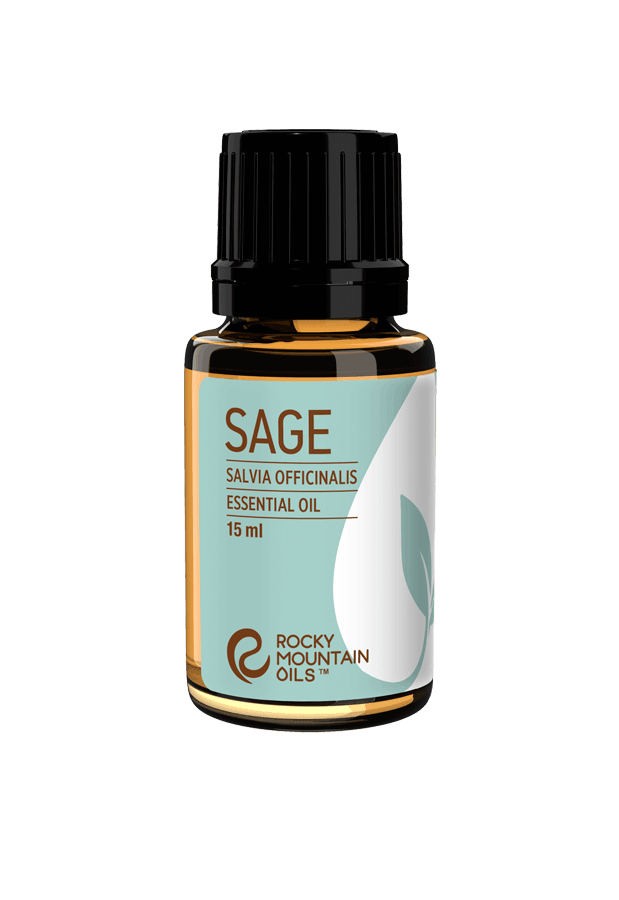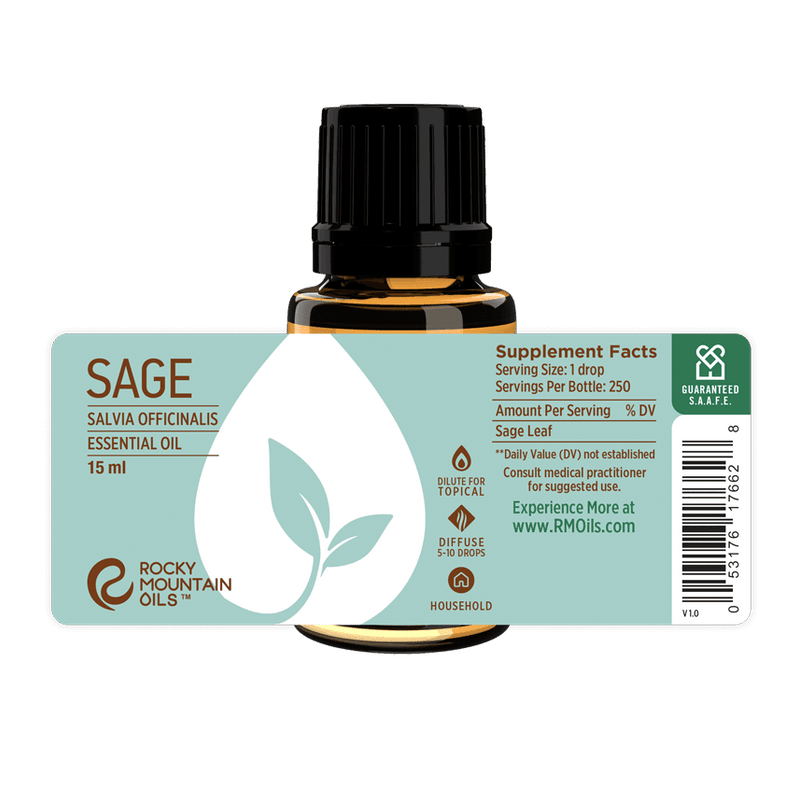 Sage Essential Oil - Sage Oil
GC/MS
TESTING
90 DAY
RETURNS
100% RECYCLED
PACKAGING
S.A.A.F.E
PROMISE
Cleanse negative energy, sanitize your space, and heal naturally with Sage Essential Oil. Offering a fresh, warm, and herbaceous aroma, Sage has been used for centuries in traditional medicine and spiritual practices around the globe. 
Also known as Garden Sage, True Sage, Common Sage, or Dalmatian Sage, this essential oil has powerful anti-inflammatory, analgesic, antibacterial, antifungal, and antimicrobial properties. It's a perennial shrub in the mint family that contains natural compounds like cineole, camphor, and antioxidants for benefiting health.
Sage essential oil benefits include healing minor wounds and skin irritations, neutralizing germs and microbes that cause illness, supporting the immune system, and nourishing the scalp for healthier, shinier, thicker hair. Sage oil also helps balance hormones and may support fertility.
When you diffuse or inhale Sage, the grounding scent will immediately relax you. You'll feel anxious thoughts, muscle tension, and worries melt away with the deep and earthy aroma. In many spiritual traditions, Sage essential oil uses include clearing negativity from your personal space, warding off bad vibes, and creating a fresh start for new beginnings. Try meditating with Sage oil or diffuse it while reciting affirmations.
---
The statements contained herein have not been evaluated by the Food and Drug Administration. Neither Rocky Mountain Oils nor its products are intended for the purpose of diagnosing, treating, curing or preventing any disease. If you are pregnant, nursing, taking medication, or have a medical condition, consult your physician before using these products.
Dilute and apply topically with a carrier oil to soothe dry or itchy skin, heal irritation, and treat or prevent fungal infections.
Diffuse to create a relaxing atmosphere that reduces negative energy, stress, and distractions, while promoting mental clarity, creativity, and passion.
Use as a massage oil to improve circulation, reduce inflammation, and alleviate pain from body aches, cramps, and joint stiffness.
Add a few drops to your favorite household cleaner, or make a DIY cleaning product with white vinegar, to sanitize and deodorize your home while neutralizing germs and bacteria that cause illness.
Dilute with a carrier oil and apply topically to the abdomen for relief from indigestion, bloating, gas, menstrual cramps, and more.
Diffuse during yoga and meditation, or apply a few diluted drops to the forehead or heart center, to deepen your spiritual practice and attain deeper stillness.
Sage Essential Oil Room Spray
Clear negative energy and fill your space with the bright, uplifting aroma of Sage with this all-natural room spray.
10 drops Sage Essential Oil
1 cup Distilled Water
1 teaspoon Witch Hazel
Instructions: Add all ingredients to a spray bottle, then shake well to combine. Shake again before each use. Mist generously to freshen the air or use on linens, pillows, and soft furniture.
Botanical Name: Salvia officinalis
Country of Origin: Turkey/Greece*
Extraction Method: Steam Distilled
Plant Part: Leaf
Aroma: Herbal, Spicy, Menthol
Consistency: Thin
*Some of our oils have multiple countries of origin. To confirm which country your specific bottle of oil originates from, please click here to consult its GC/MS test.
Blends Well With: Basil, Cinnamon Bark, Clove Bud, Eucalyptus, Lavender, Lemon, Melissa, Nutmeg, Orange
Popular Sage Blends: Hair Support, Lymph Support, Aura Awakening, Third Eye, Feminine Aid
Always dilute and patch test prior to topical application. Avoid contact with mucous membranes, eyes, and the inside of the mouth, nose, and ears. Do not ingest. Do not use while pregnant or breastfeeding.
Kids Safety: Safe to use topically with children ages 6 years old and up. Dilute to a 1-2% dilution rate for topical application.
Tips for Safe Diffusing:
Diffuse in a well-ventilated area with plenty of airflow.
Diffuse in 30-60 minute intervals, with ample break periods for safe and effective use.
Keep children and pets out of the direct line of mist.
At Rocky Mountain Oils, your trust and confidence matter to us. As part of our S.A.A.F.E. Promise™, we offer third-party verified GC/MS (Gas Chromatography/Mass Spectrometry) test results from an independent lab for every essential oil and blend in our line.
GC/MS tests verify the purity and quality of our essential oils, so you can be sure you're using the safest, highest-quality essential oils available today.
GC/MS Test: Click Here
For batch-specific GC/MS tests, click here.
Sage Essential Oil - Sage Oil FAQ
Are Sage and Clary Sage the same?

No. Although Sage and Clary Sage come from the same plant family, these essential oils are distilled from two distinct subspecies of the Sage plant.

Due to their different phytochemical composition, Sage essential oil and Clary Sage essential oil have different aromas and different holistic benefits. Sage is stronger, deeper, and more camphorous. It offers more antiseptic and energizing benefits. Clary Sage, meanwhile, is sweeter, lighter, and more floral. It's used more often for calming the nervous system and balancing emotions.

However, both varieties of Sage are anti-inflammatory, promote respiratory health, and help reduce stress and anxiety.

Does Sage essential oil help you sleep?

Yes! Sage essential oil uses include calming and relaxing, which reduces insomnia and promotes better sleep. The sedative properties of Sage oil can also help reduce restlessness and anxious thoughts, making it easier to fall asleep and stay asleep throughout the night. Some studies have even shown that inhaling Sage oil before bed can improve the overall quality of sleep, enhance dreaming, and help your body heal itself more effectively during periods of rest.

What are the benefits of Sage oil for hair?

When diluted with a carrier oil or added to your regular shampoo or conditioner, Sage essential oil benefits include balancing your scalp and nourishing your hair. The benefits of Sage oil for hair include promoting new hair growth, improving blood flow to the scalp, reducing dandruff, adding shine, adding volume, reducing frizz, de-tangling, strengthening and protecting against breakage, and reducing split ends. Sage oil also leaves your hair smelling clean and appealing.

What are the spiritual properties of Sage essential oil?

Sage is known to clear negative energy, strengthen your aura, and help you connect with your ancestors. Other Sage essential oil uses for spiritual practices include deeper levels of meditation, lucid dreaming, removing emotional obstacles and spiritual blocks, and helping you fine-tune your intuition.