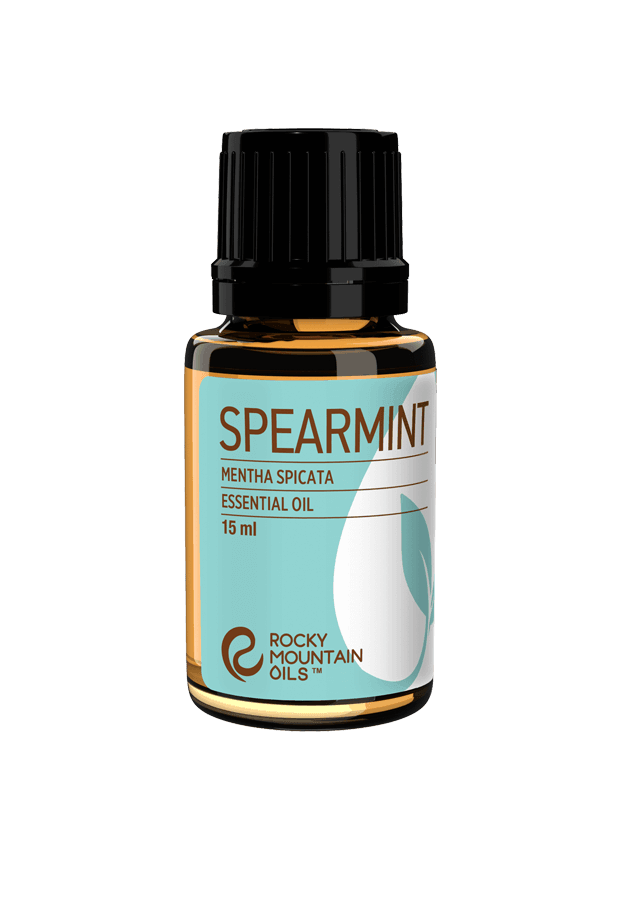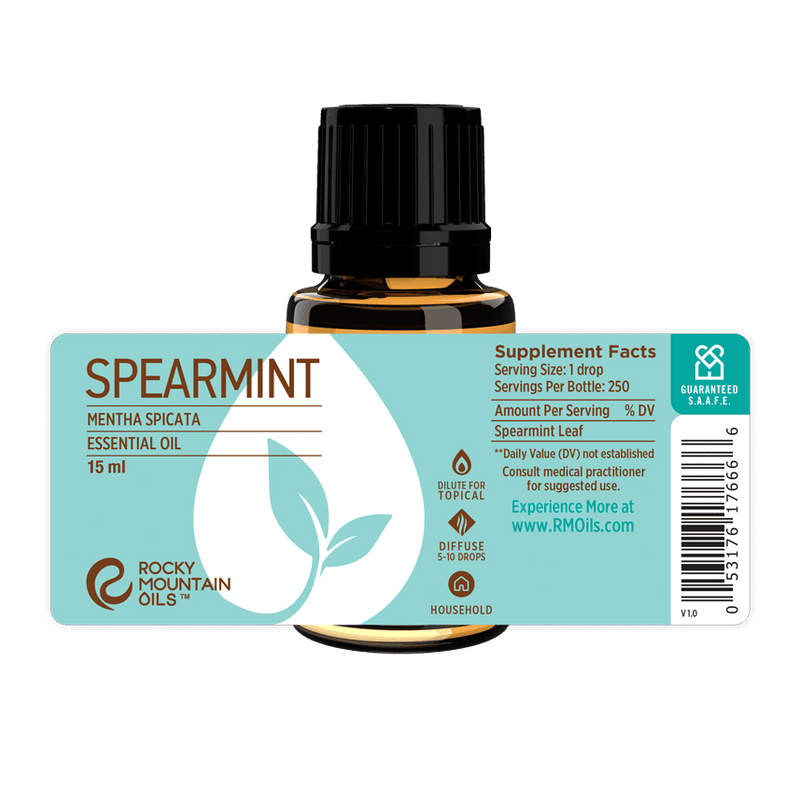 Spearmint Essential Oil
GC/MS
TESTING
90 DAY
RETURNS
100% RECYCLED
PACKAGING
S.A.A.F.E
PROMISE
Feel cleaner, calmer, and add more sweetness to your life with Spearmint Essential Oil. Steam distilled from the leaves of the Mentha spicata plant, Spearmint offers a minty scent that's light, cooling, and slightly fruity. It's similar to Peppermint, but softer and sweeter.
Spearmint is a popular herb that has been used for generations as a home remedy. Spearmint essential oil benefits the digestive system and helps treat stomach ailments. It also relieves inflammation, skin irritation, and lung congestion. Try diffusing Spearmint to purify the air in your home while supporting respiratory and digestive health.
When used for aromatherapy, Spearmint helps with memory and concentration. It's known to reduce stress and anxiety while stimulating creativity. If you find yourself feeling overwhelmed or easily distracted, try blending Spearmint with a carrier oil and using it for a calming and focusing natural perfume or cologne.
Spearmint is also a versatile aroma that enhances other fragrances. Try making a Eucalyptus Spearmint essential oil blend to support your mood and promote mental clarity, or mix it with Lavender and diffuse in the evening to promote better sleep.
---
The statements contained herein have not been evaluated by the Food and Drug Administration. Neither Rocky Mountain Oils nor its products are intended for the purpose of diagnosing, treating, curing or preventing any disease. If you are pregnant, nursing, taking medication, or have a medical condition, consult your physician before using these products.
Diffuse or use in a room spray to fill your space with positive energy that reduces stress and uplifts any mood, while boosting concentration and mental clarity.
Dilute with a carrier oil, then apply to the temples, neck, or forehead for a gentle cooling effect that helps you relax and release anxiety.
When diluted with a carrier oil, massage onto the abdomen to treat cramps, upset stomach, indigestion, nausea, and other digestive ailments.
Massage into the soles of the feet to absorb anti-inflammatory benefits and boost your immune system.
Use in a DIY chest rub to open congested airways, calm coughing, relieve sinus pressure, and support respiratory health.
Add a few drops to your household cleaning products to sanitize surfaces and repel insects.
Spearmint Muscle Rub
Soothe sore, stiff muscles and melt away tension while enjoying Spearmint essential oil benefits for your health with this relaxing muscle rub.
3-5 drops Spearmint Essential Oil
2 tbsp. Fractionated Coconut Oil
Instructions: Combine oils together and warm between your palms, then massage into the affected area. Store any leftover oil in an airtight container in a cool, dark place.
Botanical Name: Mentha spicata
Country of Origin: USA
Extraction Method: Steam Distilled
Plant Part: Leaf
Aroma: Sweet, Mint, Herbal
Consistency: Thin
Blends Well With: Eucalyptus, Lavender, Lemon, Orange, Peppermint, Rosemary
Popular Spearmint Blends: Lymph Support, Flu Time, Minty Clean, Revitalize
May cause irritation in its pure form. Always dilute with a carrier oil and patch test prior to extensive topical use. Do not use if pregnant or breastfeeding. Keep out of reach of children and pets.
Safe to use topically with children ages 2 and up when diluted to a .5-2% dilution rate. Click here to learn more about using essential oils for kids.
Safe Diffusing Tips:
Diffuse in an open, well-ventilated area.
Keep children and pets out of the direct line of mist.
Diffuse in 30-60 minute intervals with ample break periods.
Your trust and confidence matter to us. As part of our S.A.A.F.E. Promise™, Rocky Mountain Oils offers GC/MS (Gas Chromatography/Mass Spectrometry) test results verified by a third-party, independent lab for every essential oil and essential oil blend in our catalog.
GC/MS tests verify the purity and quality of all Rocky Mountain Oils products, so you can be sure you're using the safest, highest-quality essential oils available on the market.
GC/MS Test: Click Here
For batch-specific GC/MS tests, click here.
Spearmint Essential Oil FAQ
Is Spearmint essential oil good for your health?

Yes! Spearmint essential oil is good for nausea, upset stomach, cramps, IBS, boosting the metabolism, and immunity support. Other Spearmint essential oil benefits are anti-inflammatory in nature. This essential oil contains menthol, which offers a tingling and cooling sensation that stimulates blood flow while reducing inflammation. It can soothe muscle pain, joint stiffness, and more.

What is the difference between Spearmint and Peppermint essential oil?

Both Spearmint and Peppermint are in the Mentha herb family and provide similar benefits for the digestive system. However, Spearmint has a sweeter, lighter aroma with a hint of vanilla, while Peppermint is more herbal and spicy. Spearmint also contains a lower concentration of menthol. It has 0.5% menthol, while Peppermint contains 40% menthol.

What are some good Spearmint essential oils uses for the home?

Spearmint essential oil is great for adding natural fragrance to homemade cleaning products, soaps, candles, deodorizing powders, and more. Spearmint helps neutralize odor-causing bacteria while sanitizing surfaces against germs that make us sick. It's also a great option for anyone who enjoys the clean, crisp scent of mint but prefers an aroma that isn't as strong as Peppermint or Wintergreen.

Does Spearmint oil keep insects away?

Yes! While humans love the smell of Spearmint, insects can't stand it. Try diffusing Spearmint oil or dilute it with a carrier oil to make a natural insect repellent that keeps away mosquitoes, flies, moths, fleas, and other pesky bugs. You can also apply a few drops of Spearmint to your doorways and windowsills to create a natural perimeter that keeps insects out of your home.