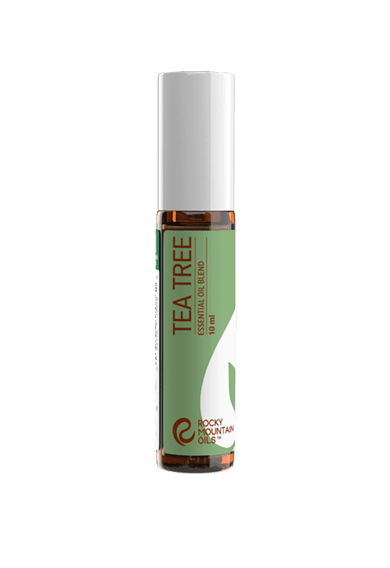 Tea Tree Roll-on
GC/MS
TESTING
90 DAY
RETURNS
100% RECYCLED
PACKAGING
S.A.A.F.E
PROMISE
Soothe irritated skin and support respiratory health wherever you go with a Tea Tree Roll-on. This prediluted roll-on combines the healing, antifungal power of Tea Tree Essential Oil with a moisturizing base of Jojoba Oil. It's perfect for skincare, aromatherapy, and natural first aid. 
Our Tea Tree Oil Roll-on has a medium-strength aroma that's crisp, clean, and herbaceous with a bright top-middle fragrance note. Steam distilled from the leaves of the Australian Melaleuca alternifolia plant, Tea Tree Oil is one of the most versatile essential oils thanks to its intrinsic medicinal properties. 
Tea Tree Oil is rich in compounds called terpenoids that are naturally antiviral, antibacterial, and antifungal. Try this Tea Tree Oil Roll-on for acne, athlete's foot, and bug bites. It may also provide relief for breathing problems and congestion.
Simply dab on pulse points to repel insects, apply to clean skin to treat blemishes, or roll onto minor cuts and abrasions to encourage faster healing. Breathing in the fresh, vibrant scent of this Tea Tree Roll-on is also calming and uplifting.
Tea Tree Roll-on Uses
This 10mL Tea Tree Oil Roll-on will be your skin's new best friend. Gently roll onto clean skin to soothe inflammation and treat dermatological conditions like acne, psoriasis, eczema, hives, dandruff, and more.
Perfect for travel-size first-aid kits, backpacks, carry-on luggage, toiletries, and more. Prediluted blend is ready for immediate topical use on adults and children ages 2 and up.
Apply to the neck, wrists, and ankles for a natural mosquito repellent and use on bug bites to reduce itching and redness.
Antifungal effects may slow the growth of athlete's foot and other fungal infections.
Use Tea Tree Oil's antibacterial and antiviral properties as a natural antiseptic to help heal scrapes, small cuts, and burns.
May also support immunity, respiratory system health, and clear sinus congestion.
Botanical Name: Melaleuca alternifolia
Country of Origin: Australia
Extraction Method: Steam Distilled
Plant Part: Leaf
Aroma: Menthol, Herbal
Consistency: Thin
Blends Well With: Nutmeg, Ravintsara, Myrtle, Lavender, Lemon, Clove Bud, Basil, Eucalyptus, Frankincense Serrata, and Rosemary.
It is always recommended to patch test before committing to topically applying. Patch test by applying the oil to a small section of your skin and leaving it for about 15 min. Check for any skin irritations or allergic reactions before committing to topical use.
------
Click here for dilution rates.
Your trust and confidence is very important to us. As part of our S.A.A.F.E. Promise™ to you, we provide GC/MS (Gas Chromatography / Mass Spectrometry) test results from a verified third party, independent lab for each one of our essential oil products.
GC/MS tests verify the purity and quality of the oils we sell, so you can be sure you're using the highest quality oils available on the market today.
GC/MS Test: Click Here
For batch specific GC/MS test click here.
Tea Tree Roll-on FAQ
What are some common tea tree essential oil roll-on uses?

Tea Tree Oil Roll-on uses include natural treatment for acne, eczema, psoriasis, inflammation, hormonal outbreaks, nail fungus, athlete's foot, and more. It also acts as a natural antiseptic to help heal minor cuts and scrapes and prevent infections, and can be used as a hand sanitizer. Additionally, many people use Tea Tree Roll-ons to treat dandruff and promote scalp health.

Can you put tea tree oil directly on your skin?

Pure Tea Tree Oil may cause irritation and is recommended for topical use with a carrier oil after performing a patch test. However, our Tea Tree Roll-on is prediluted to 5% Tea Tree Oil in a 95% Jojoba Oil base that's ready for use on the skin. If sensitivity occurs, you may add an additional carrier oil. Avoid contact with mucus membranes and eyes.

How do you use tea tree roll-on?

If using on the face, first wash your face with a gentle, alcohol-free cleanser, then roll over blemishes and allow to air dry. Begin with 2-3 applications per week to allow your sensitive skin to adjust prior to daily use on the face. For other areas, apply this Tea Tree Roll-on as needed and gently massage it into the skin.

Are tea tree oil roll-ons safe for kids?

Yes, Tea Tree Oil Roll-ons are safe for children ages 2 and older. However, for sensitive skin, you may wish to dilute further with an additional carrier oil. Please click here for dilution rates.

Is tea tree oil an antifungal?

Tea Tree Oil possesses natural antifungal properties because it has a high concentration of compounds called terpenoids, which are antiseptic and antimicrobial. Research indicates that using Tea Tree Essential Oil reduces the growth of certain nail and foot fungal infections such as athlete's foot.