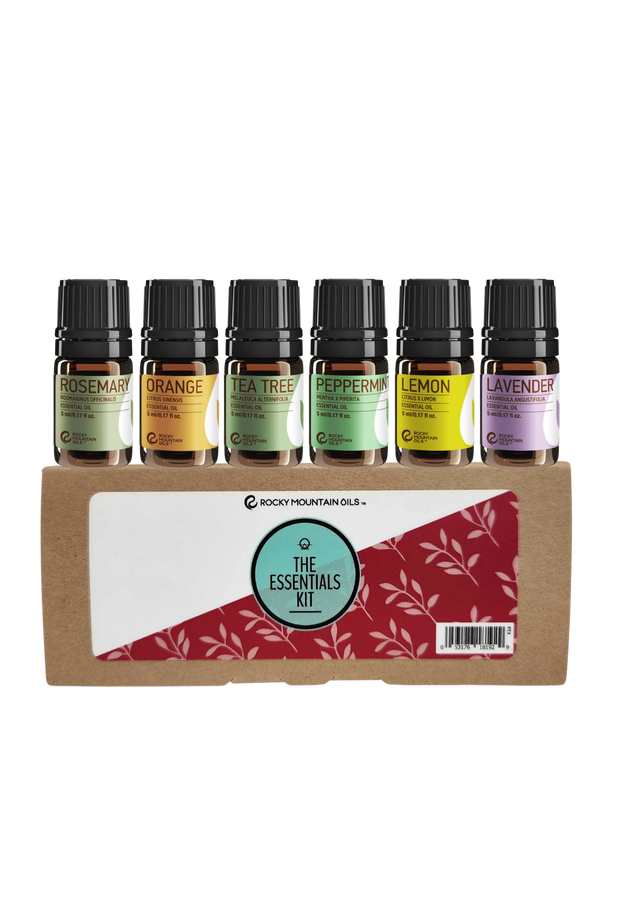 The Essentials Kit
90 DAY
RETURNS
100% RECYCLED
PACKAGING
S.A.A.F.E
PROMISE
You can never go wrong with this kit! It is perfect for any essential oil user, whether you are just starting out or a seasoned user. These 6 convenient 5ml essential oil staples are here for you and your entire family!

With these principle essential oils, you can improve your overall health and wellbeing through diffusion, topical application, and household use. Learn a little more about what's included in this kit below:
Peppermint Essential Oil (Mentha x piperita)
Peppermint Essential Oil is known to alleviate mental fatigue and boost energy and alertness. Diffuse Peppermint to uplift the mood, easing tension, and overwhelming emotions. Apply Peppermint to the skin with a carrier oil to relieve headaches and tension.
Tea Tree Essential Oil (Melaleuca alternifolia)
Tea Tree Essential Oil is a strong yet gentle oil that you can use in skin and hair care routines. Use the oil in natural DIY cleaning products, including surface cleaners and soaps. Diffuse Tea Tree oil to help purify the air.
Lemon Essential Oil (Citrus x limon)
Lemon Essential Oil offers a refreshing and vibrant scent that conjures thoughts of cleanliness, uplifts the mood, and boosts energy. Use Lemon oil to brighten perfumes, massage and bath oils, and DIY non-toxic cleaners.
Orange Essential Oil (Citrus sinensis)
Orange Essential Oil is gentle and great for any skin care routine, especially for those with dry, dehydrated, or oily complexions. Diffuse Orange to help stimulate a cheerful mood and optimism.
Lavender Essential Oil (Lavandula angustifolia)
Lavender Essential Oil is extensively used in soaps, bath oils, perfumes, DIY skin care, and linen sprays. Diffuse Lavender and breathe deeply for a calming effect. Use the oil prior to bedtime for a restful night's sleep.
Rosemary Essential Oil (Rosmarinus officinalis)
Rosemary Essential Oil has many uses. Through diffusion, the energizing oil may help reduce mental and emotional exhaustion while stimulating focus and improving mental clarity. Add a few drops of Rosemary Essential Oil to any DIY cleaning solution. Add Rosemary oil to your shampoo for a great hair tonic.
*Always use a carrier oil if using any essential oil topically. Check out our dilution chart for appropriate dilution rates.
Peppermint - 5ml
Tea Tree - 5ml
Lemon - 5ml
Orange - 5ml
Lavender - 5ml
Rosemary - 5ml