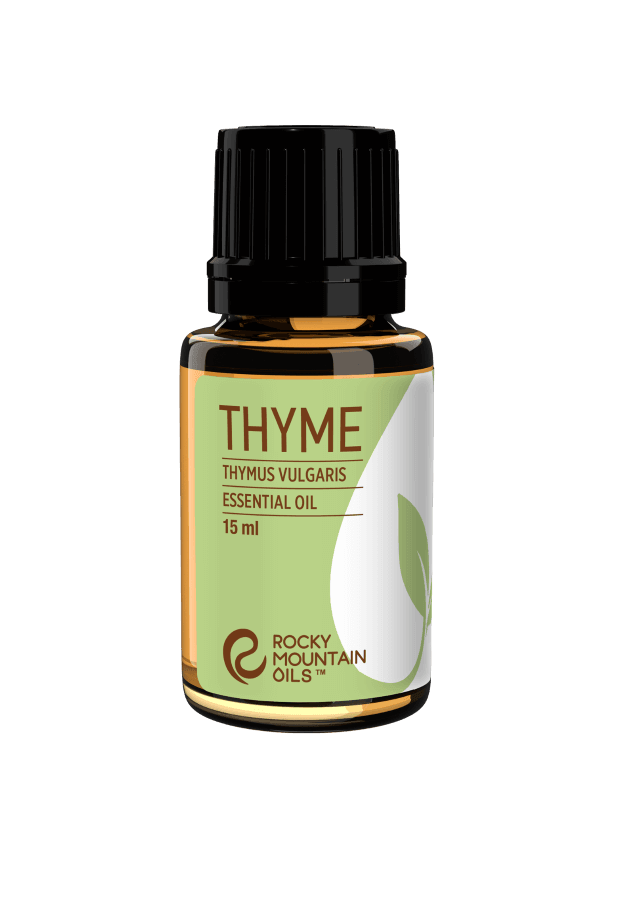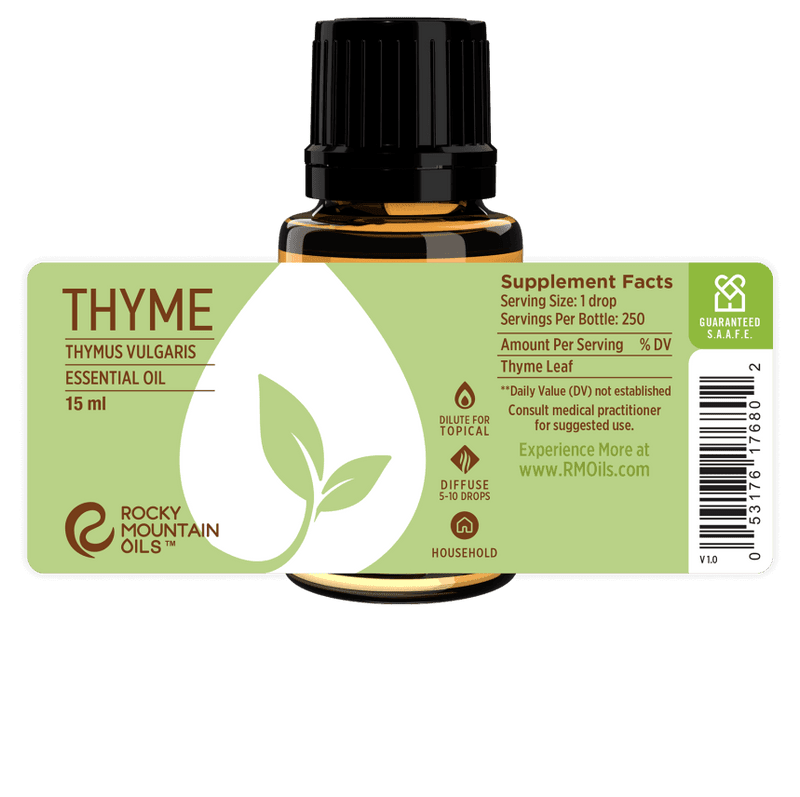 Thyme Essential Oil
GC/MS
TESTING
90 DAY
RETURNS
100% RECYCLED
PACKAGING
S.A.A.F.E
PROMISE
Freshen and sanitize your space with Thyme Essential Oil. Also known as Garden Thyme or Common Thyme, you may already be familiar with this aroma from your spice cabinet or herb garden. When concentrated as an essential oil, Thyme offers powerful benefits for home remedies, aromatherapy, cleaning, and more.
Thanks to a natural plant compound called thymol, Thyme essential oil promotes healing and relieves inflammation, pain, discomfort, and joint stiffness. It's also antibacterial, antiviral, and antifungal. Using Thyme oil in home cleaning products will help lift hard-to-remove grease stains, sticky residues, and deep grime while leaving behind a fresh scent that uplifts.
The scent of Thyme is strong, fresh, and herbal. It promotes mental clarity, focus, confidence, and courage while helping you release anxiety and self-doubt. When used for aromatherapy, Thyme can inspire you to see the world with greater clarity and let go of anything that isn't serving you. 
While humans love this aroma, pesky bugs like mosquitoes and flies can't stand it. This makes Thyme oil an effective natural insect repellent that's free from DEET and other harmful chemicals. Try diffusing Thyme on your patio to keep bugs from biting, or sprinkle it around doorways and windowsills to create a natural barrier that keeps critters outside where they belong.
---
The statements contained herein have not been evaluated by the Food and Drug Administration. Neither Rocky Mountain Oils nor its products are intended for the purpose of diagnosing, treating, curing or preventing any disease. If you are pregnant, nursing, taking medication, or have a medical condition, consult your physician before using these products.
Diffuse to freshen the air and eliminate pollutants, allergens, mold spores, and germs.
Diffuse or inhale to feel inspired and uplifted while clearing brain fog, fatigue, stress, and mental distractions.
Use Thyme oil for skin by diluting with a carrier oil, then gently applying to the face with a clean cotton pad to remove makeup, grime, and exfoliate dead skin cells while toning and shrinking pores.
Add a few drops to your shampoo or conditioner, or make a DIY scalp mask with Fractionated Coconut Oil, to experience the benefits of Thyme essential oil for hair such as more volume and shine.
Add to home cleaning products to sanitize and leave your home smelling fresher than ever.
Essential Oil Carpet Steamer Shampoo
Neutralize odor, germs, and bacteria while leaving your carpets and rugs smelling fresher than ever with this recipe for all-natural carpet cleaner.
20 drops Thyme
10 drops Lime
5 drops Pine
3/4 cup Hot Water
1/2 cup White Vinegar
1 tablespoon Liquid Castile Soap
Instructions: Pour all ingredients into a container with a pour spout (or use a funnel to dispense) and blend well. Add the formula to the appropriate compartment on your steam cleaner. Clean your carpet according to the manufacturer's instructions.
Botanical Name: Thymus vulgaris
Country of Origin: Mexico/France/Hungary/Spain/Morocco*
Extraction Method: Steam Distilled
Plant Part: Leaf
Aroma: Spicy, Herbal, Earthy
Consistency: Thin
*Some of our oils have multiple countries of origin. To confirm which country your specific bottle of oil originates from, please click here to consult its GC/MS test.
Blends Well With: Basil, Black Pepper, Cinnamon Bark, Clove Bud, Cucumber Seed, Eucalyptus, Lavender, Nutmeg, Oregano, Rosemary
Popular Thyme Blends: Relieve Me, True Blue, Sports Pro, Pain Ease
Always dilute and patch test prior to topical application. Avoid contact with mucous membranes, eyes, and the inside of the mouth, nose, and ears. Do not ingest. Do not use while pregnant or breastfeeding.
CAUTION: Thyme is considered a "hot" oil that may cause irritation in sensitive individuals. Do not use with a heating pad or hot water bottle. Apply extra carrier oil if necessary.
Kids Safety: Safe to use topically with children ages 2 years old and up. Dilute to a .5-2% dilution rate for topical application.
Tips for Safe Diffusing:
Diffuse in a well-ventilated area with plenty of airflow.
Diffuse in 30-60 minute intervals, with ample break periods for safe and effective use.
Keep children and pets out of the direct line of mist.
At Rocky Mountain Oils, your trust and confidence matter to us. As part of our S.A.A.F.E. Promise™, we offer third-party verified GC/MS (Gas Chromatography/Mass Spectrometry) test results from an independent lab for every essential oil and blend in our line.
GC/MS tests verify the purity and quality of our essential oils, so you can be sure you're using the safest, highest-quality essential oils available today.
GC/MS Test: Click Here
For batch-specific GC/MS tests, click here.
Thyme Essential Oil FAQ
Is Thyme essential oil anti-inflammatory?

Yes, all fresh Thyme essential oils are rich in powerful anti-inflammatory compounds. The primary active ingredient in Thyme essential oil, called thymol, has been studied for its ability to reduce chronic inflammation and help soothe pain, joint stiffness, body aches, and other health issues attributed to inflammation.

Is Thyme oil good for toenail fungus?

Thyme essential oil benefits include antifungal properties. If you or someone in your family has toenail fungus or athlete's foot, try diluting Thyme in Jojoba Oil or Fractionated Coconut Oil, then apply to the affected area 2-3 times a day to eliminate fungi and mold while sanitizing and refreshing.

How do you use Thyme oil for respiratory health?

Yes! A popular use of Thyme essential oil is promoting better breathing, relieving chest congestion, and calming coughs. The distinct scent of Thyme helps open your airways and may also provide relief from allergies, asthma, and other respiratory issues. Try diffusing Thyme oil or use in a soothing chest balm for relief from colds, flu, and bronchitis. You can also massage it into the soles of the feet to absorb health benefits and boost the immune system.

Can I use Thyme oil in recipes?

No. Although Thyme essential oil comes from the same herb that's commonly used for cooking, Thyme oil is not safe to ingest orally. Like all essential oils, it is intended for external use only. If using Thyme oil for skin, be mindful not to use it too close to your mouth or lips so that you don't accidentally get any in your mouth.