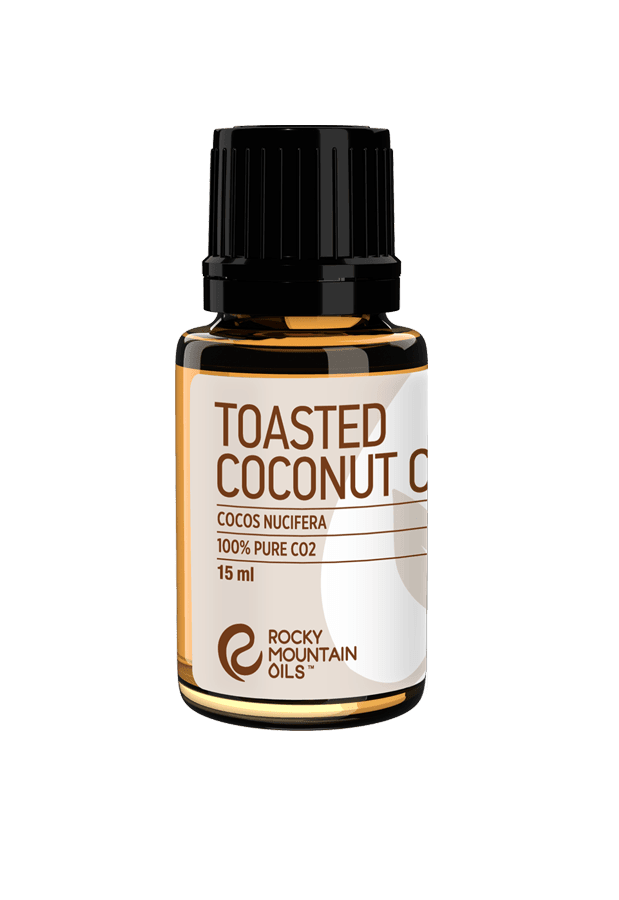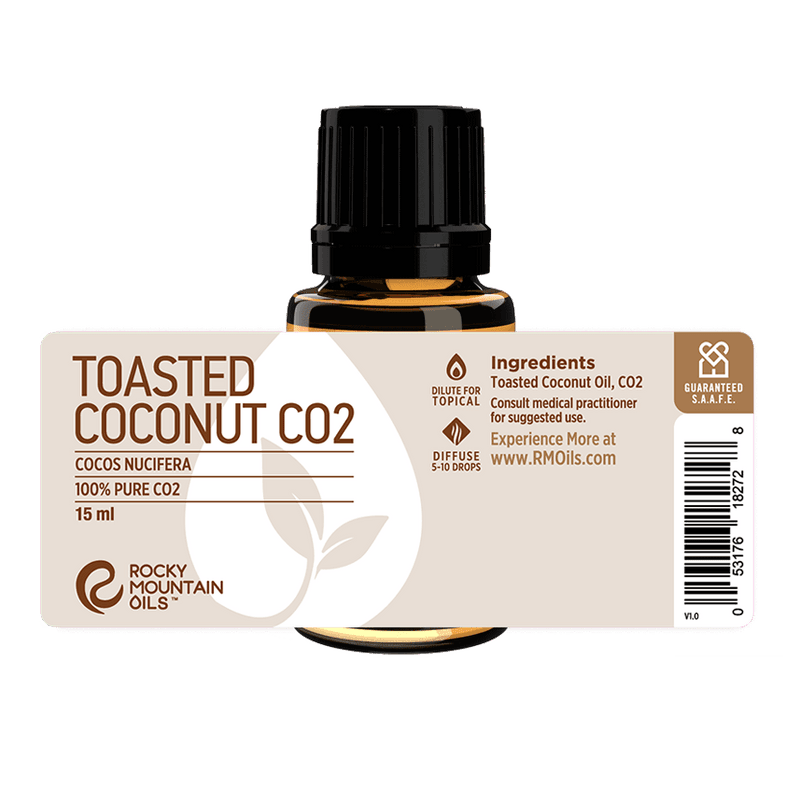 Toasted Coconut CO2
GC/MS
TESTING
90 DAY
RETURNS
100% RECYCLED
PACKAGING
S.A.A.F.E
PROMISE
Breathe in the sweet and intoxicating aroma of our limited edition Toasted Coconut CO2. Reminiscent of fresh cookies or macaroons straight out of the oven, Toasted Coconut CO2 is guaranteed to put a smile on your face and make you say "YUM!" as you inhale the creamy vanilla fragrance. With warm buttery undertones, Toasted Coconut CO2 will make it feel like the holidays. 
Toasted Coconut CO2 will inspire feelings of comfort, relaxation, and peace. Use to create a warm and cheerful atmosphere. Rich in medium-chain fatty acids, our unique Toasted Coconut CO2 deeply hydrates and nourishes your skin, while working with the body to combat skin redness and puffiness.
------
The statements contained herein have not been evaluated by the Food and Drug Administration. Neither Rocky Mountain Oils nor its products are intended for the purpose of diagnosing, treating, curing, or preventing any disease. If you are pregnant, nursing, taking medication, or have a medical condition, consult your physician before using these products. 
*NOTE* during transit in colder temperatures this product can solidify. To return back to its liquid state, keep it at room temperature or warm up in your hands or pocket. This does not affect the efficacy or potency of the product. 
Tropical Coconut Bonfire Room Spray Blend
15 drop Toasted Coconut CO2
1-2 drops Cinnamon Bark Essential Oil
2 drops Grapefruit Essential Oil
2-3 drops Balsam of Peru Essential Oil
Water
Toasted Coconut Body Butter
20-30 drops of Toasted Coconut CO2
½ cup of Shea Butter (can also use Cocoa Butter for a more chocolatey scent)
¼ cup of FCO or regular Coconut Oil
¼ cup of Almond Oil
Instructions
Add your chosen butter, FCO, and Almond Oil into a saucepan and melt over medium heat.
After mixture is melted, add 20-30 drops of Toasted Coconut CO2.
Wait until cool before applying to soothe, moisturize, and hydrate skin.
Store in cool or cold temperatures.
Toasted Coconut Bath Bomb
Bath Bomb molds, optional
1 cup Baking Soda
1/2 cup Citric Acid
1/2 cup Cornstarch
1/4 cup Epsom Salt
1/4 cup FCO or melted Coconut Oil
15-20 drops of Toasted Coconut CO2
1 tsp Vanilla, optional
Water
Instructions
Add all dry ingredients to a medium-size bowl, stir well.
Mix in the coconut oil,

Toasted Coconut CO2

, and vanilla. Whisk together until well combined.
Using a spray bottle, spray the mixture with water until the ingredients hold together when squeezed in your hands. Just do one spray at a time (it is easy to oversaturate).
Prepare your bath bomb molds by greasing them with coconut oil.
Press the mixture into both sides of the bath bomb molds and then place the two halves together. Wipe the excess mixture off the sides and set aside.
Allow the molds to sit for 24-48 hours or until completely dry and then pop out of the molds.
Botanical Name: Cocos nucifera
Country of Origin: USA/India*
Extraction Method: CO2 Extraction
Ingredients & Elements: Toasted Coconut Oil, CO2
Plant Part: Pulp
Aroma: Nutty, Toasted, Warm, Sweet, Vanilla
Consistency: Thick
Blends Well With: Balsam of Peru, Cinnamon Bark, Grapefruit, Lime, Orange, and Lemon
*Some of our oils have multiple countries of origin. To confirm which country your specific bottle of oil originates from, please consult its GC/MS test at click here.
Our limited-edition 15ml Toasted Coconut CO2 is not diluted. Toasted Coconut CO2 is best used topically with a carrier oil. Generally non-irritating.



Click here for dilution rates.

Kids Safety: Safe to use topically with children 2 years of age and older. Dilute to 1-2% dilution rate for topical application.

Practice Safe Diffusing:

Diffuse in an open, well-ventilated area.
Keep children out of the direct line of mist.
Diffuse in 30-60 minute intervals with ample break periods for safe and effective use.
Your trust and confidence is very important to us. As part of our S.A.A.F.E. Promise™ to you, we provide GC/MS (Gas Chromatography / Mass Spectrometry) test results from a verified third party, independent lab for each one of our essential oil products.
GC/MS tests verify the purity and quality of the oils we sell, so you can be sure you're using the highest quality oils available on the market today.
GC/MS Test:
Click Here
For batch specific GC/MS test click here.