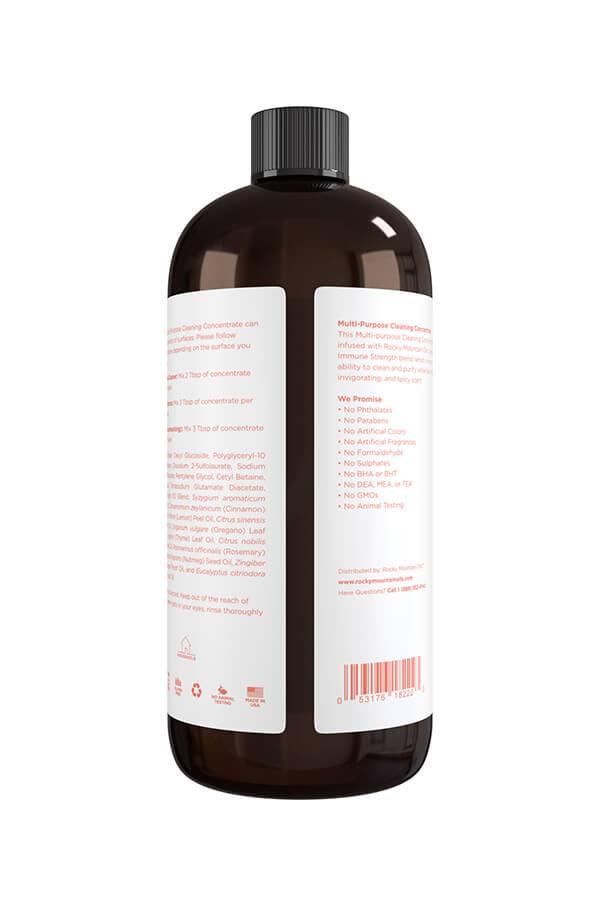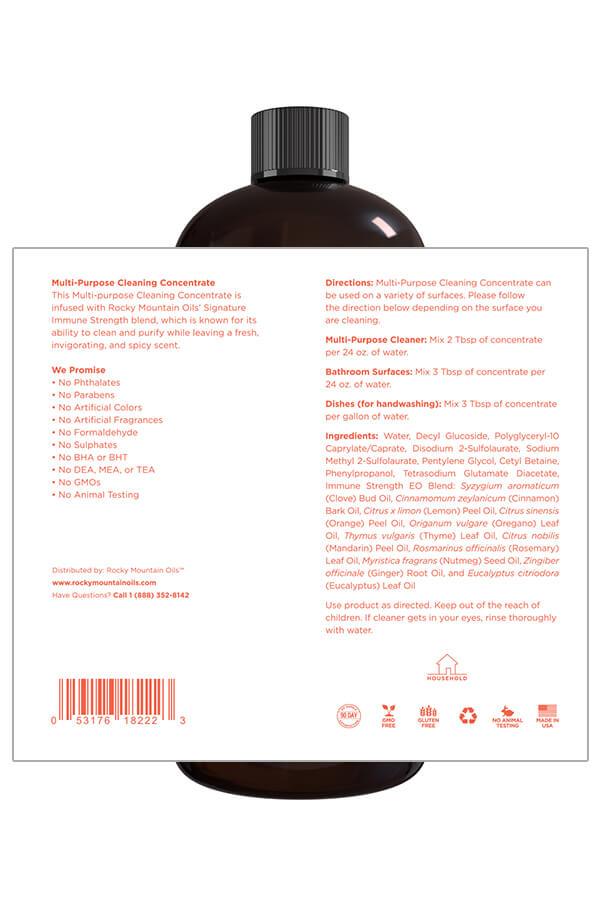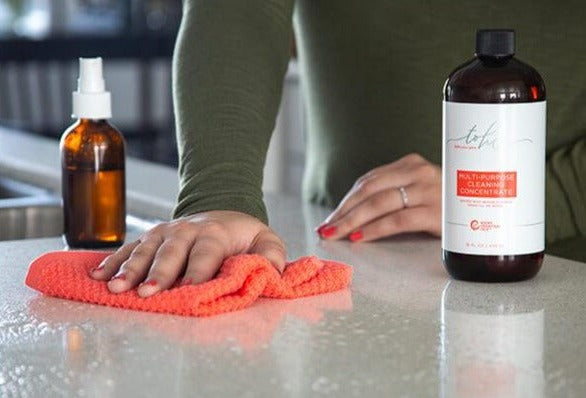 Tohi Multi-Purpose Cleaning Concentrate
GC/MS
TESTING
90 DAY
RETURNS
100% RECYCLED
PACKAGING
S.A.A.F.E
PROMISE
Make your home sparkling clean with Tohi Multi-Purpose Cleaning Concentrate. Tohi Multi-Purpose is an all purpose cleaner concentrate that's 100% natural and free from harsh chemicals, artificial fragrances, and dyes. It's a powerful cleaner that's safe for all surfaces in your home and gentle enough to use for handwashing dishes.
Infused with our signature Immune Strength essential oil blend, this cleaning concentrate is naturally antibacterial, antiviral, and antifungal. It neutralizes odor-causing bacteria as well as harmful germs and viruses, while leaving behind a fresh, relaxing aroma that's spicy and slightly sweet.
Simply dilute this multipurpose cleaner concentrate with water, then use it to clean your floors, windows, bathroom surfaces, tile, kitchen counters, and more. It's also great for outdoor use on patios and decks. 
Use it any time of year, especially during cold and flu season. By sanitizing your home or office with the immunity-boosting essential oils in this cleaner, you'll help naturally boost your family's health. Feel purified and fortified with Tohi.
Dilute the concentrate in water and shake well to combine.
Store in a spray bottle or other sealable container as desired.
For bathroom surfaces: Mix 3 tbsp. of concentrate per 24 oz. of water.
For other surfaces: Mix 2 tbsp. of concentrate per 24 oz. of water.
For handwashing dishes: Mix 3 tbsp. of concentrate per gallon of water.
Spray diluted cleaner or apply with a sponge or mop onto the target surface area, then rinse with water and wipe clean with a dry cloth.
Water, Decyl Glucoside, Polyglyceryl-10 Caprylate/Caprate, Disodium 2-Sulfolaurate, Sodium Methyl 2-Sulfolaurate, Pentylene Glycol, Cetyl Betaine, Phenylpropanol, Tetrasodium Glutamate Diacetate, Immune Strength EO Blend: Syzygium aromaticum (Clove) Bud Oil, Cinnamomum zeylanicum (Cinnamon) Bark Oil, Citrus x limon (Lemon) Peel Oil, Citrus sinensis (Orange) Peel Oil, Origanum vulgare (Oregano) Leaf Oil, Thymus vulgaris (Thyme) Leaf Oil, Citrus nobilis (Mandarin) Peel Oil, Rosmarinus officinalis (Rosemary) Leaf Oil, Myristica fragrans (Nutmeg) Seed Oil, Zingiber officinale (Ginger) Root Oil, and Eucalyptus citriodora (Eucalyptus) Leaf Oil
Use this product as directed. Keep out of the reach of children and pets. If cleaner gets in your eyes, rinse thoroughly with water.
At Rocky Mountain Oils, we are dedicated to consumer safety and providing the highest quality essential oil products. Your trust is very important to us. As part of our S.A.A.F.E. Promise™, we provide GC/MS (Gas Chromatography/Mass Spectrometry) test results from a verified third-party, independent lab for all our products.
GC/MS tests verify the purity and quality of our products so you can trust that you're using the best essential oils, essential oil roll-ons, hand soaps, and foam soap refills on the market.
For batch-specific GC/MS test, click here.
Tohi Multi-Purpose Cleaning Concentrate FAQ
Is this multipurpose cleaning concentrate safe for pets?

Tohi Multi-Purpose contains essential oils which may be harmful to animals if ingested or directly inhaled. When using this product, keep your pet away from the surfaces being cleaned and allow the surfaces to dry before letting your animal back into the area. If your pet accidentally ingests the cleaner, contact your veterinarian right away.

Do essential oil cleaning products kill germs?

Yes! Natural products like Tohi can eliminate germs, bacteria, and viruses without the harsh chemicals and artificial ingredients used in many mainstream products. Studies show that essential oils, such as the Immune Strength blend included in Tohi Multi-Purpose Cleaning Concentrate, are rich in plant compounds that possess natural antimicrobial properties.

Why is it important to use phthalate-free and paraben-free products?

Many mainstream cleaning products contain phthalates, a chemical used to increase the durability of plastic, and parabens, a preservative agent. Over time, exposure to phthalates and parabens may lead to health issues such as hormonal imbalances, increased cancer risk, allergies, and respiratory problems.

According to one study, participants who reduced daily use of parabens and phthalates experienced lower levels of certain cells associated with breast cancer risk. If you're trying to eliminate harmful chemicals from your home, look for natural products like Tohi Multi-Purpose Cleaning Concentrate that are 100% free from phthalates and parabens.

Can I use all purpose cleaner concentrate on wood?

Yes! This Tohi cleaner is a multi surface concentrate that's safe to use on wood floors, furniture, and other natural surfaces when properly diluted in water. However, we recommend testing the cleaner on a non-visible area of the wood prior to extensive use. Be sure to use a dry cloth or other absorbent material to dry the wood completely after using this product.