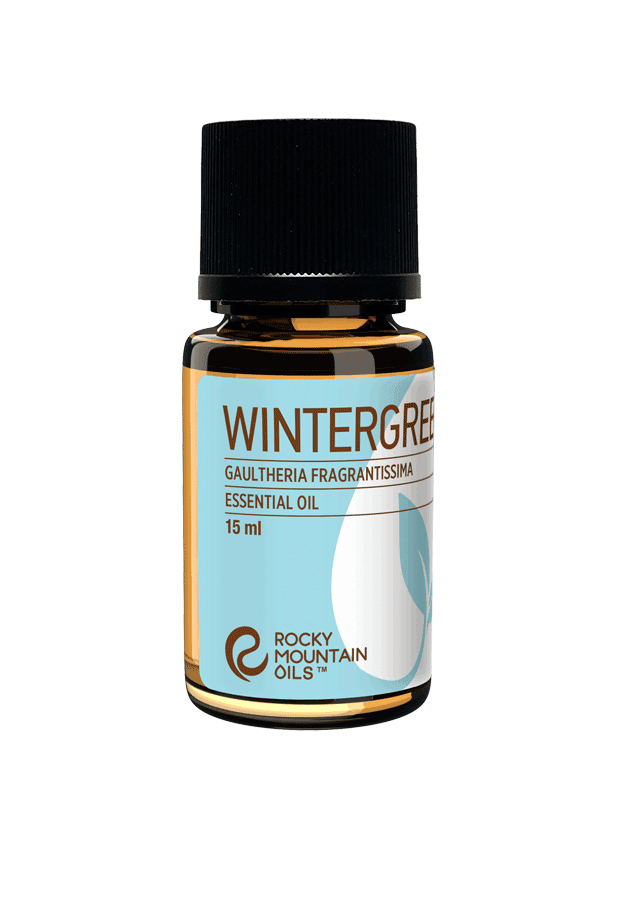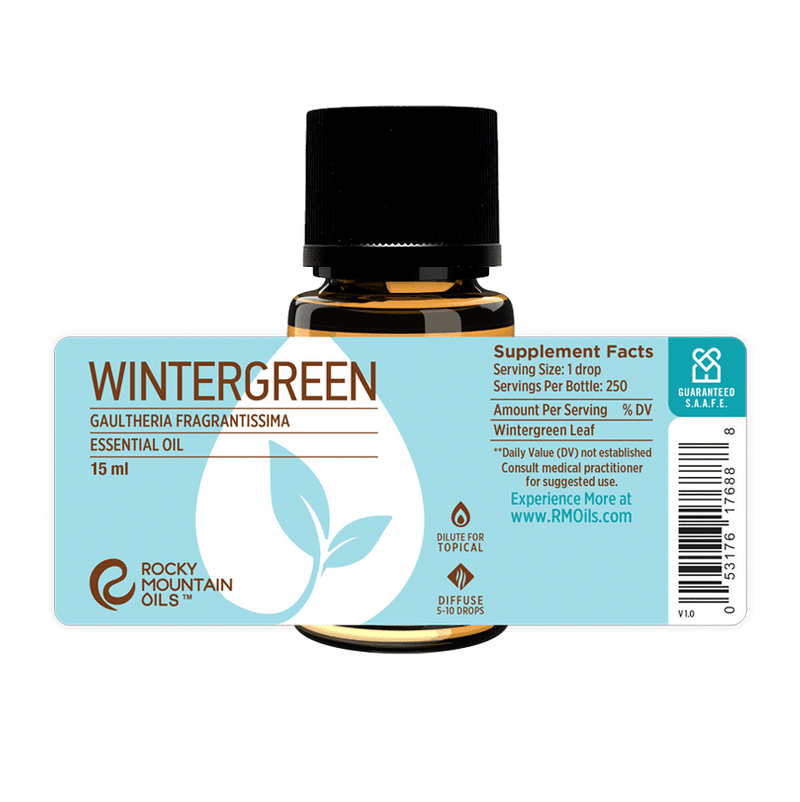 Wintergreen Essential Oil
GC/MS
TESTING
90 DAY
RETURNS
100% RECYCLED
PACKAGING
S.A.A.F.E
PROMISE
Feel minty clean with the invigorating, sweet scent of Wintergreen Essential Oil. Also known by the name of its active ingredient, methyl salicylate, Wintergreen oil is a potent source of natural menthol and anti-inflammatory benefits. It helps relieve muscle and joint pain, headaches, menstrual cramps, and other types of pain.
The aroma of Wintergreen is bright and clean, offering a sweet minty fragrance with a faintly vanilla undertone. Diffusing this essential oil helps purify the air while cleansing the energy in your space. It creates a calm, tranquil atmosphere that helps you feel more relaxed and also boosts concentration.
Other Wintergreen essential oil benefits include haircare, skincare, aromatherapy, repelling insects, and home cleaning products. Wintergreen is naturally antiseptic and sanitizing, so adding a dash of this oil will enhance any soap or cleanser. It helps eliminate tough grease stains, odor-causing bacteria, sticky reside from tape or labels, and general grime.
Thanks to the menthol in this oil, Wintergreen can be used as a topical analgesic to soothe injuries and body aches with a gentle cooling, tingling sensation. Try combining Wintergreen essential oil with a carrier oil to make a natural cooling liniment to help your body recover after strenuous exercise or muscle injury.
*Wintergreen is incredibly powerful we recommend using it in small amounts and always dilute with a carrier oil.
Diffuse to create a relaxing atmosphere, reduce stress, boost energy levels, and clear your mind of distractions and negative thoughts.
Dilute with a carrier oil, then apply to the abdominal region to stimulate digestion and soothe gastrointestinal symptoms like constipation, gas, and bloating.
Apply with a carrier oil to the temples and forehead for cooling relief from headaches and sinus congestion.
Diffuse, inhale, or apply topically with a carrier oil to the upper chest region to support respiratory health and feel relief from illnesses like colds, flu, and bronchitis.
Use as a natural insect and mosquito repellent by diffusing in outdoor spaces, spraying onto doorways and windowsills, or blending with a carrier oil and applying to exposed skin before going outside.
Use as a massage oil or add 1-3 drops to a warm bath to soak sore muscles, relieve joint stiffness, and absorb anti-inflammatory benefits.
Wintergreen Toner Spray
Tone and brighten your skin while reducing inflammation and feeling refreshed with this natural Wintergreen oil spray.
10 drops Wintergreen
1 cup Distilled Water
Instructions: Add oil and water to a clean spray bottle, then shake well to combine and gently mist onto your face (with eyes closed) to cleanse, hydrate, and restore your skin's natural glow. Store leftover spray in a cool, dark place and shake again before each use.
Botanical Name: Gaultheria fragrantissima
Country of Origin: Nepal
Extraction Method: Steam Distilled
Plant Part: Leaf
Aroma: Minty, Sweet, Fresh, Herbal
Consistency: Thin
Blends Well With: Cypress, Bergamot, Basil, Sweet Marjoram, Geranium, Lavender, Peppermint
Popular Wintergreen Blends: Relieve Me, True Blue, Sports Pro, Pain Ease
Always dilute and patch test prior to topical application. Avoid contact with mucous membranes, eyes, and the inside of the mouth, nose, and ears. Do not ingest. Do not use while pregnant or breastfeeding. Do not use if you have a salicylate sensitivity.
Kids Safety: Safe to use topically with children ages 6 years old and up. Dilute to a 1-2% dilution rate for topical application.
Tips for Safe Diffusing:
Diffuse in a well-ventilated area with plenty of air flow.
Diffuse in 30-60 minute intervals, with ample break periods for safe and effective use.
Keep children and pets out of the direct line of mist.
At Rocky Mountain Oils, your trust and confidence matter to us. As part of our S.A.A.F.E. Promise™, we offer third-party verified GC/MS (Gas Chromatography/Mass Spectrometry) test results from an independent lab for every essential oil and blend in our line.
GC/MS tests verify the purity and quality of our essential oils, so you can be sure you're using the safest, highest-quality essential oils available today.
GC/MS Test: Click Here
For batch-specific GC/MS tests, click here.
Wintergreen Essential Oil FAQ
What is the difference between Wintergreen and Peppermint?

Although Wintergreen and Peppermint both offer a crisp, clean, minty scent and a cooling menthol sensation, these essential oils are actually part of a different plant family. Peppermint comes from the Mentha piperita plant, while Wintergreen is derived from the Gaultheria procumbens plant. Peppermint also has a much stronger, more potent aroma, while Wintergreen is sweeter, gentler, and has a hint of vanilla in its fragrance.

What are the benefits of Wintergreen oil for hair?

When diluted with a carrier oil or added to your regular shampoo or conditioner, Wintergreen essential oil clarifies the scalp and balances your body's natural oil production. It deep-cleans to neutralize bacteria, helps reduce dandruff, and stimulates new hair growth by increasing blood flow to follicles at the root. Wintergreen also hydrates, detangles and de-frizzes, and leaves your hair smelling sweet and fresh.

What are some Wintergreen essential oil benefits for skin?

If you have dry or irritated skin, acne, or discoloration, using essential oil Wintergreen can help. Dilute Wintergreen oil with Jojoba Oil, Fractionated Coconut Oil, or another carrier oil of your choice, then apply to clean skin with a cotton pad to exfoliate, cleanse, brighten, and tone. Thanks to its anti-inflammatory and astringent benefits, Wintergreen can help give you more youthful skin that glows.

Does Wintergreen oil help with concentration and mood?

Yes! Diffusing Wintergreen can help lift brain fog, improve mental clarity, and inspire deeper levels of focus. It also helps you tune out distractions and noisy thoughts, allowing you to naturally lengthen your attention span. If you struggle with stress, anxiety, depression, or mood swings, using Wintergreen essential oil can help you feel more balanced and improve your daily well-being.