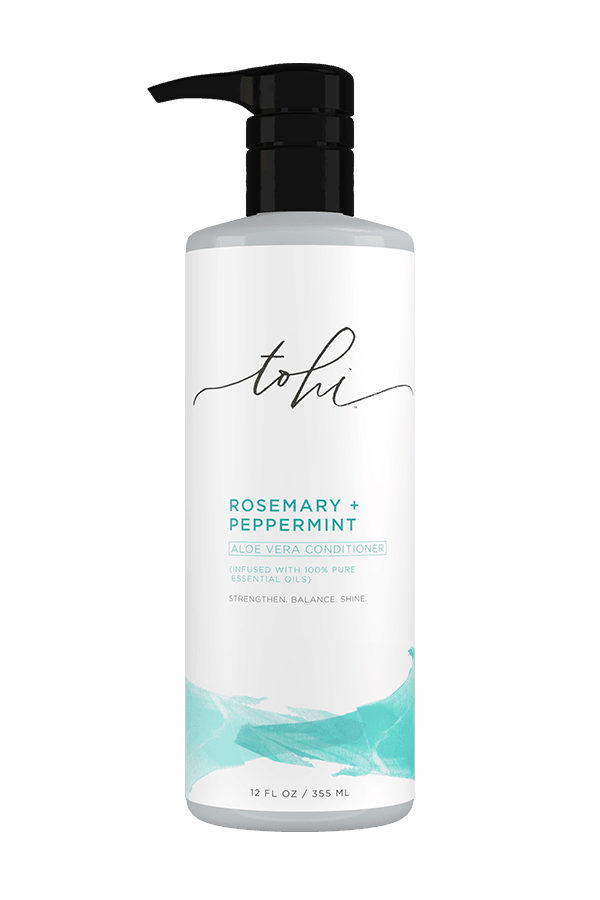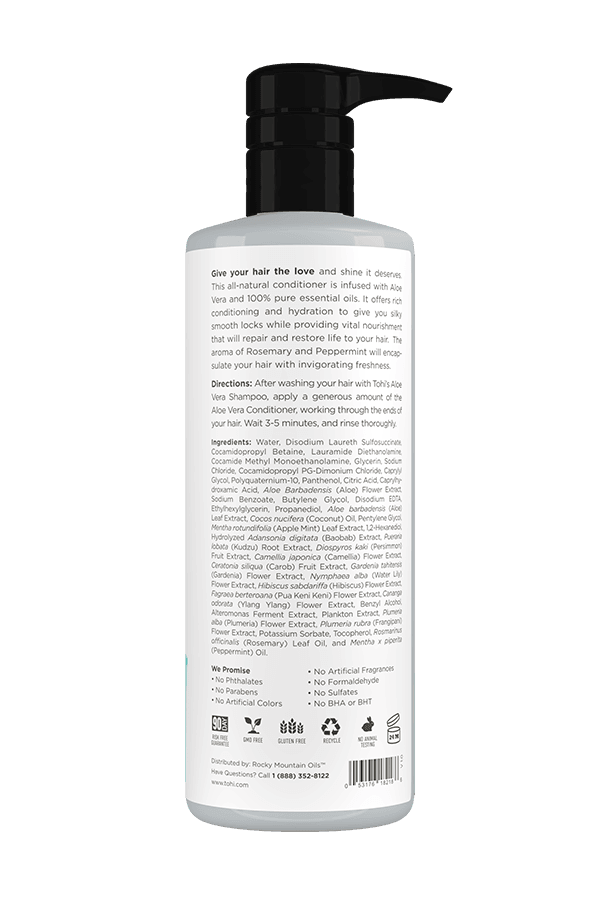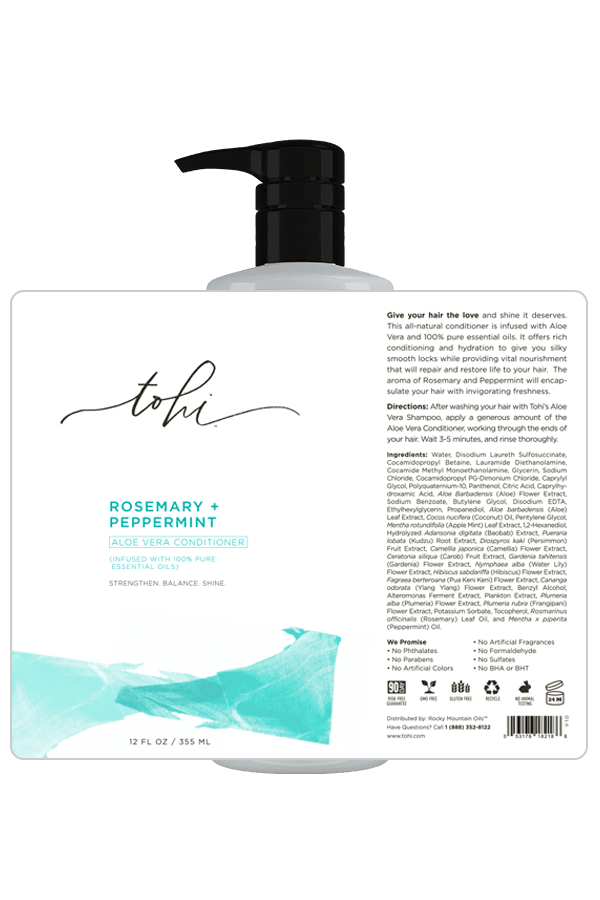 Tohi Aloe Vera Conditioner
90 DAY
RETURNS
100% RECYCLED
PACKAGING
S.A.A.F.E
PROMISE
For thicker, fuller hair that's silky smooth and free from frizzy flyaways, try Tohi Aloe Vera Conditioner. Infused with aloe vera and 100% pure essential oils, this conditioner offers deep hydration and conditioning to leave your hair shinier and healthier than ever.
Whether you're struggling with dandruff, dry and brittle hair, or simply wish to nourish your scalp and hair with natural ingredients, Tohi Aloe Vera Conditioner is perfect for you. This conditioner uses the healing power of aloe, which is rich in polyphenols and proteolytic enzymes that repair dead skin cells on the scalp. Aloe also helps stimulate new hair growth, reduce itching and flaking, and restore a smooth, shiny appearance.
The invigorating scent of this aloe conditioner is boosted by Rosemary and Peppermint essential oils, which increase circulation and offer a natural cooling, tingling sensation to stimulate hair follicles. 
For the ultimate hydrating boost, we've combined these ingredients with glycerine, a natural moisturizer that absorbs water from the air and returns it to your scalp and hair. This helps strengthen hair strands, reduces split ends, and tames frizz all day long.
---
The statements contained herein have not been evaluated by the Food and Drug Administration. Neither Rocky Mountain Oils or Tohi nor their products are intended for the purpose of diagnosing, treating, curing, or preventing any disease. If you are pregnant, taking medication, or have a medical condition, consult your physician before using these products. 
Best when used with Tohi Aloe Vera Shampoo.
After washing your hair, pump a generous amount into your hands and massage it into the scalp. Work it through the ends of your hair, using a wide-tooth comb (if desired) for de-tangling.
Leave in for 3-5 minutes, then rinse thoroughly.
For an aloe vera deep conditioner mask, leave it on hair and scalp for 10-15 minutes.
Water, Disodium Laureth Sulfosuccinate, Cocamidopropyl Betaine, Lauramide Diethanolamine, Cocamide Methyl Monoethanolamine, Glycerine, Sodium Chloride, Cocamidopropyl PG-Dimonium Chloride, Caprylyl Glycol, Polyquaternium-10, Pantehnol, Citric Acid, Caprylhydroxamic Acid, Aloe Barbadensis (Aloe) Flower Extract, Sodium Benzoate, Butylene Glycol, Disodium EDTA, Ethylhexylglycerin, Propanediol, Aloe barbadensis (Aloe) Leaf Extract, Cocos nucifera (Coconut) Oil, Pentylene Glycol, Mentha rotundifolia (Apple Mint) Leaf Extract 1, 2-Hexanediol, Hydrolyzed Adansonia digitata (Baobab) Extract, Pueraria lobata (Kudzu) Root Extract, Diospyros kaki (Persimmon) Fruit Extract, Camellia japonica (Camellia) Flower Extract, Ceratonia siliqua (Carob) Fruit Extract, Gardenia tahitensis (Gardenia) Flower Extract, Nymphaea alba (Water Lily) Flower Extract, HIbiscus sabdariffa (Hibiscus) Flower Extract, Fagraea berteroana (Paukenikeni) Flower Extract, Cananga odorata (Ylang Ylang) Flower Extract, Benzyl Alcohol, Alteromonas Ferment Extract, Plankton Extract, Plumeria alba (Plumeria) Flower Extract, Plumeria rubra (Frangipani) Flower Extract, Potassium Sorbate, Tocopherol, Rosmariuns officinalis (Rosemary) Leaf Oil, and Mentha x piperita (Peppermint) Oil.
After washing your hair with Tohi Aloe Vera Shampoo, apply a generous amount of Tohi Aloe Vera Conditioner, working it through the ends of your hair. Wait 3-5 minutes, and rinse thoroughly.
For external use only. Do not ingest. Use only as directed. Keep out of reach of children under 10 and pets. If irritation occurs, discontinue use.
Tohi Aloe Vera Conditioner FAQ
Is aloe vera good for hair?

Yes! Although you may think of aloe as a topical gel for the skin, it also provides numerous benefits in haircare products. Aloe vera moisturizer for hair is rich in vitamin E, vitamin C, vitamin A, and vitamin B12, as well as amino fatty acids that nourish hair follicles and balance the scalp. Together, the bioactive compounds in an aloe vera hair conditioner can slow hair loss, reduce dandruff and oily buildup, and promote new growth of thicker, fuller, shinier hair.

What gives aloe vera its healing properties?

Aloe vera contains potent bioactive compounds called polyphenols, which function as antioxidants to help prevent and reverse the damage caused by free radicals and oxidative stress. Polyphenols also slow the growth of certain bacterial strains in the body and help prevent infections in wounds. Aloe is known to be an effective topical treatment for first and second-degree burns, including sunburns and UV damage.

Is Tohi Aloe Vera Conditioner safe for kids?

Tohi Aloe Vera Conditioner is safe for children ages 10 and up. However, we recommend performing a patch test prior to using it on your child's scalp. Please note that this conditioner is not tear-free and will cause irritation if it gets in the eyes. If exposed to eyes or other mucus membranes, rinse under cold running water immediately.

Are there any risks to using aloe vera conditioner?

Aloe vera is generally considered safe for topical use on all skin and hair types, including people with sensitive skin. However, aloe vera can temporarily increase the body's ability to absorb cortisone. If you are using hydrocortisone cream or another steroid product, consult your physician prior to using aloe vera.

Tohi Aloe Vera Conditioner Test Results

Rocky Mountain Oils is dedicated to consumer safety and providing the highest quality essential oil products. As part of our S.A.A.F.E. Promise™, we provide GC/MS (Gas Chromatography/Mass Spectrometry) test results from a verified third-party, independent lab for all our products.

GC/MS tests verify the purity and quality of our products so you can trust that you're using the best essential oils, essential oil roll-ons, hand soaps, and foam soap refills on the market.

For batch-specific GC/MS test, click here.