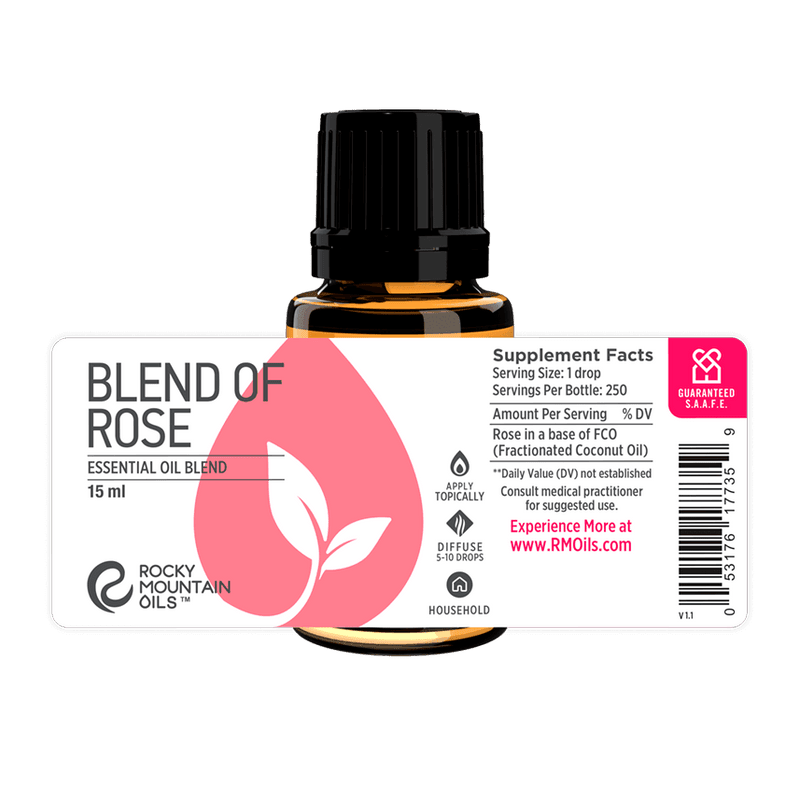 Blend of Rose
GC/MS
TESTING
90 DAY
RETURNS
100% RECYCLED
PACKAGING
S.A.A.F.E
PROMISE
Invite fresh, uplifting floral vibes into your life with Blend of Rose. It's a ready-made blend of pure Rose Essential Oil in a nourishing base of 98% Fractionated Coconut Oil, making it perfect for skincare, haircare, perfume blends, massage oils, and more.
Often known as the Queen of essential oils, Rose has an unmistakable aroma that delights the senses while promoting passion and romance. Its deep scent is floral and sweet. Many people enjoy Rose Oil for its aphrodisiac properties, but this rich oil offers benefits for a variety of diverse uses. Rose inspires peace, comfort, love, and grace. 
As a natural humectant moisturizer, Rose Essential Oil Blend benefits include soothing dry, irritated skin and reducing the appearance of fine lines and wrinkles. This rose oil blend combines FCO for extra hydration and is ready for immediate topical use for adults. Try massaging it into the soles of the feet to support immunity, digestion, and balance hormones.
Add Blend of Rose to your daily routine for softer skin that glows, or use it in haircare products to balance the scalp and promote new growth. You can also apply 1-2 drops to your neck, chest, or pulse points for a natural perfume that exudes a vibrant floral scent and positive energy all day long.
Use Blend of Rose to promote relaxation and melt away stress, tension, and anxiety.
Add 1-2 drops to your daily moisturizer to help heal acne, psoriasis, eczema, and other skin irritants while boosting collagen production and smoothing fine lines and wrinkles. Can also be used on skin as a natural toner and exfoliant.
Apply 1-2 drops to pulse points, neck, or upper chest as a natural perfume that calms and uplifts. Can also be used with aromatherapy jewelry, mala beads, or wood rosaries.
Use in DIY massage oils or bath bombs to relax sore, aching muscles, provide relief from PMS symptoms, boost the immune system, and promote better digestion.
Inhale the aroma of Blend of Oil or rub onto skin to create a sensual vibe that stimulates libido.
Mix 2-3 drops into your regular conditioner or use in a DIY scalp serum recipe to control excess oil, reduce dandruff, and stimulate hair follicles for new growth.
Massage onto the abdomen for relief from cramps, stomach aches and PMS symptoms.
Apply to the bottoms of the feet or upper chest to boost the immune system and support respiratory health.
Rose Body Salt Scrub
Enjoy smoother, softer skin and indulge in the luxuriant aroma of roses with this natural exfoliating scrub.
Instructions: Mix oils and salt together, then apply to areas with rough, dry skin such as hands, elbows, knees, or feet. Gently massage the salt scrub across your skin, then rinse off and pat dry.
Prediluted in 98% Fractionated Coconut carrier oil and ready for immediate topical use on adults.
However, we always suggest a patch test prior to extensive use on the skin. To perform a patch test, apply a small amount of oil to one area of the skin, then wait 15 minutes to make sure irritation or allergic reaction does not occur.
Kids Safety: Safe for children ages 7 years old and above when properly diluted to a .5-1% dilution rate. Click here to learn more about essential oil safety and kids
Keep out of reach of children and pets.
Your trust and confidence matter to us. As part of our S.A.A.F.E. Promise™ to you, Rocky Mountain Oils provides verified, third-party GC/MS (Gas Chromatography/Mass Spectrometry) test results from an independent lab for every essential oil product we sell.
GC/MS tests verify the quality and purity of every Rocky Mountain Oils product, which guarantees you're using the safest and highest quality essential oils and essential oil blends on the market.
Click here for the GC/MS test results for your bottle of essential oil.
Blend of Rose FAQ
What are some Rose Essential Oil Blend benefits?

Rose Essential Oil Blend uses include relieving stress, calming anxiety, and helping release tension in the body so you can feel more relaxed. Rose Oil may also help increase libido, support digestive health, boost the immune system, alleviate PMS symptoms and balance hormones, and heal skin irritations. People also use Rose Oil as a natural fragrance for DIY skincare and haircare products, cleaning products, soaps, candles, bath bombs, massage oils, and more.

What is the difference between Rose Oil and Rosehip Oil?

Rose Oil and Rosehip Oil are extracted from different plants, as well as different plant parts. Rose Oil is steam distilled from the petals from the Rosa damascena flower, while Rosehip Oil is distilled from the fruit of wild rose plants including Rosa canina, Rosa moschata, and Rosa rubiginosa. Rose Essential Oil has a bright and floral aroma, while Rosehip Essential Oil has a scent that's earthier and more herbaceous.

Is Blend of Rose good for skincare?

Yes! Rose Oil is a natural humectant, which means it hydrates by drawing moisture from the air into your pores and "locking it in" behind your skin's natural protective barrier. With a nourishing formula of FCO, our Rose Essential Oil Blend is ready for immediate topical use for adults and helps minimize the appearance of wrinkles, fine lines, age spots, sun damage, and more. Because Rose Oil is antibacterial, it can also help fight acne.

What are some common Rose Essential Oil blend uses for mood?

Rose Oil has many benefits for improving your mood. Try Rose Oil to treat depression and anxiety, while promoting a feeling of serenity and sensuality. It can also help with memory and concentration, stimulating creativity, and getting a deeper night's sleep.

What other oils make good Rose diffuser blends?