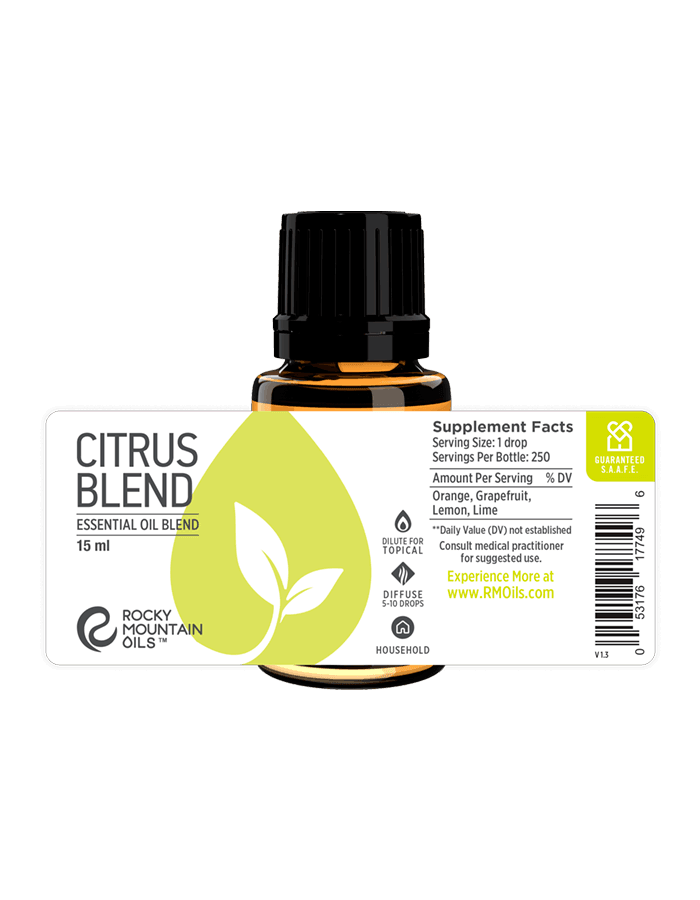 Citrus Essential Oil Blend - Citrus Oil 15 ml
GC/MS
TESTING
90 DAY
RETURNS
100% RECYCLED
PACKAGING
S.A.A.F.E
PROMISE
Add some sun-kissed sweetness to your life with our Citrus Essential Oil Blend. This delightful, uplifting essential oil blend recipe combines four of our favorite citrus essential oils: Orange, Grapefruit, Lemon, and Lime. 
This blend presents a juicy, sweet Orange and Grapefruit scent balanced with the crisp, slightly tangy aroma of Lemon and Lime. Together, these ingredients merge into one of the best essential oil blends for focus and motivation. Our Citrus blend promotes a cheerful atmosphere and also makes a great essential oil blend for energy.
Consider using Citrus Oil as a morning diffuser blend to kickstart your day with renewed energy and enthusiasm. The vibrant Citrus Oil aroma has a knack for bringing a sense of sunshine into your space, which can be especially helpful in combatting seasonal depression and realigning your circadian rhythm, especially after travel or the end of daylight saving time. This delightful Citrus Oil blend can invigorate both you and your family as you embark on your daily journey.
When diluted with a carrier oil like Jojoba or Fractionated Coconut Oil, you can apply this blend directly to the skin to tone and brighten, exfoliate, and reduce the appearance of scars, fine lines, and sun damage. This antiseptic and antimicrobial blend is also a great addition to DIY cleaning products.
Diffuse this essential oil for uplifting mood and creating a cheerful, positive atmosphere in your home, office, car, or any other space.
Dilute with a carrier oil and apply to pulse points in the morning for natural energy. Helps reduce jet lag, seasonal depression, and difficulty adjusting to time changes.
Add 1-3 drops to your moisturizer or cleanser, or dilute with a carrier oil, and apply to the skin to tone and brighten, reduce oily buildup and acne, and fade the appearance of scars, fine lines, and wrinkles.
Use in DIY household cleaning products to sanitize surfaces and eliminate germs without harsh chemicals or artificial ingredients. It also works as an effective antifungal agent to prevent or treat mold and mildew.
Use in haircare products to reduce dandruff and promote the new growth of shinier, healthier, thicker hair.
Inhale to improve mental clarity, reduce distractions, enhance concentration, and stimulate creative thinking.
Sunshine Cleaning Spray
Sanitize surfaces and eliminate odors with this gentle, all-natural citrus essential oil cleaning spray that will fill your home with a bright, clean aroma.
40 drops Citrus Blend
½ cup Water
½ cup White Vinegar
1 tablespoon Liquid Castile Soap
Instructions: Add all ingredients to a spray bottle. Shake well to combine and shake again before each use. Spray on surfaces around the home as needed, then rinse or wipe clean with a damp cloth.
For external use only. Do not ingest. Always dilute in a carrier oil and patch test prior to extensive topical use. Click here to learn more about dilution rates.
Safe to use topically with children ages 2 and up. Dilute to a .5-1% dilution rate for topical application and patch test before using continuously. Click here to learn more about using essential oils for kids.
CAUTION: Citrus oils are known to be phototoxic, which means they may temporarily increase your skin's sensitivity to sun damage. If using topically, cover exposed areas and avoid direct sunlight and tanning beds for 12 hours after application.
Tips to Practice Safe Diffusing:
Diffuse in an open, well-ventilated area.
Keep children and pets out of the direct line of mist.
Diffuse in 30-60 minute intervals with ample break periods.
Your trust and confidence are very important to us. As part of our S.A.A.F.E. Promise™, Rocky Mountain Oils offers GC/MS (Gas Chromatography/Mass Spectrometry) test results verified by a third-party, independent lab for every essential oil and essential oil blend in our catalog.
GC/MS tests verify the purity and quality of all Rocky Mountain Oils products, so you can be sure you're using the safest, highest-quality essential oils available on the market.
For batch-specific GC/MS tests, click here.
Citrus Essential Oil Blend - Citrus Oil 15 ml FAQ
What blends well with citrus essential oils?

Thanks to their bright, uplifting, and sweet aromas, oils in the citrus family are a wonderful addition to any DIY essential oil blend. These essential oils can complement many other scents and help bring out more complex, subtle aromas. Our favorite oils to pair with citrus include Lavender, Sandalwood, Peppermint, Rosemary, Cinnamon Bark, and Eucalyptus.

Does citrus essential oil have Vitamin C?

Because citrus essential oils are created from peels, they contain lower levels of Vitamin C than citrus fruits or juices. However, Vitamin C and other antioxidants are still present in citrus oil. Additionally, research suggests that citrus oils like Lemon may help improve your body's ability to absorb Vitamin C and other nutrients from food. If you're looking to boost your immune system with Vitamin C, add citrus oils to your daily routine!

Will citrus oils stain my diffuser?

Occasionally, citrus essential oils may cause stains or minor discoloration in diffusers. To avoid this, empty and clean your diffuser after each use. Use white vinegar on a cotton swap or clean cloth to wipe away any residual citrus oils.

Do citrus essential oils lighten your hair?

Yes. Citrus oils, especially Lemon essential oil, are known to lighten hair when exposed to the sun. The natural acid in citrus oils opens hair follicles, which then release their color when heated by the sun's rays. Although you won't be able to achieve a platinum-blonde bleached look with citrus oils, you can use them for sun-kissed, natural highlights. Simply apply citrus oil to the hair and allow your head to be exposed to the sun for 30-60 minutes.

(Note: Be mindful to avoid the sun if using citrus oils on skin, as it may increase your risk of sunburn.)