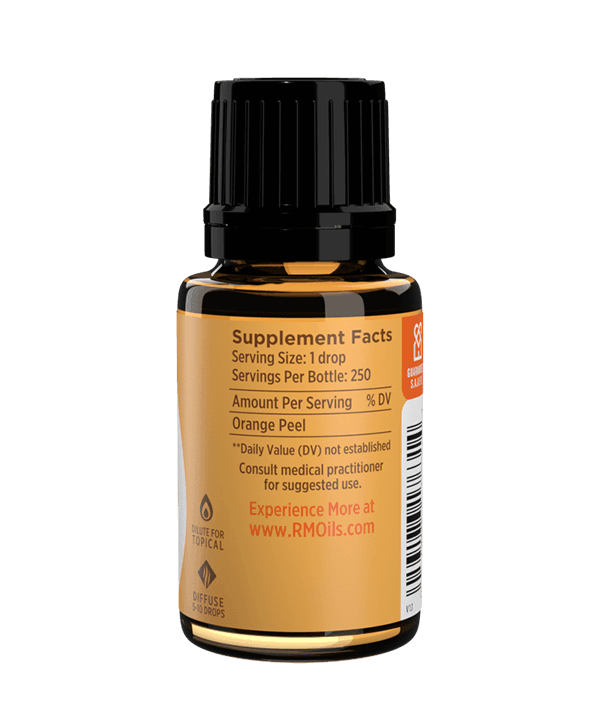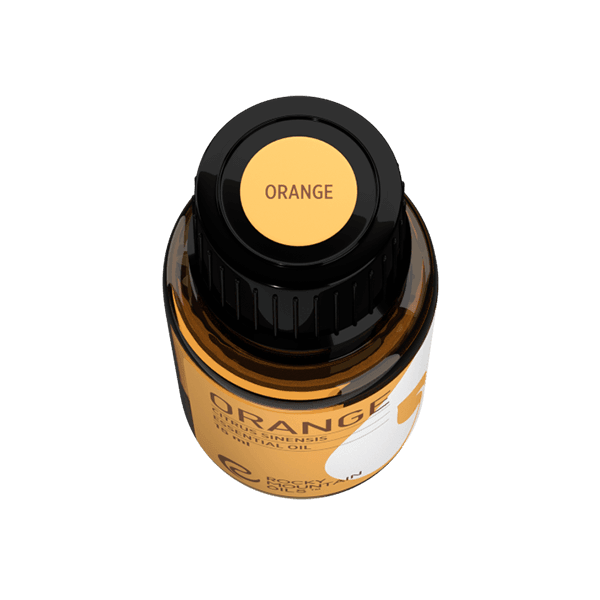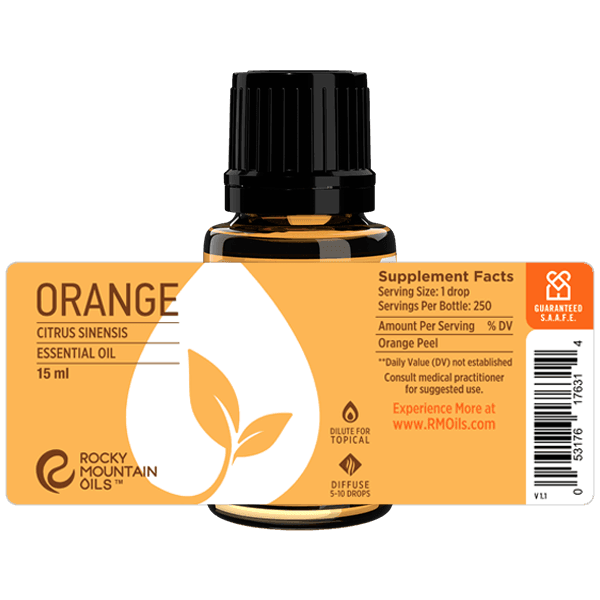 Orange Essential Oil - 15ml
GC/MS
TESTING
90 DAY
RETURNS
100% RECYCLED
PACKAGING
S.A.A.F.E
PROMISE
Inspire happiness and calming, cleansing energy with Orange Essential Oil. Also known as Sweet Orange, this essential oil is cold pressed from the peels of one of the world's most popular citrus fruits. It has a delicious citrus aroma that's sweet, gentle, and will help you feel uplifted and supported. 
If you're wondering, "What is Orange essential oil good for?" the answer is a long list! Orange oil is perfect for aromatherapy, DIY cleaning, haircare, skincare, and more. Orange essential oil benefits for skin include anti-aging, clearing dead skin cells, and promoting a smoother and brighter complexion.
As a rich source of vitamin C and other antioxidants, Orange essential oil benefits the immune system and helps reduce inflammation. Try diluting it with a carrier oil, then massage it into sore muscles to soothe pain, ease discomfort, and release tension. You can also use Orange oil to sanitize and purify.
The refreshing scent of Orange can help you feel more energized during the day while also allowing you to sleep better at night. Diffuse this essential oil whenever you need to let go of stress. It's a classic citrus scent the whole family will love.
"Learn why Orange Essential Oil is Michael & Phoenix's favorite product"
---
The statements contained herein have not been evaluated by the Food and Drug Administration. Neither Rocky Mountain Oils nor its products are intended for the purpose of diagnosing, treating, curing or preventing any disease. If you are pregnant, nursing, taking medication, or have a medical condition, consult your physician before using these products.
Diffuse in your home, office, car, or any other space to reduce anxiety and depression, while naturally boosting energy, promoting mental clarity, and inspiring a happy mood.
Diffuse or inhale to reduce mental fatigue, lift brain fog, and help with insomnia.
Dilute with a carrier oil, then apply to the skin or hair to hydrate, heal, and soothe. Orange essential oil uses for topical application include acne, eczema, dry skin, dandruff, and restoring pH balance.
Massage with a carrier oil into the soles of the feet to boost the immune system and support digestive health.
Add to DIY cleaners, soaps, furniture polish, hand sanitizer, deodorants, laundry sprays, and more to kill odor-causing bacteria and fungi.
Uplifting Orange Room Spray
Fill your space with bright citrus energy and enjoy uplifting Orange essential oil benefits for aromatherapy with this simple yet effective room spray.
10-15 drops Orange Essential Oil
1 cup Water
5-10 drops Witch Hazel
Instructions: Combine all ingredients into a spray bottle and shake well to combine. Shake again before each use. Mist generously into the air or onto linens and pillows to freshen your home.
Botanical Name: Citrus sinensis
Country of Origin: Brazil/USA/Italy*
Extraction Method: Cold Pressed
Plant Part: Citrus Peel
Aroma: Menthol, Sweet, Citrus
Consistency: Thin
Blends Well With: Bergamot, Cinnamon Bark, Pink Grapefruit, Lemon, Red Mandarin, Sandalwood
Popular Orange Blends: Orange Cream, Citrus Blend, Immune Strength, Tranquility, The Secret
*Some of our essential oils have multiple countries of origin. To determine the origin of your bottle of essential oil, click here for batch-specific GC/MS test.
May cause irritation in its pure form. Always dilute with a carrier oil and patch test prior to extensive topical use. Do not use if pregnant or breastfeeding. Keep out of reach of children and pets.
Safe to use topically with children ages 2 and up when diluted to a 1-2% dilution rate. Click here to learn more about using essential oils for kids.
CAUTION: Orange is phototoxic and may temporarily increase your sensitivity to sunlight, resulting in a higher risk of sunburn. When using topically, avoid direct sun exposure and tanning beds for at least 12 hours after application.
Safe Diffusing Tips:
Diffuse in an open, well-ventilated area.
Keep children and pets out of the direct line of mist.
Diffuse in 30-60 minute intervals with ample break periods.
Your trust and confidence matter to us. As part of our S.A.A.F.E. Promise™, Rocky Mountain Oils offers GC/MS (Gas Chromatography/Mass Spectrometry) test results verified by a third-party, independent lab for every essential oil and essential oil blend in our catalog.
GC/MS tests verify the purity and quality of all Rocky Mountain Oils products, so you can be sure you're using the safest, highest-quality essential oils available on the market.
GC/MS Test: Click Here
For batch-specific GC/MS tests, click here.
Orange Essential Oil - 15ml FAQ
Does Orange essential oil make you sleepy?

Orange oil can make you feel more energized or help you fall asleep, depending on how you use it. In the mornings, its sweet, crisp citrus aroma inspires natural energy. At night, Orange essential oil can calm and balance the mind to help you unwind. Diffusing Orange oil at bedtime can help you fall asleep faster and sleep more soundly.

What is the difference between Orange and Bitter Orange essential oils?

The primary difference between Orange essential oil and Bitter Orange essential oil, also known as Neroli, is the aroma. Orange is sweeter and lighter, while Bitter Orange has a more herbal undertone. Additionally, Orange essential oil comes from orange peels, while Bitter Orange is derived from citrus flowers. Due to this difference, Orange is phototoxic (causes sun sensitivity) while Bitter Orange is non-phototoxic.

Is Orange oil safe for pets?

When properly diluted, Orange oil can be used safely used on dogs. However, it is toxic for cats. For all pets, do not allow your furry family member to ingest oils. When diffusing, keep them away from the direct line of spray. If you notice your animal showing signs of distress or unusual behavior and suspect they may have been exposed, contact your veterinarian immediately. Click here to read our blog about essential oils and pet safety.

Can I cook with Orange essential oil?

No. Orange oil is for external use only and should not be used in foods or beverages. Although its sweet, delicious aroma may be tempting, ingesting Orange oil can be toxic. To add a hint of orange to your recipes, use fruit juice or the zest from an orange peel instead of essential oils.