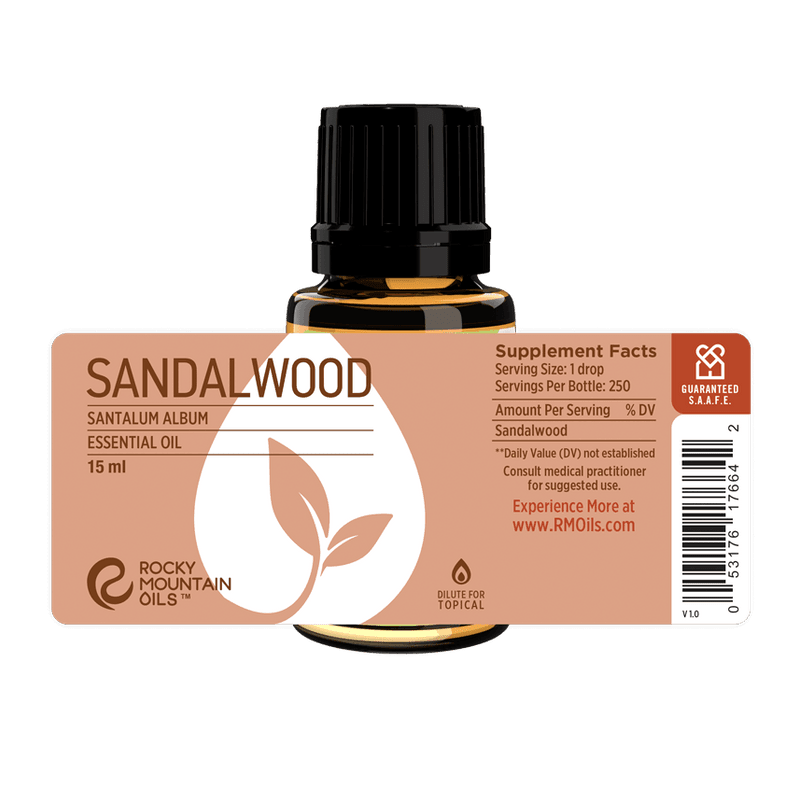 Sandalwood Essential Oil
GC/MS
TESTING
90 DAY
RETURNS
100% RECYCLED
PACKAGING
S.A.A.F.E
PROMISE
Feel calm and centered as you breathe in the deep, rich aroma of Sandalwood essential oil. Steam distilled from the wood of the Santalum album tree, Sandalwood is a highly sought-after essential oil due to its versatile holistic uses and alluring scent.
The aroma of Sandalwood is woody, earthy, warming, and slightly sweet. Surrounding yourself with Sandalwood helps clear negative energy while grounding and uplifting. Diffuse this aroma to fill your space with positivity and stimulate the mind. Sandalwood is known to promote focus, mental clarity, and better cognition. It's also a very popular essential oil for men. 
Many people enjoy Sandalwood essential oil as a meditation aid to enhance their spiritual practice. Try diluting with a carrier oil and adding a drop to your forehead, throat, or heart center for deeper concentration. This essential oil helps guide you through fear, grief, sudden life changes, or other moments of instability. It's also known to enhance the libido when used as a massage oil.
Try Sandalwood as a natural astringent for toning, reducing acne breakouts, and exfoliating skin. It also makes a wonderful addition to homemade men's colognes and perfumes, beard oil and hair oil, soaps, candles, and other DIY care products.
The statements contained herein have not been evaluated by the Food and Drug Administration. Neither Rocky Mountain Oils® nor its products are intended for the purpose of diagnosing, treating, curing, or preventing any disease. If you are pregnant, nursing, taking medication, or have a medical condition, consult your physician before using these products.
Diffuse or inhale feel more grounded and enhance your concentration while uplifting mood. Also enhances meditation and yoga.
Dilute with your favorite carrier oil, then apply topically as a natural astringent that removes makeup, exfoliates, tones, and brightens skin.
Apply 1-2 drops of diluted Sandalwood to the soles of your feet, pulse points, or chest, or add to a warm bath, to bask in the calming aroma and absorb anti-inflammatory properties.
Use in a sensual massage oil to spark passion with your partner and create a romantic, sensual atmosphere.
Use to make Sandalwood perfume or cologne, as well as homemade deodorants, Sandalwood soap, candles, beard oils, or household cleaning products.
Dilute, inhale or massage into the skin with a carrier oil before bedtime to help treat insomnia and sleep more soundly.
Sandalwood Room Spray
Enjoy the rich, deep scent of Sandalwood in this easy-to-make DIY room spray, which you can also spritz onto the skin as a Sandalwood perfume.
10 drops Sandalwood Essential Oil
4 oz. Distilled Water
Instructions: Add ingredients to a spray bottle and shake well to combine. Shake again before each use. Mist generously as needed. (Caution: Do not use near candles or open flames.)
Botanical Name: Santalum album
Country of Origin: India/Australia*
Extraction Method: Steam Distilled
Plant Part: Wood
Aroma: Woody, Earthy
Consistency: Thick
Blends Well With: Red Mandarin, Rose, Black Pepper, Bergamot, Cedarwood, Juniper Berry, Pine, and Ylang Ylang
Popular Sandalwood Blends: At Peace, Dreamtime, Counting Sheep, Serenity
*Some of our oils have multiple countries of origin. To confirm which country your specific bottle of oil originates from, please consult its GC/MS test by clicking here.
May cause irritation in its pure form. Always dilute with a carrier oil and patch test prior to extensive topical use. Do not use if pregnant or breastfeeding. Do not use on broken skin. Keep out of reach of children and pets.
Safe to use topically with children ages 7 months and up when diluted to a .5-1% dilution rate. Click here to learn more about using essential oils for kids.
Safe Diffusing Tips:
Diffuse in an open, well-ventilated area.
Keep children and pets out of the direct line of mist.
Diffuse in 30-60 minute intervals with ample break periods.
Your trust and confidence matter to us. As part of our S.A.A.F.E. Promise™, Rocky Mountain Oils offers GC/MS (Gas Chromatography/Mass Spectrometry) test results verified by a third-party, independent lab for every essential oil and essential oil blend in our catalog.
GC/MS tests verify the purity and quality of all Rocky Mountain Oils products, so you can be sure you're using the safest, highest-quality essential oils available on the market.
GC/MS Test: Click Here
For batch-specific GC/MS tests, click here.
Sandalwood Essential Oil FAQ
What are Sandalwood essential oil benefits for mood?

The aroma of Sandalwood is calming and comforting. Many people use this essential oil to naturally treat stress, anxiety, depression, fatigue, and burnout. Sandalwood also promotes feelings of safety and stability during periods of overwhelm, anger, or grief. Additionally, you can use this essential oil to create a romantic mood and spark libido.

How do I use Sandalwood oil for skin?

There are several ways to experience Sandalwood essential oil benefits for skin. You can dilute it with a carrier oil and use with a gua sha or jade roller, mix with witch hazel to make an astringent toner, or add 1-3 drops to your regular facial cleanser or moisturizer. You can also blend Sandalwood with Fractionated Coconut Oil and sea salt or sugar to make a moisturizing, exfoliating face scrub.

Does Sandalwood essential oil make you sleepy?

Although Sandalwood oil promotes tranquility and deep relaxation, it won't make you too drowsy to function during the day. However, Sandalwood is a popular choice for people who experience insomnia or trouble falling asleep. Using this essential oil in the evening can help you release the day's stress and unwind, lulling you into deeper, more restful slumber.

Why is Sandalwood so special?

In the ancient Indian tradition of Ayurveda, Sandalwood is considered sacred. Sandalwood essential oil and incense are associated with worship, particularly of the Hindu goddess Lakshmi, who is said to live in the Sandalwood tree. Sandalwood is also a protected species that must be sustainably harvested. At Rocky Mountain Oils, we source all our essential oils responsibly and sustainably. Learn more about our dedication to sustainability here.