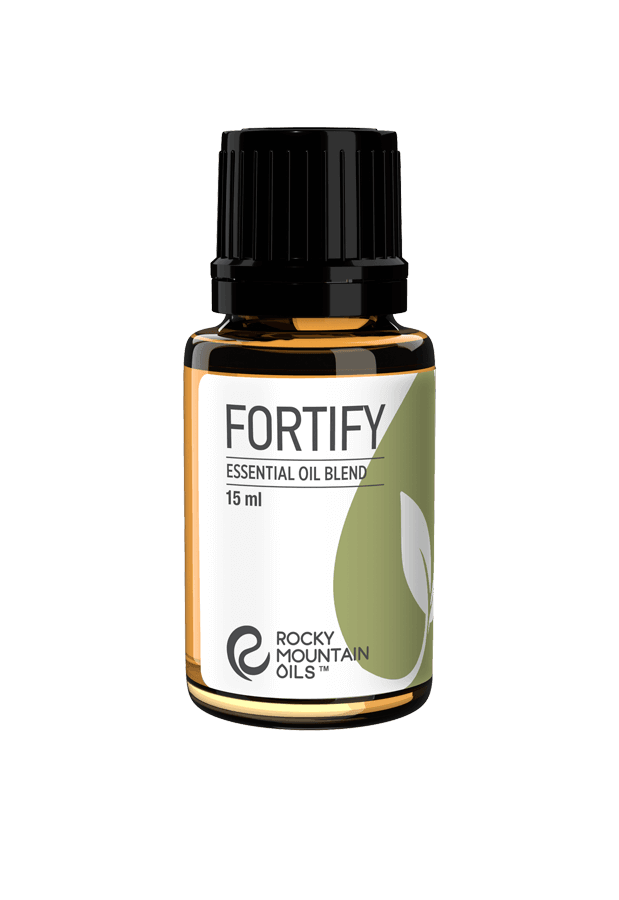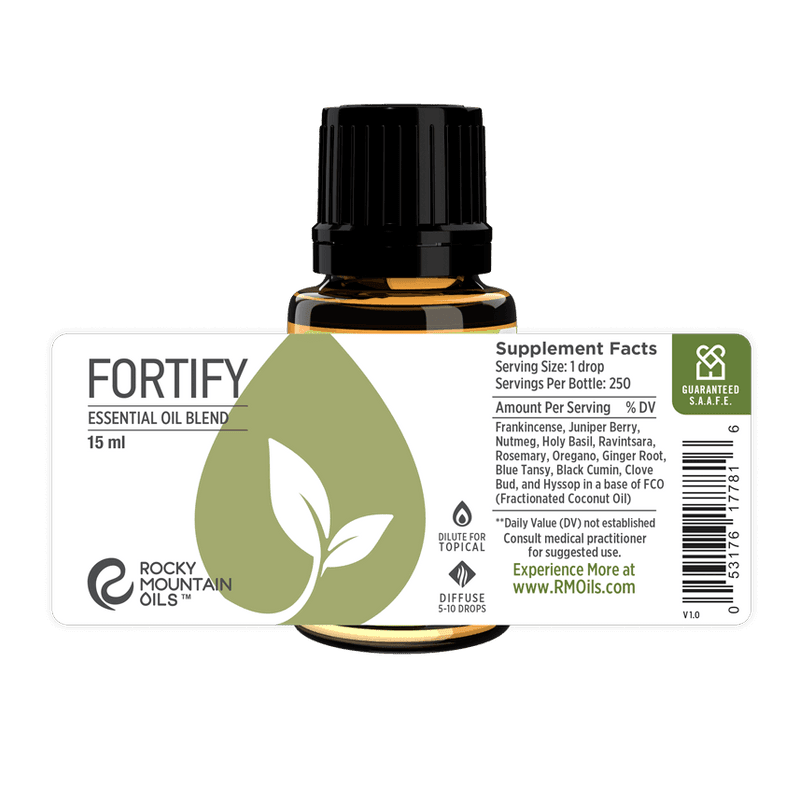 Fortify Essential Oil Blend - 15ml
GC/MS
TESTING
90 DAY
RETURNS
100% RECYCLED
PACKAGING
S.A.A.F.E
PROMISE
Strengthen your immunity and purify your personal space with Fortify Essential Oil Blend. This blend of purifying essential oils has a strong, masculine, earthy scent that's herbal and slightly spicy. 
It's a fortifying blend of Frankincense Serrata, Juniper Berry, Nutmeg, Holy Basil, Ravintsara, Rosemary, Oregano, Ginger Root, Blue Tansy, Black Cumin, Clove Bud, and Hyssop in a base of Fractionated Coconut Oil to nourish and hydrate dry skin.
Because Fortify is prediluted, it's ready for immediate topical use on adult skin. Apply it to the upper chest and pulse points to clear congestion, support immunity, and help you feel more grounded. You can also use this blend to support your immune system and promote respiratory health.
Additionally, this blend includes essential oils for air purification and makes an excellent room spray. Thanks to the antimicrobial and antifungal properties of these oils, Fortify clears your space of mold and fungi, allergens, odor-causing bacteria, and pollutants. Simply add to distilled water and mist as needed to purify and fortify your space for better health.
Massage into the soles of the feet to strengthen your immune system and support respiratory health.
Apply 1-2 drops behind the ears, on the neck, upper chest, or wrists for a natural masculine cologne that relaxes and uplifts. Great for aromatherapy jewelry.
Use in a room spray to neutralize bacteria, fungi and mold, pollutants, and allergens.
Add 1-2 drops to a warm bath for a relaxing, grounding soak that soothes sore muscles and eases anxiety.
Inhale to promote mental clarity, enhance focus, and feel naturally energized.
Use for a relaxing massage to ease inflammation and reduce pain from stiff, aching joints or tense muscles.
Apply to the upper chest to help open the airways and relieve sinus congestion when you have a cold, flu, bronchitis, or allergy attack.
Fortify Mist Spray
For a powerful air freshener without harsh chemicals or artificial ingredients, try this room spray that neutralizes odors and cleans the air with essential oils.
75 drops Fortify
4 ounces Distilled Water
Instructions: Add oil and water to a 4 ounce fine-mist spray bottle. Shake well to combine and shake again before every use. Spray as often as needed to purify and refresh your space. You may refill the water 2-3 times before adding more oil.
For external use only. Do not ingest.
Always patch test prior to extensive use on the skin. Do not use while pregnant or breastfeeding. Do not use near the eyes, nose, mouth, sensitive areas, or on broken skin or abrasions.
WARNING: This blend contains Blue Tansy, which has a thick, inky viscosity and may stain clothes, skin, and porous materials.
Kids Safety: Safe to use topically with children 2 years of age and older. Dilute to a .5-1% dilution rate for topical application. Click here to learn more about essential oils and kid safety.
Note: We do not recommend making diffuser blends with purify blends like Fortify because it contains a carrier oil. For diffusers, our Purify blend instead.
Your trust and safety matter to us. As part of our S.A.A.F.E. Promise™ to you, Rocky Mountain Oils offers GC/MS (Gas Chromatography/Mass Spectrometry) test results from an independent, third-party lab for all of our essential oils and essential oil blends.

GC/MS tests verify the quality and purity of every Rocky Mountain Oils product, which guarantees you're using the safest and highest quality essential oils products available anywhere in the world.

To view the GC/MS test results for this product, click here.
Fortify Essential Oil Blend - 15ml FAQ
What are the best essential oils to purify air?

The best essential oil blends to purify air include Frankincense Serrata, Juniper Berry, Nutmeg, Holy Basil, Ravintsara, Rosemary, Oregano, Ginger Root, Blue Tansy, Black Cumin, Clove Bud, and Hyssop essential oils. These herbal, earthy aromas neutralize pollutants and odor-causing bacteria to help purify your space.

How do I use air purifying essential oils?

To use the air purifying essential oils in our Fortify blend, apply directly to the upper chest, pulse points, or aromatherapy jewelry to eliminate odors and freshen your personal space. You can also use this blend in a room spray and mist as needed in your home, office, car, or other spaces for a natural air freshener without harsh chemicals. Additionally, Fortify helps open airways and relieves congestion from respiratory illnesses and allergies.

Do purifying essential oils help with bad air quality?

When used in a room spray, purifying essential oils can help clean up the air in your space by neutralizing pollen, mold and fungi, odor-causing bacteria, and other pollutants or particles that may contribute to breathing issues. Add 75 drops to a 4 oz. spray bottle with distilled water, shake well, then mist generously to improve the iar quality of your space. You can also spray on linens and pillows.

Is it safe to use essential oils for air purification around kids and pets?

Fortify Essential Oil Blend is safe for topical use on kids ages 2 and up when diluted to a .5-1% dilution rate (click here to learn more). This blend is not recommended for topical use on pets. It is safe to use in room sprays where children and pets may be present, however, always take care to use in a well-ventilated space and keep children and pets away from the direct line of mist.