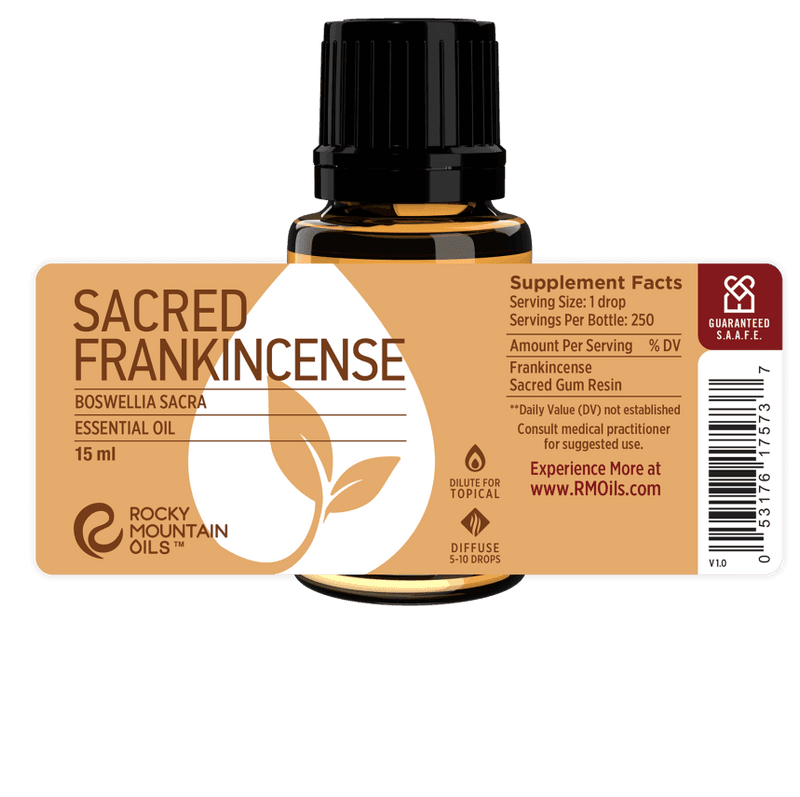 Frankincense, Sacred Essential Oil - Frankincense Essential Oil
GC/MS
TESTING
90 DAY
RETURNS
100% RECYCLED
PACKAGING
S.A.A.F.E
PROMISE
Experience more serenity, healing, and immune strength with Sacred Frankincense Essential Oil. Also known as Olibanum Tree Oil, Sacred Frankincense uses include skincare, haircare, aromatherapy, and more.
This pure essential oil has a rich, balsam aroma that's deeply grounding and enchanting, with warming notes of wood and spicy sweetness. It's steam distilled from the resin of a rare tree, the Boswellia sacra, which grows only in the deserts of Oman. Due to the unique properties of this tree, this variety of Frankincense is more potent and contains 20% more alpha-pinene compounds, which are anti-inflammatory agents that lend Frankincense its medicinal properties.
Sacred Frankincense is a highly sought-after oil for its ability to promote cellular regeneration, and help reduce the appearance of scars, fine lines, and sun damage. Sacred Frankincense Oil may also help boost the immune system. 
Try diluting this essential oil in a carrier oil for topical use, add to a diffuser blend, or simply inhale its serene scent to balance emotions, melt away stress, and promote feelings of stability and safety. It's also perfect for using in meditation or other spiritual practices.
---
The statements contained herein have not been evaluated by the Food and Drug Administration. Neither Rocky Mountain Oils nor its products are intended for the purpose of diagnosing, treating, curing or preventing any disease. If you are pregnant, nursing, taking medication, or have a medical condition, consult your physician before using these products.
Inhale the deep aroma to quiet anxious thoughts, balance emotions, enhance meditation, and reduce daily stressors.
Blend with a carrier oil and rub into the soles of the feet to boost your immune system during cold and flu season, or any time of year when you're exposed to infection.
Use with a carrier oil to reduce redness, fade scars, treat acne, and promote a brighter, more even complexion. May help reduce the appearance of fine lines and wrinkles.
Add to a diffuser to purify the air in your space while clearing negative energy and inspiring relaxation and balance.
After diluting in a carrier oil, rub into tired or sore muscles to reduce inflammation and relieve pain.
Add to homemade deodorant, soap, candles, room sprays, and cleaning products for a grounding aroma that helps sanitize surfaces and neutralize odor-causing bacteria.
Apply to aromatherapy jewelry, mala beads, or wood rosaries.
Tone the Skin Blend
Looking for a natural serum to attain smoother skin that's brighter and more toned? Use this recipe to assist in smoothing out and toning dark spots, stretch marks, or scars.
4 drop Lavender Greece Essential Oil
2 drop Helichrysum italicum Essential Oil
2 drop Frankincense, Sacred Essential Oil
1 tsp FCO - (Fractionated Coconut Oil)
Instructions: Mix the ingredients together in a glass jar or bottle, then apply 2-3 drops to the target area and massage until absorbed.
Always dilute in a carrier oil and patch test prior to extensive topical use. Do not use if pregnant or breastfeeding. Keep out of reach of children and pets.
Safe to use topically with children 2 years of age and older. Dilute to a 1-2% dilution rate for topical application. Click here to learn more about using essential oils for kids.
Practice safe diffusing:
Diffuse in an open, well-ventilated area.
Keep children and pets out of the direct line of mist.
Diffuse in 30-60 minute intervals with ample break periods.
Your trust and confidence are very important to us. As part of our S.A.A.F.E. Promise™, Rocky Mountain Oils offers GC/MS (Gas Chromatography/Mass Spectrometry) test results verified by a third-party, independent lab for every essential oil and essential oil blend in our catalog.
GC/MS tests verify the purity and quality of all Rocky Mountain Oils products, so you can be sure you're using the safest, highest-quality essential oils available on the market.
GC/MS Test: Click Here
For batch-specific GC/MS tests, click here.
Frankincense, Sacred Essential Oil - Frankincense Essential Oil FAQ
What makes Sacred Frankincense different from other types of Frankincense?

Sacred Frankincense essential oil has a richer, deeper, less citrusy aroma than other varieties of Frankincense essential oil. It also contains 20% more alpha-pinene, a type of plant compound that helps heal skin, boost immunity, and more. These differences are due to the fact that Sacred Frankincense is steam distilled from the resin of the wood of the Boswellia sacra tree, which grows only in Oman and is much rarer than other Boswellia trees.

What are some Sacred Frankincense Essential Oil benefits?

Sacred Frankincense helps heal small cuts and abrasions, reduces scarring, tones and brightens skin, reduces the appearance of fine lines, wrinkles, and blemishes, encourages cellular regeneration, and boosts collagen production. It also helps support the immune system, promotes liver health, and soothes pain and inflammation.

What does Frankincense smell like?

Frankincense has a warm, comforting, deep aroma that's woody, camphorous, and earthy. However, different varieties of Frankincense have slightly different scents. Sacred Frankincense is generally stronger and less citrusy than other varieties.

Is Frankincense Sacred Essential Oil safe for use on kids?

Yes, Frankincense Sacred Essential Oil can be used on children ages 2 and up if properly diluted to a 1-2% dilution rate. Always patch test prior to topical use. Learn more about essential oils and kid safety here.