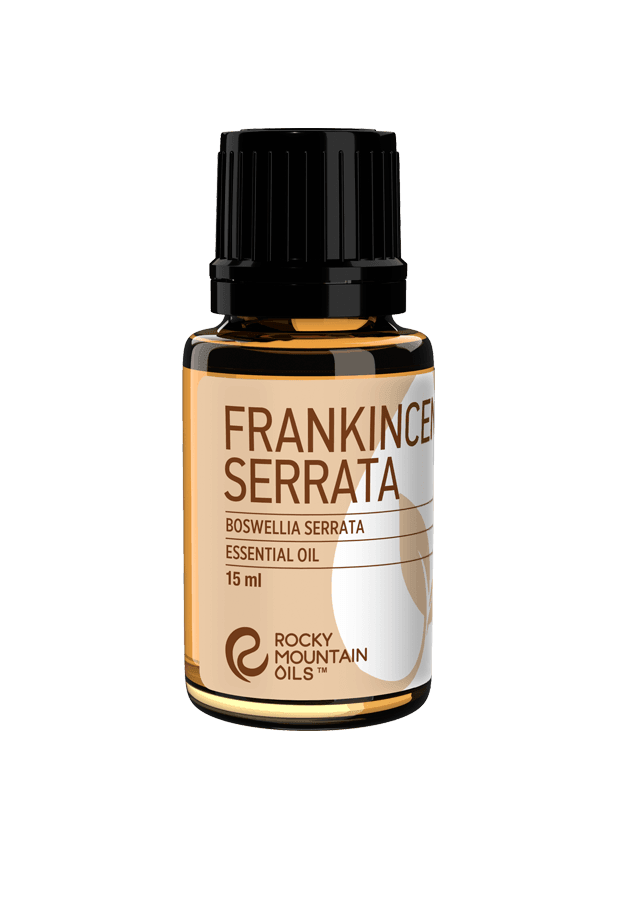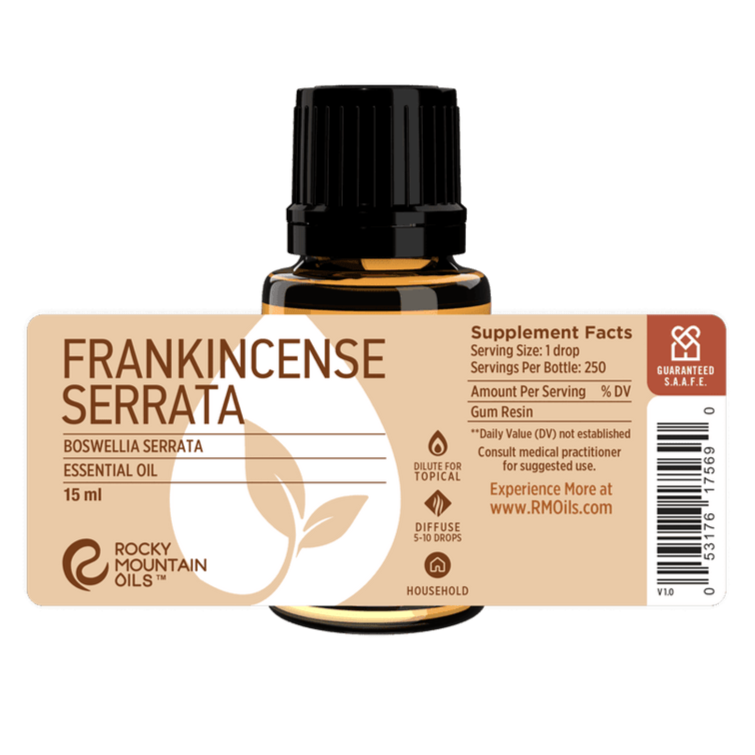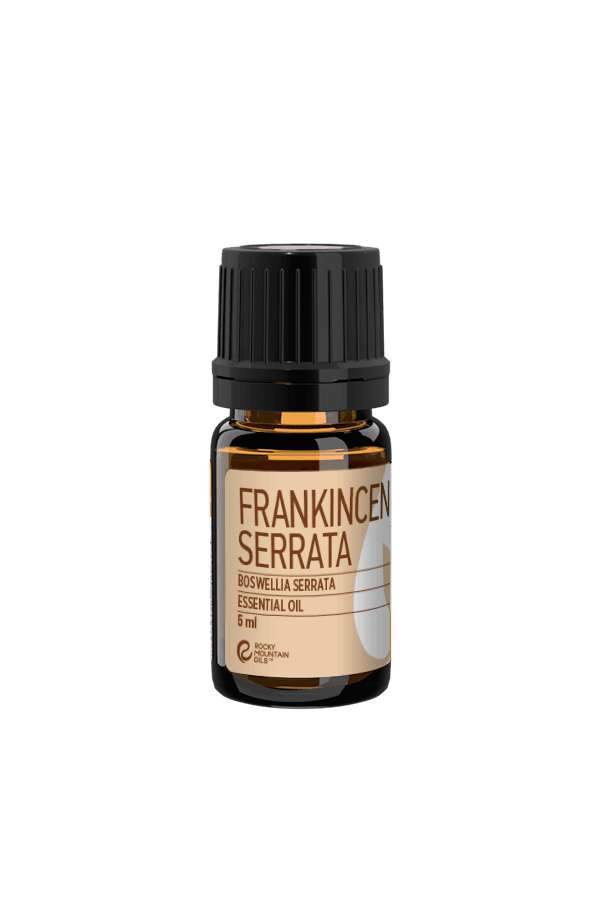 Frankincense, Serrata Essential Oil
GC/MS
TESTING
90 DAY
RETURNS
100% RECYCLED
PACKAGING
S.A.A.F.E
PROMISE
For deep tranquility and natural healing that balances and renews, try Frankincense Serrata Essential Oil. With a medium-strength aroma that's warm, balsamic, spicy-sweet, and woody, Frankincense Serrata is one of the most popular essential oils for aromatherapy, natural products, and skincare. It's a gentle yet powerful ingredient that improves all skin types.
Also known as Shallaki, Olibanum Tree Oil, or Alibanum Indicum, Frankincense Serrata evokes the healing powers of the earth while using powerful bioactive plant compounds to reduce infection and support cellular rejuvenation. It's a rich source of antioxidants called alpha pinenes, which imbue Frankincense Serrata oil benefits with the ability to reduce chronic inflammation, boost collagen production, and soothe body aches.
This variety of Frankincense is also high in alpha-thujene, a compound that neutralizes bacteria, viruses, and fungi and mold. Try adding Frankincense Serrata to your household cleaning products to sanitize surfaces and purify your space. As a bonus, the soothing aroma will fill your home with grounding energy that creates a more peaceful atmosphere.
Other Frankincense Serrata benefits include enhancing focus and concentration. Diffuse this essential oil while working from home, studying, meditating, or any time you need a little help reducing mental distractions. The pleasing scent of Frankincense helps you feel connected to nature and melts away stress.
---
The statements contained herein have not been evaluated by the Food and Drug Administration. Neither Rocky Mountain Oils nor its products are intended for the purpose of diagnosing, treating, curing or preventing any disease. If you are pregnant, nursing, taking medication, or have a medical condition, consult your physician before using these products.
Dilute with a carrier oil and use as a face toner, makeup remover, or exfoliant that brightens dull skin and reduces signs of aging.
Add 1-3 drops to your daily cleanser or moisturizer to boost hydration and support collagen production.
Diffuse to purify the air while promoting a tranquil atmosphere to help you concentrate.
Use in a personal aroma inhaler for immediate relief from anxiety attacks, mood swings, or depression.
Blend with carrier oil and apply to the chest or abdomen to soothe lung congestion, stomach aches, and reduce inflammation. You can also massage into the soles of the feet to help boost immunity.
Use in DIY haircare products to reduce oily buildup, eliminate dandruff, and promote new hair growth that's thicker, smoother, and shinier.
Add to DIY deodorant, household cleaning products, soaps, candles, room sprays, bath bombs, and more for a grounding aroma that also sanitizes.
Great for meditation and spiritual practices.
Soothing Skin Toner
Tone and heal the skin for a brighter, more youthful appearance with this all-natural Soothing Skin Toner, which uses Frankincense Serrata benefits to enhance your complexion.
Instructions: Blend all ingredients together, then apply to stretch marks, scars, blemishes, or other problem areas. Store excess toner in a sealed bottle or jar in a cool, dark place.
Botanical Name: Boswellia serrata
Country of Origin: India
Extraction Method: Steam Distilled
Plant Part: Resin
Aroma: Woodsy, Woody, Earthy
Consistency: Thin
Blends Well With: Black Cumin, Cedarwood, Lavender, Lemon, Rose, Sandalwood, Ylang Ylang
Popular Frankincense, Serrata Oil Blends: Majestic Breeze, The Secret, Tummy Rub, Aligning, Joyful Moments
Non-toxic, but may irritate skin if oxidized. Always dilute with a carrier oil and patch test prior to extensive topical use. Do not use if pregnant or breastfeeding. Keep out of reach of children and pets.
Safe to use topically with children 2 years of age and older. Dilute to a 1-2% dilution rate for topical application. Click here to learn more about using essential oils for kids.
Safe Diffusing Tips:
Diffuse in an open, well-ventilated area.
Keep children and pets out of the direct line of mist.
Diffuse in 30-60 minute intervals with ample break periods.
Your trust and confidence matter to us. As part of our S.A.A.F.E. Promise™, Rocky Mountain Oils offers GC/MS (Gas Chromatography/Mass Spectrometry) test results verified by a third-party, independent lab for every essential oil and essential oil blend in our catalog.
GC/MS tests verify the purity and quality of all Rocky Mountain Oils products, so you can be sure you're using the safest, highest-quality essential oils available on the market.
GC/MS Test: Click Here
For batch-specific GC/MS tests, click here.
Frankincense, Serrata Essential Oil FAQ
What is the difference between Frankincense Serrata and Frankincense Carterii or Sacred Frankincense?

All Frankincense essential oils are derived from the resin of Boswellia trees. However, each variety comes from a different Boswellia subspecies. Frankincense Serrata essential oil originates from India, while Frankincense Carterri and Sacred Frankincense come from trees that grow in Somalia or Oman, respectively.

Due to the different environmental conditions and soil pH where each type of tree grows, the respective essential oils have different aromas. Frankincense Serrata oil has a deep, balsamic, spicy-sweet scent with more earthy notes, while Frankincense Carterii is more citrusy and Sacred Frankincense is more woody.

While the therapeutic properties of each variety of Frankincense are similar, Frankincense Serrata is available in a more abundant supply and therefore tends to be a more affordable option.

What are the aromatherapy benefits of Frankincense Serrata oil?

Frankincense Serrata oil benefits for aromatherapy include concentration, focus, memory, and relaxation. Diffusing Frankincense Serrata essential oil or using it topically with a carrier oil can help you unwind after a long day, releasing stress or anxiety while offering a feeling of safety and comfort. This essential oil also helps reduce feelings of loneliness, grief, and self-doubt.

What are the benefits of Frankincense for meditation?

Meditating with Frankincense can help you attain deeper levels of concentration and remain focused for longer periods of time. The woody aroma of this essential oil also evokes a feeling of being in nature. When you meditate with Frankincense Serrata, it can help you connect with the earth and feel more grounded. The gentle yet powerful aroma can broaden your perspective and assist you in feeling more purposeful, motivated, and clear.

Is Frankincense Serrata good for health?

Yes! Frankincense Serrata oil benefits include many positive health effects. Using this essential oil supports respiratory health and digestion, reduces inflammation, and helps heal small cuts and minor wounds. It can also be used to prevent infections and treat fungal conditions like Athlete's Foot. However, always be sure to dilute in a carrier oil and patch test prior to topical use.