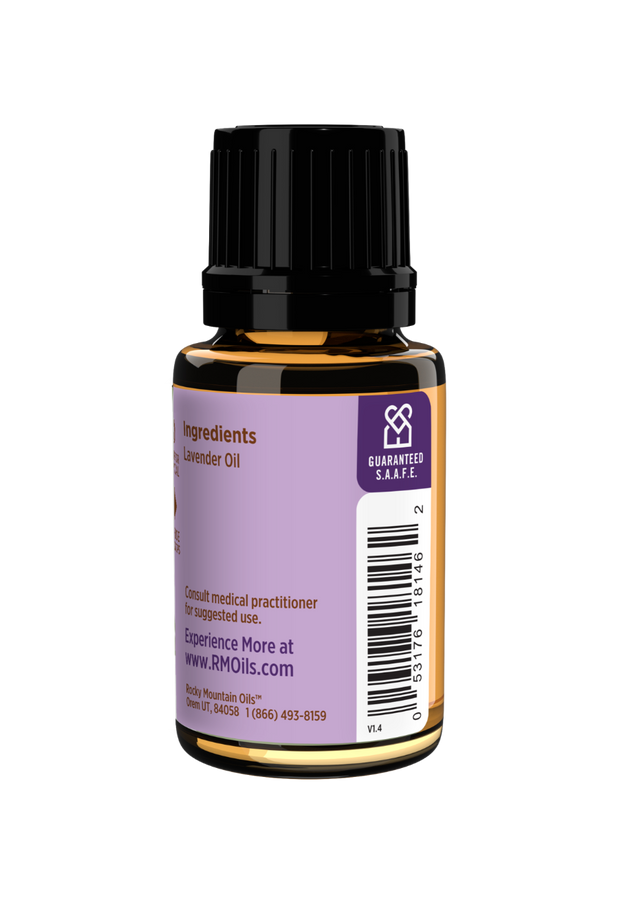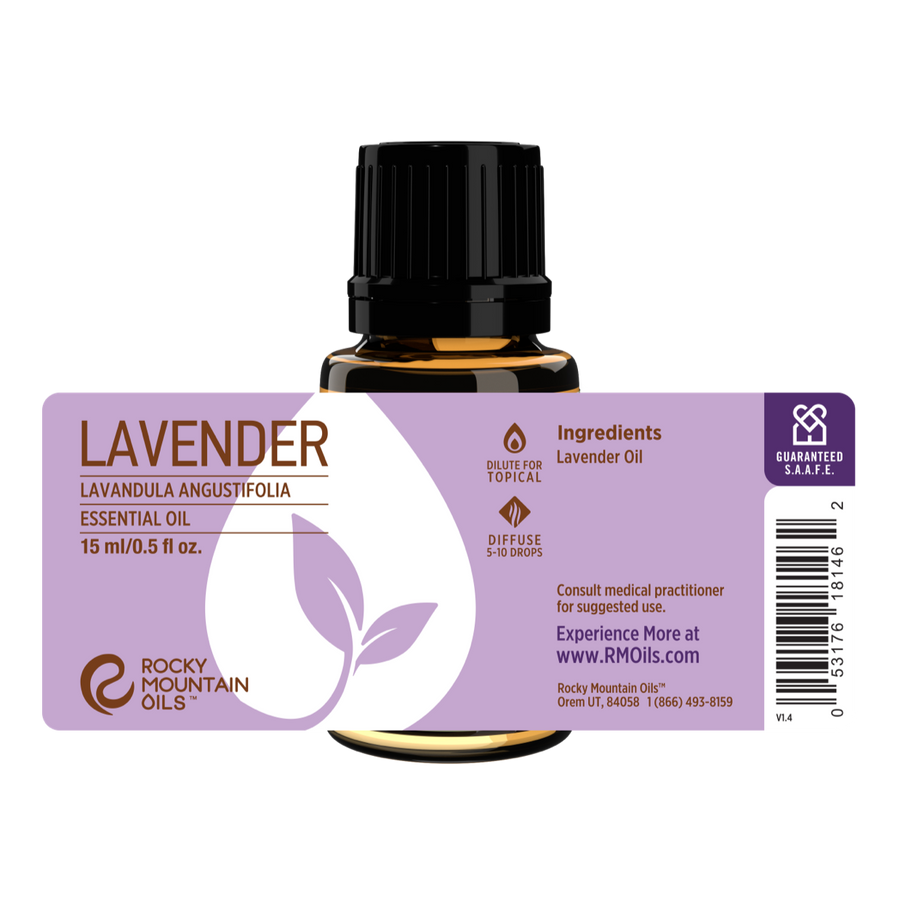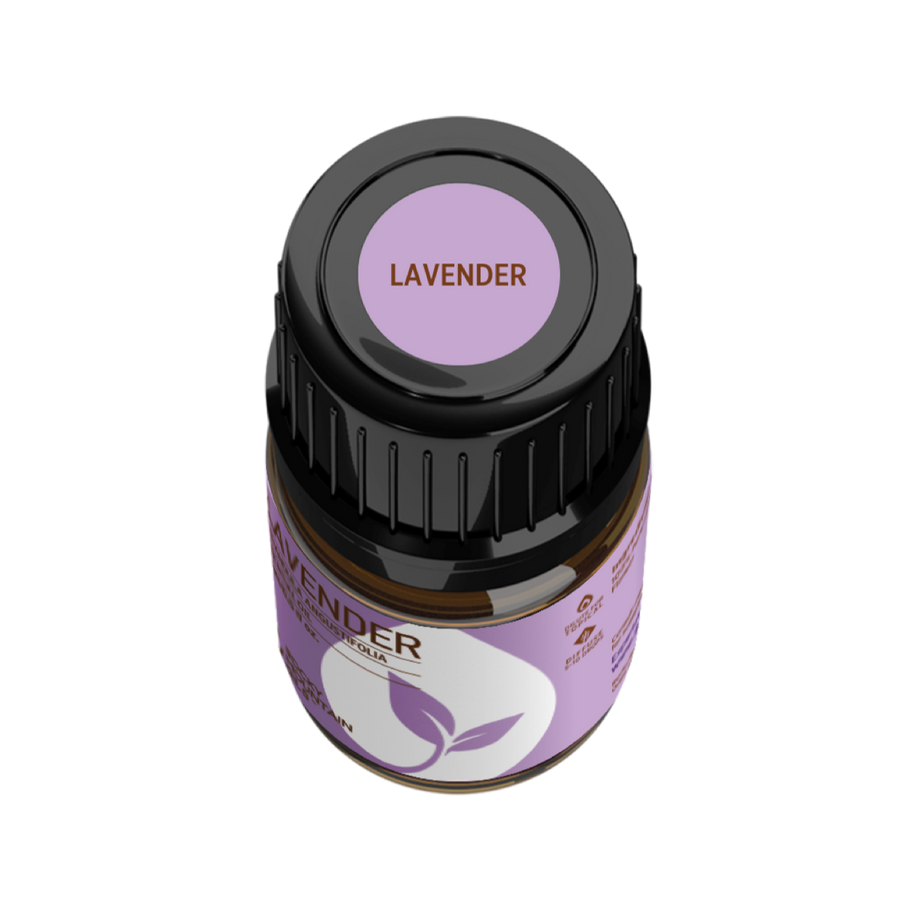 Lavender Essential Oil
GC/MS
TESTING
90 DAY
RETURNS
100% RECYCLED
PACKAGING
S.A.A.F.E
PROMISE
Experience deeper levels of peace and tranquility with sweet-smelling Lavender Essential Oil. With a gentle floral aroma that's earthy and grounding, lavender is one of the most popular essential oils due to its holistic healing properties and natural medicinal benefits.
Lavender oil has been used for thousands of years in traditional medicine and herbal remedies as a rich source of anti-inflammatory compounds that help treat chronic pain. It's also used to support sleep, lower stress levels, and provide relief from skin irritations like insect bites. It also has antifungal and antibacterial properties to help prevent infection.
The medium-strength aroma of lavender oil is floral, herbaceous, sweet, and slightly woody. Rocky Mountain Oils' Lavender oil is steam-distilled from the beautiful flowers of the Lavandula angustifolia plant, sourced directly from the verdant French countryside.
Try lavender oil to balance mood swings, reduce anxiety, and create serenity whenever you need a break from life's daily stressors. Use for massage oils, aromatherapy, DIY skincare and haircare, candle-making, meditation, homemade cleaners, and more.
"Learn why Lavender Essential Oil is Michael & Phoenix's favorite product"
---
The statements contained herein have not been evaluated by the Food and Drug Administration. Neither Rocky Mountain Oils® nor its products are intended for the purpose of diagnosing, treating, curing, or preventing any disease. If you are pregnant, nursing, taking medication, or have a medical condition, consult your physician before using these products.
Diffuse lavender oil for a calming and relaxing effect. Diffuse or topically apply to help reduce and ease anxiety symptoms.
Diffuse, add to a room spray, or topically apply before bedtime to get a deeper night's sleep.
To help reduce acne or dry skin symptoms, apply a couple drops of lavender oil diluted with carrier oil directly to your face.
Mix lavender oil with a carrier oil and rub into your scalp before showertime to nourish, protect, and hydrate your hair.
Combine 10 drops lavender oil and ¼ cup of aloe vera juice or gel with 2-4 tablespoons of water in a spray bottle to help soothe your skin, reduce redness, ease pain, and encourage faster healing.
To help treat and soothe inflammation, mix and topically apply 2 drops of lavender oil with 1-2 teaspoons of FCO.
Lavender Essential Oil DIY Bedtime Spray: Fill a spray bottle with distilled water and add 15 drops of lavender oil. Shake well and spray on pillows, sheets, or in the air to promote relaxation and improved sleep.
Soothing Migraine Support
Combine Lavender with the carrier oil, and massage into your neck and shoulders for a quick, relieving experience that may help to ease the mind and clear the senses.
Fresh Autumn Rain Diffuser Blend
Lavender Massage Oil
Experience the soothing, deeply calming benefits of Lavender Essential Oil to massage sore muscles and stiff joints while melting away daily stress.
15-20 drops Lavender Essential Oil
¼ cup Fractionated Coconut Oil (FCO)
Instructions: Mix oils together in a glass jar or lotion pump bottle. Warm a small amount of this Lavender Massage Oil with your hands, then massage onto the affected area while applying gentle pressure. Repeat as needed for pain relief and deep relaxation. Store leftover oil in an airtight container in a cool, dark place
Botanical Name: Lavandula angustifolia
Country of Origin: Greece/France*
Extraction Method: Steam Distilled
Plant Part: Flower
Aroma: Floral, Sweet, Herbal
Consistency: Thin
Blends Well With: Ylang Ylang, Geranium, Blend of Rose, Sandalwood, Lemon, Orange, Bergamot FCF, Grapefruit, German Chamomile, and Roman Chamomile.
Generally non-irritating and non-sensitizing. Use with a carrier oil for topical application.
Click here for dilution rates.
Kids Safety: Safe to use topically with children 6 months of age and older. Dilute to a .5-2% dilution rate for topical application.
Your trust and confidence is very important to us. As part of our S.A.A.F.E. Promise™ to you, we provide GC/MS (Gas Chromatography / Mass Spectrometry) test results from a verified third party, independent lab for each one of our essential oil products.
GC/MS tests verify purity and quality of the oils we sell, so you can be sure you're using the highest quality oils available on the market today.
GC/MS Test: Click Here
For batch specific GC/MS test click here.
Lavender Essential Oil FAQ
Is lavender essential oil safe for dogs?

Lavender essential oil is generally considered safe for dogs when used in small doses and properly diluted. However, it is important to always consult with a veterinarian before using essential oils on your pet.

Want more information about essential oils for dogs and pets? Check out our blog on

How to Safely Use Essential Oils On Your Pets & Around Your Dogs

Is lavender essential oil safe for cats?

Lavender essential oil can be toxic to cats and should be avoided.

What is lavender essential oil good for?

Skincare, haircare, burns, wounds, inflammation, pain relief, stress relief, sleep, and more.

Can you use lavender oil directly on the skin?

It is gentle enough that you can, however you should always patch test. It is recommended to dilute with a carrier oil though.

What are the different types of lavender essential oils?

Lavandula angustifolia also known as English lavender
Lavandula stoechas also known as Spanish lavender
Lavandula x intermedia also known as lavandin, this is a hybrid of English and spike lavender
Lavandula latifolia also known as spike lavender
Lavandula pedunculata also known as French lavender