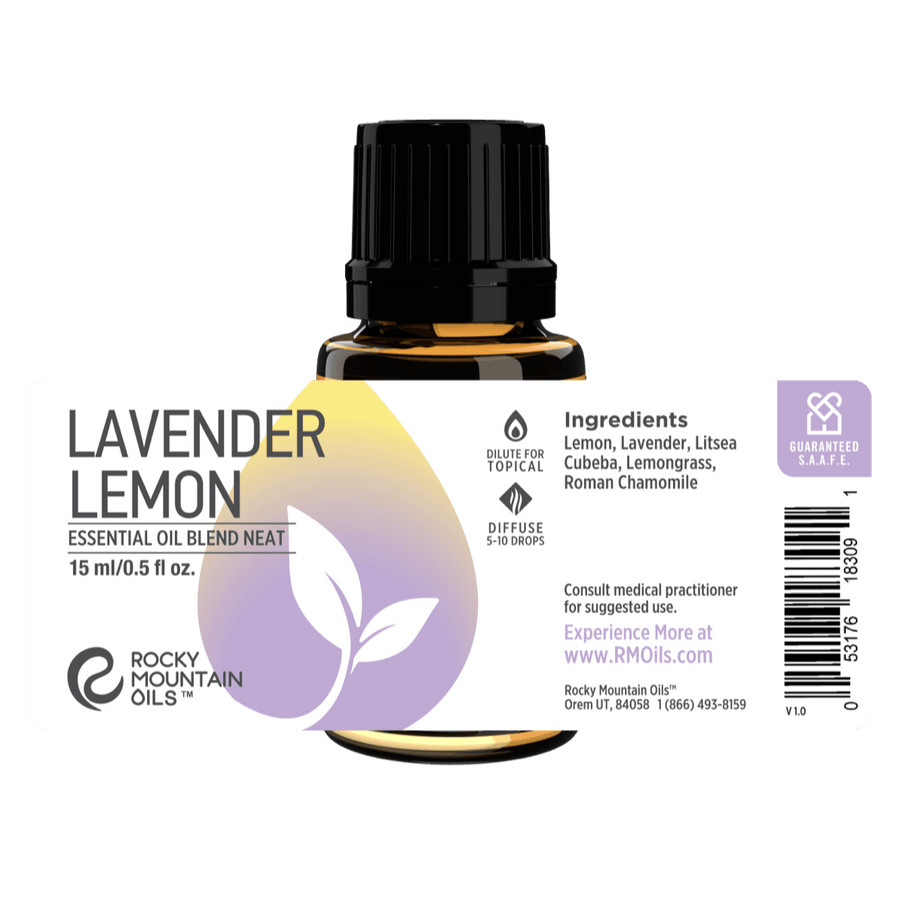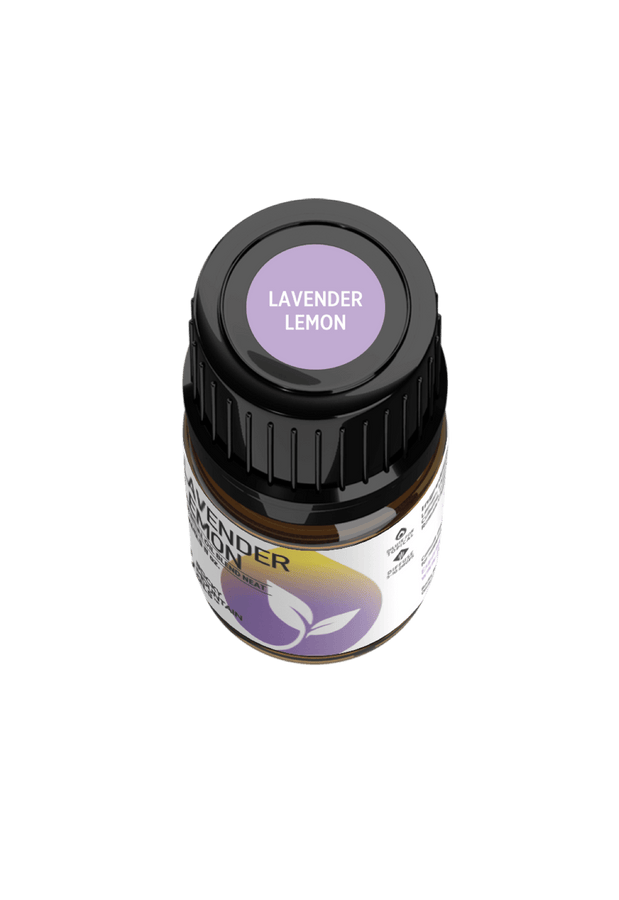 Lavender Lemon Essential Oil Blend (Lemon Lavender)
GC/MS
TESTING
90 DAY
RETURNS
100% RECYCLED
PACKAGING
S.A.A.F.E
PROMISE
Feel grounded yet uplifted with this Lavender Lemon Essential Oil Blend. Pairing two of the most popular essential oils for aromatherapy, this blend provides a joyful scent that's bright, floral, and citrusy. It's pure Lemon and Lavender combined with Litsea Cubeba, Lemongrass, and Roman Chamomile essential oils.
When life gets too busy and feels overwhelming, this Lavender Lemon Essential Oil Blend can provide a moment of happiness and tranquility. It helps you feel calmer and more centered thanks to Lavender's deeply relaxing aroma, while the energizing scent of Lemon inspires confidence, concentration, and emotional stability. 
The Lemon Lavender blend is a superb option to alleviate symptoms such as anxiety, depression, burnout, mental fatigue, and brain fog, as well as difficulties with concentration, and more. When appropriately mixed with a carrier oil, this blend can be applied topically to ease muscle tension, diminish inflammation and stiffness in joints, and promote healthier skin and hair.
The oils in this blend are also antifungal, antimicrobial, and act as a natural insect repellent. Try diffusing it or using in a room spray to freshen and deodorize your space without harsh chemicals or artificial ingredients. It's also perfect for DIY soaps, candles, and cleaning products.

Lavender Lemon Essential Oil Blend Uses
Use it in your favorite diffuser or a DIY room spray to fill your space with clean, bright energy and relaxing vibes.
Dilute with a carrier oil such as Fractionated Coconut Oil, then apply 1-2 drops to the skin and massage with firm, gentle pressure to release anxiety and tension.
Use with a carrier oil to tone and brighten skin, promote a healthier scalp and new hair growth, and reduce inflammation for faster healing of small cuts and wounds.
Add 1-2 drops to a warm bath for a calming yet uplifting soak.
Diffuse outdoors or sprinkle along doorways and windowsills as a natural insect repellent.
Apply 1-2 drops of diluted blend to the forehead, throat, or heart center to feel energized yet grounded in your yoga and meditation practices.
Add to aromatherapy jewelry, DIY soaps and candles, cleaning products, and more.
Lavender Lemon Essential Oil Blend Recipes
Calm & Uplift Room Spray
Use our lavender and lemon essential oil blend in this air freshening room spray that eliminates odors and negative energy while creating an atmosphere that calms and uplifts.

2 oz. Distilled Water
10-15 drops Lavender Lemon
Instructions: In a 2 oz. spray bottle, add oil and water. Shake vigorously to combine, then spray in the air to freshen and uplift. Shake well before each use. Can also be sprayed on pillows, linens and sheets.

Lavender Lemon Essential Oil Blend Safety
For external use only. Do not ingest. Always dilute with a carrier oil and patch test prior to extensive use on the skin. Avoid contact with the eyes, nose, mouth, sensitive areas, and broken skin. Do not use it while pregnant or breastfeeding.
WARNING: This blend contains Lemon essential oil, which may temporarily increase sun sensitivity and risk of sunburn. If using on the skin, avoid direct sunlight and tanning beds for 12 hours after use.
Kids Safety: Safe to use topically with children ages 2 and up when diluted to a .5-2% dilution rate. Click here to learn more about essential oils and kid safety.
Tips for Safe Diffusing

Diffuse in an open, well-ventilated area
Keep children and pets out of the direct line of mist
Diffuse in 30-60 minute intervals with long breaks in between
At Rocky Mountain Oils, your trust and confidence matter to us. As part of our S.A.A.F.E. Promise™, we offer independently verified GC/MS (Gas Chromatography/Mass Spectrometry) test results from a third-party lab for every product in our line.
GC/MS tests verify the purity and quality of our essential oils and essential oil blends, guaranteeing that every product you purchase from our website is the safest, purest, and highest quality on the market.
To view the GC/MS test results for this essential oil blend, click here..
Lavender Lemon Essential Oil Blend (Lemon Lavender) FAQ
What is Lavender Lemon essential oil good for?

Lavender Lemon essential oil is good for stress, anxiety, depression, insomnia, memory, low motivation, jet lag, skincare, haircare, DIY remedies, soaps, candles, bath bombs, natural insect repellent, diffuser blends, and more.

Can you mix Lavender and Lemon oils?

Yes! Lavender and Lemon are a wonderful combination for aromatherapy and holistic use. The earthy, grounding aroma of Lavender pairs well with the bright, energizing citrus scent of Lemon to create an uplifting yet calming blend that improves any mood. Try our Lavender Lemon Essential Oil Blend, which balances these two oils with Litsea Cubeba, Lemongrass, and Roman Chamomile to create a rich, luxurious aroma.

What are some Lemon and Lavender essential oil blend benefits for health?

A Lemon and Lavender essential oil blend offers the natural health benefits of each of these potent oils.
The Lavender in this blend supports better quality sleep, reduces abdominal discomfort like cramps, reduces muscle aches and joint stiffness, and improves circulation. The Lemon provides benefits like reducing skin irritation, fading scars and fine lines, providing antioxidants, and supporting respiratory and immune system health.
Both oils are also anti-inflammatory, antifungal, and antimicrobial. Together, a Lemon and Lavender essential oil blend can be a powerful ally in your health and wellness journey.

Can I use Lavender and Lemon essential oil on skin?

Lavender and Lemon essential oil can be used on the skin when

properly diluted

with a carrier oil such as Fractionated Coconut Oil or

Jojoba Oil

. However, please be mindful that Lemon essential oil is known to be phototoxic. This means it can temporarily increase your skin's sensitivity to sun exposure and UV light, resulting in sunburn or irritation. If you are using this blend topically, please avoid direct sunlight and tanning beds for up to 12 hours after use.