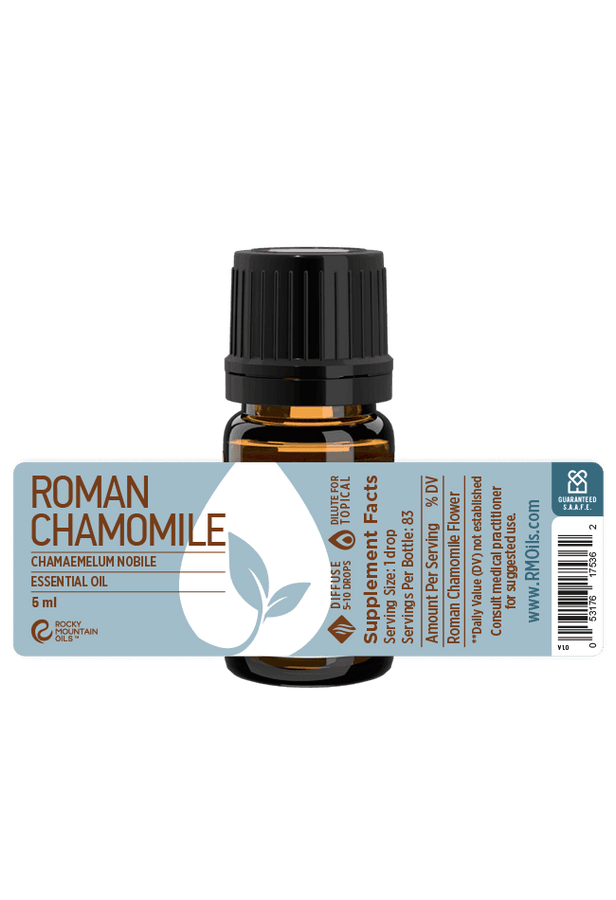 Roman Chamomile Essential Oil
GC/MS
TESTING
90 DAY
RETURNS
100% RECYCLED
PACKAGING
S.A.A.F.E
PROMISE
Relax and feel relief with the gentle soothing aroma of Roman Chamomile Essential Oil. With a light, herbal scent that's warm and slightly floral, chamomile has been used for centuries in traditional medicine across the globe from ancient Egypt to imperial China. It's anti-inflammatory, antibacterial, and antispasmodic.
Roman Chamomile, also known as Chamaemelum nobile, English Chamomile, or Whig Plant, is a perennial variety that's native to Morocco and Europe. Roman Chamomile essential oil uses include treating nausea, indigestion, gas and bloating, and cramps. When diluted with a carrier oil, this essential oil also helps heal minor cuts, burns, and bruises.
If you've ever had chamomile tea, you'll know that this ingredient is also a powerful natural sedative. Roman Chamomile essential oil is non-habit-forming and won't cause you to instantly fall asleep, but this oil can help treat insomnia, nightmares, tossing and turning, and other sleep disorders. It gently relaxes your central nervous system, helping you fall asleep faster and sleep more deeply.
Other Roman Chamomile essential oil benefits include purifying the air against germs, allergens, and pollutants, sanitizing surfaces, and promoting respiratory health. Try diffusing or inhaling Roman Chamomile to relieve congestion and support lung function.
Roman Chamomile Essential Oil is part of Rocky Mountain Oils Relief, Skin Care, and Sleep collections.
---
The statements contained herein have not been evaluated by the Food and Drug Administration. Neither Rocky Mountain Oils nor its products are intended for the purpose of diagnosing, treating, curing or preventing any disease. If you are pregnant, nursing, taking medication, or have a medical condition, consult your physician before using these products.
Use in the evenings by diffusing, inhaling from the body, or blending with a carrier oil and applying to the upper chest or feet to help you fall asleep faster and sleep more soundly without tossing and turning.
Diffuse to freshen the air in your space while balancing emotions and creating a calm, pleasing atmosphere.
Dilute with a carrier oil, use as a first-aid salve to prevent infection and promote faster healing of minor cuts, scrapes, burns, bug bites, and bruises.
Dilute with a carrier oil, then apply topically to the lower abdomen for relief from menstrual cramps, stomach aches, and gastrointestinal issues like gas and bloating.
Diffuse, inhale, or apply topically to the upper chest to alleviate symptoms of asthma and allergies, reduce chest congestion and sinus congestion, and support respiratory health.
Add a few drops to a warm bath for a soothing soak that relieves muscle pain, relaxes tension, and helps you let go of stress and anxiety.
Roman Chamomile Facial Mist
Tone, brighten, and refresh your complexion with the uplifting yet soothing scent of Roman Chamomile essential oil with this DIY face mist.
10 drops Roman Chamomile
1 cup Distilled Water
Instructions: Add all ingredients to a clean spray bottle, shake well to combine, and gently mist onto your face (with eyes closed) for a hydrating skin boost. Use 1-3 times a day as needed. Store in a cool, dark place and shake again before each use.
Botanical Name: Chamaemelum nobile
Country of Origin: United Kingdom/England*
Extraction Method: Steam Distilled
Plant Part: Flower
Aroma: Herbal, Flower
Consistency: Thin
Blends Well With: German Chamomile, Bergamot, Cinnamon Bark, Lemon, Orange, Lavender, Eucalyptus radiata, Juniper Berry, Sweet Marjoram
Popular Roman Chamomile Blends: Migraine Support, Lemon Lavender, Aligning, Skin Care, Perspective, Throat Chakra, Heart Health
*Some of our oils have multiple countries of origin. To confirm which country your specific bottle of oil originates from, please click here to consult its GC/MS test.
Always dilute prior to topical application. Avoid contact with mucous membranes, eyes, and the inside of the mouth, nose, and ears. Do not ingest. Do not use it while pregnant or breastfeeding.
Kids Safety: Safe to use topically with children ages 6 months old and up. Dilute to a .5-1% dilution rate for topical application.
Tips for Safer Diffusing:
Diffuse in an open, well-ventilated area.
Keep children and pets out of the direct line of mist.
Diffuse in 30-60 minute intervals, with ample break periods for safe and effective use.
At Rocky Mountain Oils, your trust and confidence matter to us. As part of our S.A.A.F.E. Promise™, we offer third-party verified GC/MS (Gas Chromatography/Mass Spectrometry) test results from an independent lab for every essential oil and blend in our line.
GC/MS tests verify the purity and quality of our essential oils, so you can be sure you're using the safest, highest-quality essential oils available today.
GC/MS Test: Click Here
For batch-specific GC/MS tests, click here.
Roman Chamomile Essential Oil FAQ
What is the difference between Roman Chamomile and German Chamomile?

Roman Chamomile and German Chamomile are two different varieties of chamomile plant. Although they offer similar healing benefits, they also have distinct therapeutic uses and unique aromas. Roman Chamomile oil is lighter and sweeter, while German Chamomile has a deeper aroma that's earthier and more herbal. Additionally, Roman Chamomile is better suited for respiratory support, while German Chamomile has a slightly higher concentration of anti-inflammatory compounds that makes it preferable for pain relief.

What are some Roman Chamomile essential oil uses for skin?

Roman Chamomile essential oil benefits for skin include restoring the skin's natural moisture barrier, exfoliating dead skin cells, boosting collagen production and elasticity, and reducing discoloration like hyperpigmentation. Roman Chamomile also soothes dry, cracked skin, reduces swelling and inflammation, and treats acne and other blemishes. It may also help reduce the appearance of scars and wrinkles.

What are some Roman Chamomile essential oil uses for hair?

When diluted with a carrier oil or added to your regular shampoo or conditioner, Roman Chamomile essential oil benefits include balancing scalp pH, reducing excess oil (sebum) production, and stimulating hair growth at the root. Roman Chamomile helps strengthen hair follicles for thicker, stronger, shinier hair and repairs damage caused by over-washing or chemical processing. It also controls frizz, heals split-ends, and leaves hair smelling clean and fresh.

Can you drink Roman Chamomile oil to fall asleep?

No. Although you may be familiar with chamomile tea as a natural sleep aid, Roman Chamomile essential oil is for external use only and should never be ingested. When using this essential oil, avoid contact with the lips and mouth to prevent accidental ingestion.