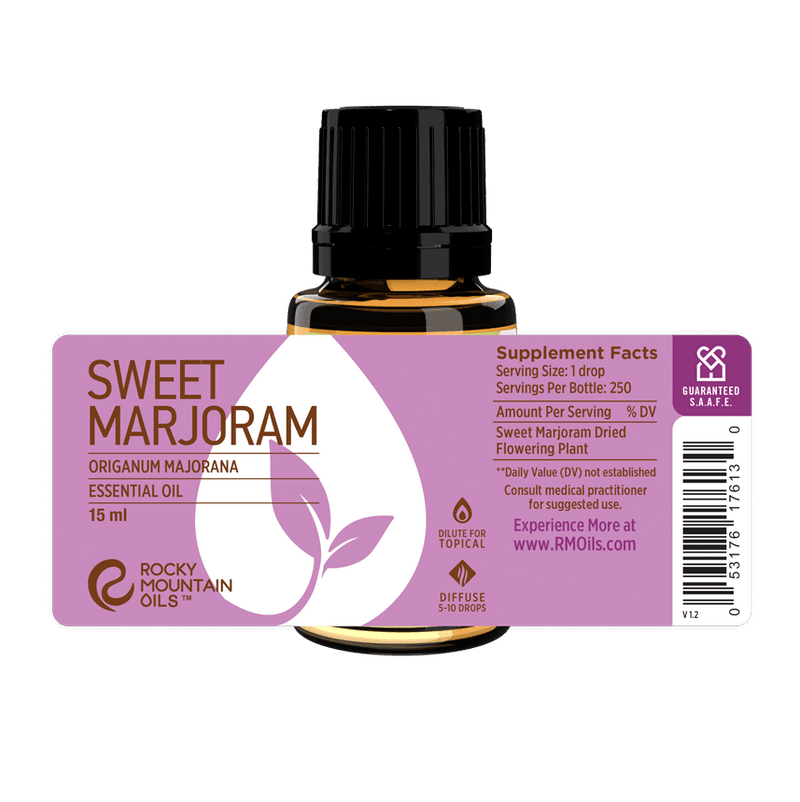 Sweet Marjoram Essential Oil
GC/MS
TESTING
90 DAY
RETURNS
100% RECYCLED
PACKAGING
S.A.A.F.E
PROMISE
Capture the imagination and create a tranquil environment for daydreaming and healing with Sweet Marjoram essential oil. Also known as Pot Marjoram, Knotted Marjoram, or simply Marjoram, Sweet Marjoram oil provides many aromatherapy and holistic benefits.
As its name implies, the aroma of Sweet Marjoram is sweet and uplifting. It's also herbaceous, spicy, and slightly woody. Diffusing or inhaling Sweet Marjoram helps alleviate anxiety, depression, brain fog, and irritability. It's also a powerful essential oil for treating insomnia, nightmares, or other sleep disorders.
Sweet Marjoram is anti-inflammatory, antimicrobial, and antifungal. Try it for pain relief and help soothing aching, inflamed joints. Using Sweet Marjoram after working out or other physical exertion can help improve your recovery time. 
Other Sweet Marjoram essential oil benefits include supporting respiratory and cardiovascular health, improving digestion, immunity, skincare, and haircare. You can also add this oil to DIY cleaning products to naturally eliminate germs and spread sweet-smelling good vibes. Sweet Marjoram blends well with a variety of other essential oils and is great for adding fragrance to natural perfumes and colognes, beard oils, candles, soaps, bath bombs, air freshener sprays, and more.
---
The statements contained herein have not been evaluated by the Food and Drug Administration. Neither Rocky Mountain Oils nor its products are intended for the purpose of diagnosing, treating, curing or preventing any disease. If you are pregnant, nursing, taking medication, or have a medical condition, consult your physician before using these products.
Diffuse to reduce stress and promote relaxation. Diffusing Sweet Marjoram at bedtime can help you fall asleep faster and sleep more deeply.
Dilute with a carrier oil, then apply to your face to help moisturize and restore your skin's natural protective barrier. It also helps smooth, tone, and exfoliate.
Dilute with a carrier oil and use as a massage oil to soothe sore muscles, stiff joints, and reduce abdominal discomfort like cramps.
Diffuse, inhale, or apply topically with a carrier oil to the upper chest to help promote easier breathing and better respiratory health.
Add to your DIY cleaner to disinfect and deodorize surfaces.
Sweet Marjoram Massage Oil
Try this soothing massage oil that features Sweet Marjoram for natural pain relief and deep relaxation.
5 drops Sweet Marjoram Essential Oil
1 ounce Fractionated Coconut Oil (or carrier oil of choice)
Instructions: Mix oils together, then massage into the affected area with gentle yet firm pressure as you close your eyes and enjoy the relaxing aroma of Sweet Marjoram.
May cause irritation in its pure form. Always dilute with a carrier oil and patch test prior to extensive topical use. Do not use if pregnant or breastfeeding. Keep out of reach of children and pets.
Safe to use topically with children ages 2 and up when diluted to a .5-2% dilution rate. Click here to learn more about using essential oils for kids.
Safe Diffusing Tips:
Diffuse in an open, well-ventilated area.
Keep children and pets out of the direct line of mist.
Diffuse in 30-60 minute intervals with ample break periods.
Your trust and confidence matter to us. As part of our S.A.A.F.E. Promise™, Rocky Mountain Oils offers GC/MS (Gas Chromatography/Mass Spectrometry) test results verified by a third-party, independent lab for every essential oil and essential oil blend in our catalog.
GC/MS tests verify the purity and quality of all Rocky Mountain Oils products, so you can be sure you're using the safest, highest-quality essential oils available on the market.
GC/MS Test: Click Here
For batch-specific GC/MS tests, click here.
Sweet Marjoram Essential Oil FAQ
What does Sweet Marjoram essential oil smell like?

Sweet Marjoram essential oil has a scent that can be described as warming, spicy, and herbal, with camphorous and woody undertones. The aroma is pleasantly grounding and creates a feeling of comfort and stability.

What is the difference Marjoram vs Sweet Marjoram essential oil?

Sweet Marjoram and Marjoram essential oil are actually the same! However, there is another type of Marjoram called Spanish Marjoram, which is derived from a different species of the Marjoram herb. Spanish Marjoram has an aroma that is closer to Eucalyptus and Rosemary, while Sweet Marjoram/Marjoram is sharper and brighter. Both Spanish Marjoram and Marjoram essential oil uses are similar, as each oil provides anti-inflammatory and antiseptic benefits.

Is Sweet Marjoram good for sleep?

Yes! Sweet Marjoram essential oil calms the central nervous system and helps release your body from the fight-or-flight response that often accompanies the stress of daily life. Not only does Sweet Marjoram help you wind down and fall asleep faster at bedtime, but it helps promote better sleep cycles so you stay asleep without tossing and turning. Try diffusing Sweet Marjoram before bed to wake up feeling more refreshed and rejuvenated. Its anti-insomnia properties are one of the best Sweet Marjoram essential oil benefits.

Where should I apply Sweet Marjoram oil?

To experience the most Sweet Marjoram essential oil benefits, dilute it with your favorite carrier oil and apply to the pulse points, temples, neck, upper chest, or behind the ears. You can also use Sweet Marjoram on aching muscles or apply it to the soles of the feet.