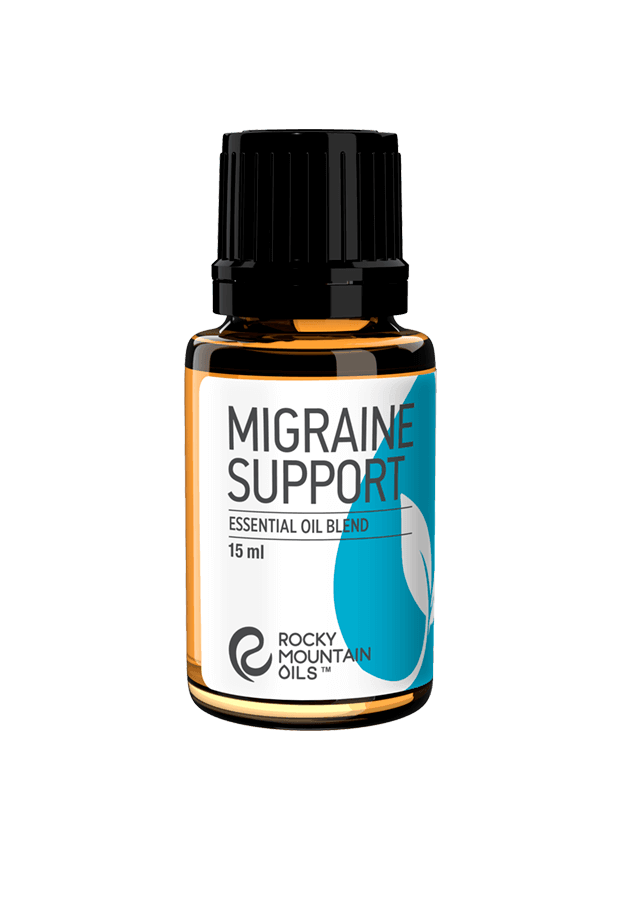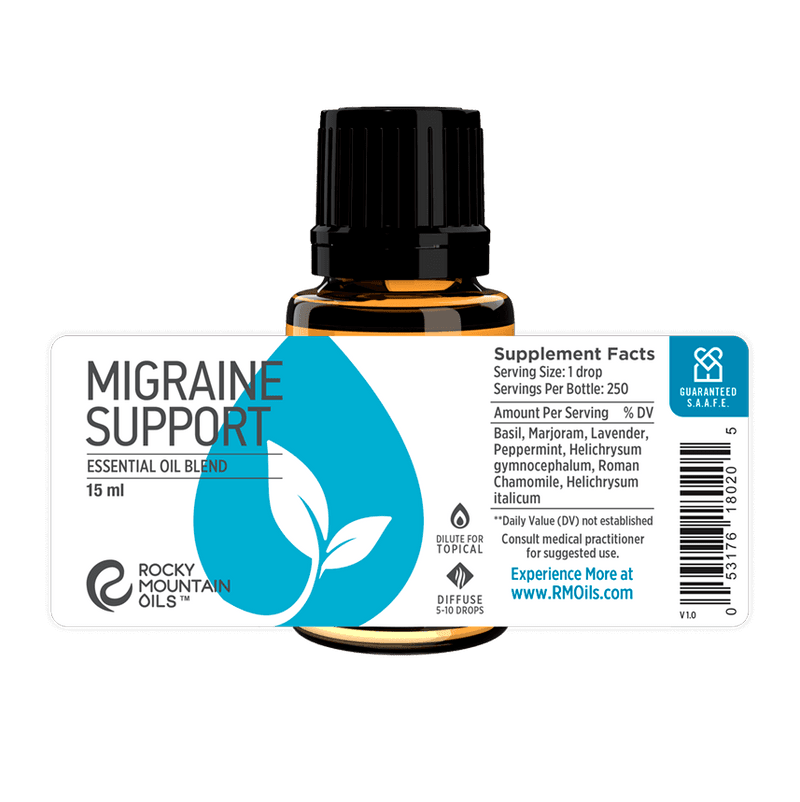 Migraine Support Essential Oil Blend
GC/MS
TESTING
90 DAY
RETURNS
100% RECYCLED
PACKAGING
S.A.A.F.E
PROMISE
Relieve pain and discomfort from headaches with our Migraine Support Essential Oil Blend. This migraine relief essential oil blend is a soothing combination of Basil, Marjoram, Lavender, Peppermint, Helichrysum gymnocephalum, Roman Chamomile, and Helichrysum italicum oils.
This blend offers a relaxing aroma that's floral and minty, with just a hint of sharp sweetness and cooling menthol. It offers many healing benefits from natural plant compounds that have been used in traditional medicine and home remedies for centuries. This includes Peppermint Oil, which acts as a topical analgesic to temporarily numb pain and relieve inflammation.
When migraines or headaches start to slow you down, dilute this blend with a carrier oil and apply it directly to the temples, forehead, or behind the ears. Massage into the skin and allow the medicinal aroma to help relax away your pain. Reapply as often as needed.
You can also diffuse this blend, rub it into the soles of the feet with a carrier oil, or add a few drops to your shampoo and conditioner to absorb healing benefits through the scalp.
Dilute with your preferred carrier oil of choice (such as Fractionated Coconut Oil or Almond Oil), then apply to the forehead, temples, or behind the ears and massage in slow, gentle circles for relief from migraines, headaches, and sinus pressure.
Add a few drops to your shampoo and conditioner, or apply to the scalp with a carrier oil, to absorb anti-inflammatory benefits to treat migraine pain and prevent headaches.
Apply with a carrier oil to the soles of the feet to absorb anti-inflammatory benefits, balance the central nervous system, and help prevent future migraine attacks. You can also use it as a muscle rub to reduce body aches.
Diffuse or use in a room spray to create a calming, relaxed atmosphere to help soothe stress and anxiety while helping you rest and recovery from pain.
Add 3-5 drops to a warm bath to soak away stiff muscles, achy joints, and enhance recovery time after working out or intense physical exertion.
Migraine Massage Cream
Try this nourishing, silky-smooth cream as an all-natural topical analgesic that's also a soothing essential oil recipe for migraine headaches, body aches, and more.
Instructions: Melt shea butter, remove from heat, and add FCO. Blend in essential oils, then pour into a clean glass container and allow to cool completely. Once cooled, massage into the affected area 2-3 times a day. Store in a sealed container in a cool, dark place.
Dilute with a carrier oil and patch test before topical use. To perform a patch test, apply a small amount of oil to one area of the skin and wait 15 minutes to confirm that allergic reaction or sensitivity does not occur.
For external use only. Do not ingest. Do not use near the eyes, nose, mouth, sensitive areas, or on broken skin or abrasions.
Diffusing Safety Tips:
Diffuse in an open, well-ventilated area.
Keep children and pets away from the direct line of mist.
Diffuse in 30-60-minute intervals with ample break periods in between.
Your trust and confidence matter to us. As part of our S.A.A.F.E. Promise™ to you, Rocky Mountain Oils provides verified third-party GC/MS (Gas Chromatography/Mass Spectrometry) test results from an independent lab for every essential oil product in our collection.
GC/MS tests verify the quality and purity of every Rocky Mountain Oils product, which guarantees you're using the safest and highest quality essential oils and essential oil blends on the market.
To view the GC/MS test results for your essential oil blend, click here.
Migraine Support Essential Oil Blend FAQ
What is the best essential oil blend for migraines?

If you're looking for an effective essential oil recipe for migraines, try our Migraine Support blend of Peppermint, Marjoram, Basil, Lavender, Roman Chamomile, Helichrysum gymnocephalum, and Helichrysum italicum oils.

Will a migraine relief essential oil blend help with sinus pressure?

Yes! Although our Migraine Support blend is formulated for headaches, it can also ease tension and discomfort caused by sinus pressure or nasal congestion. Try diluting the blend with a carrier oil, then gently massage along your sinus pathways as you inhale the soothing aroma to help clear congestion.

Is Peppermint essential oil good for headaches and migraines?

Peppermint essential oil is known to help with migraines and other headaches because it contains natural menthol, which offers a cooling, tingling sensation that acts as a very mild analgesic to numb pain. Many people report feeling relief from headaches and sinus aches when using Peppermint essential oil or essential oil blends containing Peppermint.

Will Migraine Support work in a diffuser?

Yes! This essential oil blend is safe for diffusers. Diffusing Migraine Support may help reduce the severity and duration of migraines. Aromatherapy with a migraine relief essential oil blend will also help you relax and melt away stress, which often exacerbates migraines and other headaches.