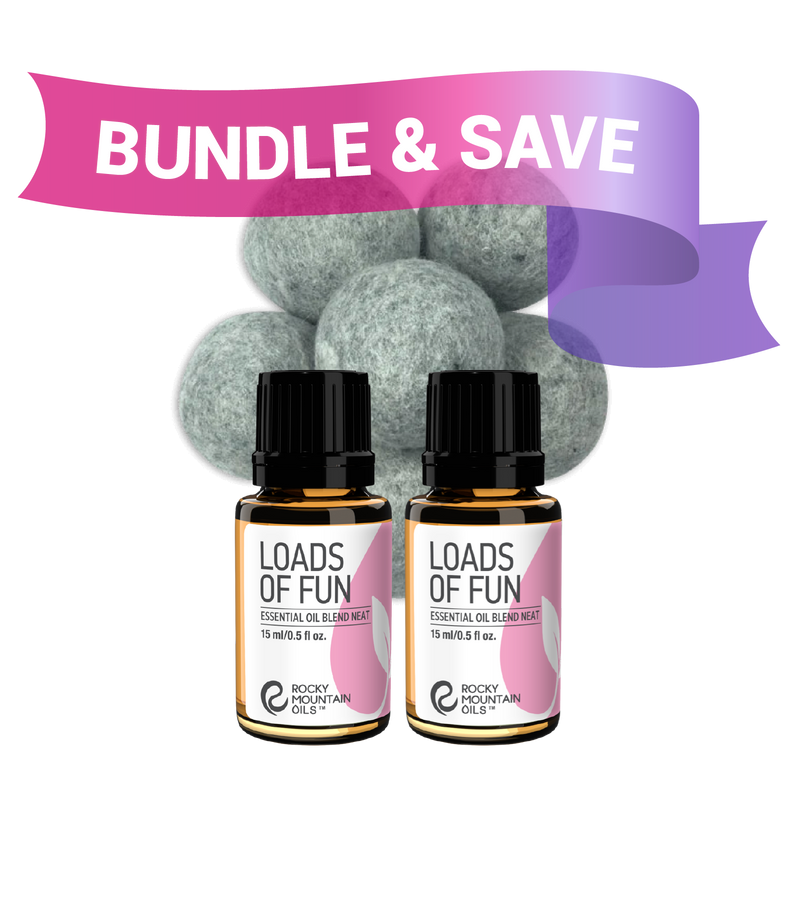 Loads of Fun Laundry Bundle
90 DAY
RETURNS
100% RECYCLED
PACKAGING
S.A.A.F.E
PROMISE
2 bottles of Loads of Fun: Loads of Fun Essential oil blend brings a bright, fresh, citrus aroma with a hint of sweet mint to your laundry when added to the dryer. Ditch the artificially fragranced commercial dryer sheet for a natural aroma with essential oils. Simply add Loads of Fun essential oil blend to a homemade dryer sheet, dry washcloth, or to wool dryer balls with your clothes in the dryer. Leaving clothes smelling great.
1 set of Organic Wool Dryer Balls:
Dryer balls are a great economic and environmentally friendly way to do laundry. They can be reused over and over. Another added bonus is that you can add your favorite essential oil to them to provide a clean fresh scent. Here are some other benefits as well:
Reduce static
Reduce dry times
Hypoallergenic - Great for washing baby clothes or for sensitive skin
Replace dryer sheets
Chemical Free
These balls are made with 100% Organic New Zealand Wool.
Add 2-3 drops of your Loads of Fun to each wool dryer ball
Let essential oil dry on the ball before adding them to the dryer
Place 1-3 balls in a small load or 4-6 balls in a large load
Re-scent balls every 4-5 loads or as desired for the best scent
Tips to Reduce Static:
Separate synthetics materials from the rest of your laundry
Spray your dryer balls with water before putting them in the dryer
Pin a small safety pin to one ball to diffuse static
Caution: Some animals are extremely sensitive to essential oils. If you have used oils on your dryer balls, we recommend keeping them away from pets.
Loads of Fun: Does contain Wintergreen, which is a powerful essential oil, perform a patch test. When applying topically, dilute properly with a carrier oil or lotion. Not recommended to use while pregnant or breastfeeding. Not to be used with people with salicylate sensitivity.
Click here for dilution rates.

Your trust and confidence are very important to us. As part of our S.A.A.F.E. Promise™ to you, we provide GC/MS (Gas Chromatography / Mass Spectrometry) test results from a verified third party, independent lab for each one of our essential oil products.
GC/MS tests verify the purity and quality of the oils we sell, so you can be sure you're using the highest quality oils available on the market today.
Click here for the GC/MS test results for your bottle of Loads of Fun.