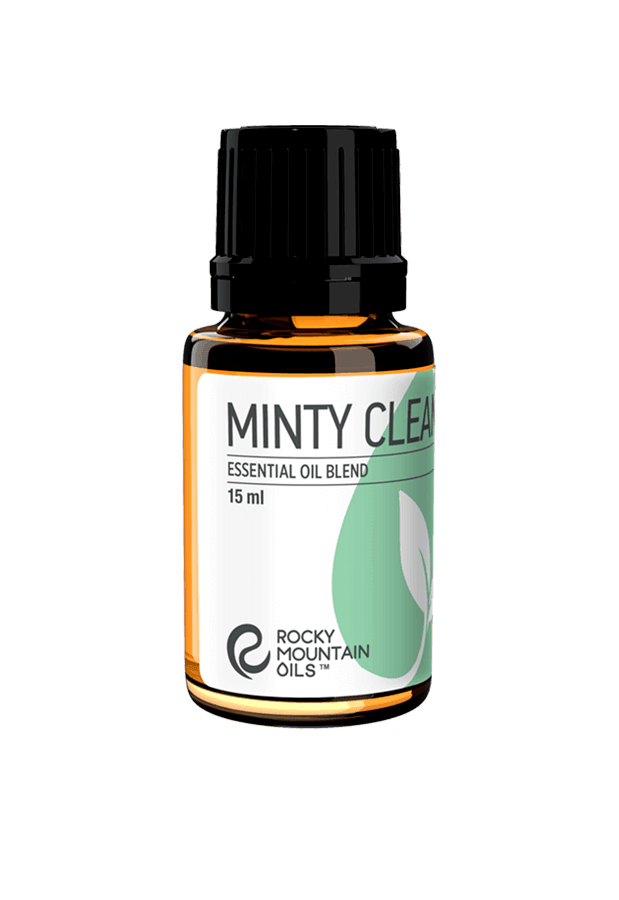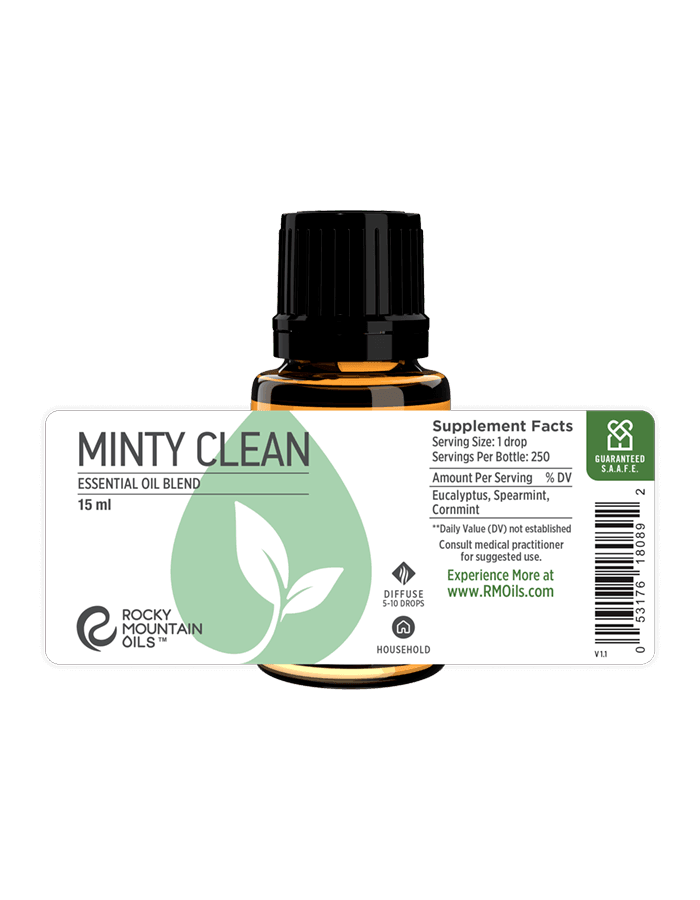 Minty Clean Essential Oil Blend
GC/MS
TESTING
90 DAY
RETURNS
100% RECYCLED
PACKAGING
S.A.A.F.E
PROMISE
Sanitize your space and fill the air with uplifting energy with our Minty Clean Essential Oil Blend. This crisp, clean blend combines some of the best essential oil for cleaning: Eucalyptus Globus, Spearmint and Cornmint essential oils.
This clean house diffuser blend has a sharp, fresh, minty aroma that creates a bright atmosphere as it purifies the air and neutralizes bad odors. You can also use it in cleaning products as a natural antiseptic agent. The Eucalyptus and Mint varieties in this oil blend provide antiviral and antibacterial benefits to eliminate germs. It's great for cleaning your floor, kitchen, or bathroom tile.
Try making a DIY cleanser with a few drops of Minty Clean in white vinegar and distilled water, or mix with baking soda to create a carpet refresher. The vibrant scent of this blend is perfect for room sprays, deodorants, laundry detergents, and hand sanitizers. It's also antifungal and helps prevent or eliminate molds and fungi.
For topical use, dilute this blend with a carrier oil like Fractionated Coconut Oil for Jojoba Oil, then apply to the back of the neck or pulse points to feel refreshed. This blend promotes better concentration, memory, and relaxation while inspiring a burst of clean energy.
Use this clean essential oil diffuser blend in a room spray or add a few drops to your favorite diffuser to fill your home, office, or car with an uplifting aroma that naturally eliminates bad odors.
Dilute with a carrier oil, or add 1-3 drops to your daily products, to use in skincare or haircare.
Use it for natural floor cleaners, bathroom tile scrubs, furniture polish, hand sanitizer, as well as homemade soaps and candles.
Add to your favorite natural cleaning products for an extra dash of minty freshness.
Diffuse or inhale to promote focus and concentration, reduce stress, and uplift.
Minty Carpet Cleaner
Eliminate foul odors and infuse your carpets and rugs with the bright, crisp scent of fresh mint with this easy DIY carpet cleaner.
25 drops Minty Clean
2 cups Baking Soda
Instructions: Pour baking soda and oil into a Ziploc-style bag. Seal the bag and shake to combine. Sprinkle the baking soda over your carpet or rug, wait 10-15 minutes to absorb odors, then vacuum. Use once a week or as often as desired to keep your home smelling fresh.
Always dilute with a carrier oil and patch test prior to extensive use on the skin. To patch test, apply a very small amount of oil to one area of the skin and wait 15 minutes to confirm that irritation or allergic reaction does not occur.
Do not use while pregnant or breastfeeding. Do not use near the eyes, nose, mouth, sensitive areas, or on broken skin or abrasions. For external use only. Do not ingest.
KIDS SAFETY: Safe to use on children ages 10 and older. Dilute to a .5-1% dilution rate before applying topically on children. Click here to learn more.
Safe Diffusing Tips:
Diffuse in an open, well-ventilated area.
Keep children and pets out of the direct line of mist.
Diffuse in 30-60 minute intervals with ample break periods.
Your trust and confidence matter to us. As part of our S.A.A.F.E. Promise™ to you, Rocky Mountain Oils provides verified third-party GC/MS (Gas Chromatography/Mass Spectrometry) test results from an independent lab for every essential oil product in our collection.
GC/MS tests verify the quality and purity of every Rocky Mountain Oils product, which guarantees you're using the safest and highest quality essential oils and essential oil blends on the market.
To view the GC/MS test results for your essential oil blend, click here.
Minty Clean Essential Oil Blend FAQ
What's the best essential oil for cleaning?

Most essential oils are naturally sanitizing due to their antiviral, antibacterial, and antifungal properties. However, the best clean essential oil will present crisp, sharp aromas that are associated with feelings of cleanliness. We love citrus oils for cleaning as well as mint oils like Eucalyptus Globus, Spearmint, and Cornmint. Enjoy these oils in our potent Minty Clean essential oil blend.

Can I use essential oils for cleaning floors?

Yes! To use essential oils for cleaning floors, combine 15-20 drops with 1 cup white vinegar and 1 cup distilled water or add oils to your existing floor cleaners. Use this oil blend with a mop or cleaning pads to wipe away dirt and grime, sanitize surfaces, and infuse your floors with fresh, clean scent. You can use essential oils for cleaning tile, wood, or laminate floors. For carpet, mix with baking soda to absorb odors and vacuum up.

Is it safe to use essential oil for cleaning around pets?

Unfortunately, many essential oils are toxic to our furry friends, especially if ingested orally. If you are using essential oil for cleaning, use caution. Make sure your animal is kept in another area while the oil product is being used. Open your windows and use fans to promote better air flow and do not allow your pet to be around the cleaning area until the oils have dried or been absorbed. Do not allow your pet to lick or chew on anything that has been cleaned with an essential oil. If your pet shows signs of distress, discontinue use and call your veterinarian.

Do disinfecting essential oils really work?

Yes! Studies show that essential oils possess antimicrobial properties that naturally sanitize and disinfect. Mint oils contain 300 compounds that have been researched for their ability to neutralize viruses and bacteria. If you're trying to avoid mainstreaming cleaning products with artificial chemicals, disinfecting essential oils offer an effective alternative.