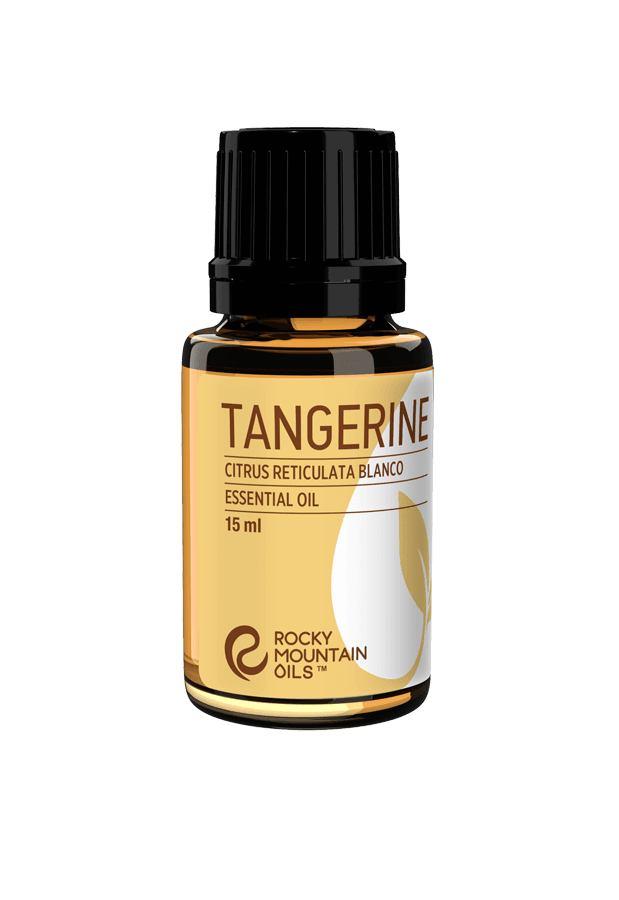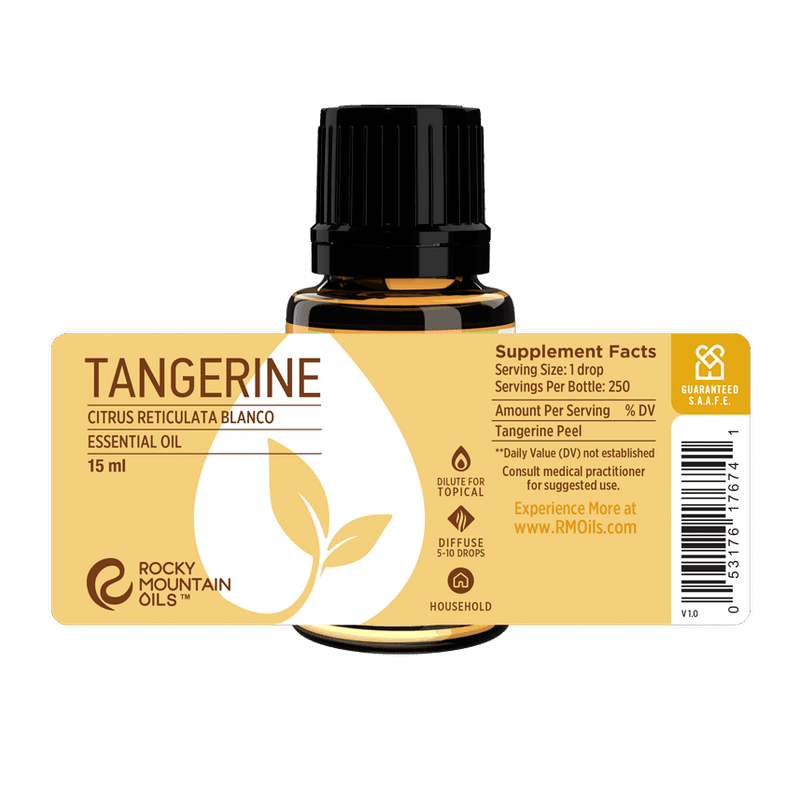 Tangerine Essential Oil
GC/MS
TESTING
90 DAY
RETURNS
100% RECYCLED
PACKAGING
S.A.A.F.E
PROMISE
Shine brighter and feel energized with Tangerine Essential Oil. With a sweet, citrusy scent that's fresh and invigorating, our Tangerine Essential Oil is like sunshine in a bottle. It has a medium-strength aroma with a top fragrance note that's crisp and delightfully fruity.
This vibrant citrus oil promotes a happy mood, reduces stress, and helps you feel motivated. Tangerine Essential Oil also has antimicrobial properties that make it an excellent choice for homemade cleaning products as well as DIY skincare and natural beauty. Tangerine Essential Oil may help reduce the appearance of acne, stretch marks, scars, sunspots, and fine lines. 
Cold pressed from the peel of the Citrus reticulata Blanco fruit, Tangerine Oil is also sometimes known as Mandarin Orange Oil. But no matter what you call it, this essential oil has powerful benefits for aromatherapy, meditation, and more.
Perfect for diffusing or misting to shift the energy in any room. Inhaling the scent of Tangerine Essential Oil may also help with seasonal depression and lead to greater clarity and motivation.
---
The statements contained herein have not been evaluated by the Food and Drug Administration. Neither Rocky Mountain Oils nor its products are intended for the purpose of diagnosing, treating, curing or preventing any disease. If you are pregnant, nursing, taking medication, or have a medical condition, consult your physician before using these products.
Tangerine Essential Oil Uses
Tangerine Essential Oil use commonly includes skincare and DIY beauty products, homemade cleaning products, aromatherapy, yoga and meditation, and more.
Thanks to its high Vitamin C content, Tangerine Essential Oil may boost collagen production, reverse sun damage, and reduce the signs of aging.
Tangerine Essential Oil has antimicrobial properties. It may help prevent infection and promote faster healing.
Dilute 1-2 drops of Tangerine Essential Oil in a carrier oil to make a natural salve for minor cuts, scrapes, burns, and bug bites.
Try diffusing Tangerine Essential Oil to uplift, energize, and promote mental clarity.
Tangerine Essential Oil Recipes
Festive Air Spray
To create a mood that's sunny and bright, no matter the weather, try this citrusy air spray and enjoy all the benefits of Tangerine Essential Oil in your home.
Instructions: Combine all ingredients into a mister bottle and spritz as desired to cleanse and uplift. Shake well before each use. A little goes a long way: you can refill the water 3-5 times before you'll need to add more oils.
Botanical Name: Citrus reticulata Blanco
Country of Origin: Brazil/USA*
Extraction Method: Cold Pressed
Plant Part: Citrus Peel
Aroma: Citrus, Fruity, Sweet
Consistency: Thin
Blends Well With: Bergamot, Pink Grapefruit, Jasmine, Lemon, Red Mandarin, Orange, Rose, Sandalwood

*Some of our oils have multiple countries of origin. To confirm which country your specific bottle of oil originates from, please consult its GC/MS test at click here.
Non-phototoxic.
Dilute before applying topically.
Click here for dilution rates.
---
Kids Safety: Safe to use topically with children 7 months of age and older. Dilute to a .5-1% dilution rate for topical application.
Practice safe diffusing:
- Diffuse in an open, well-ventilated area.
- Keep children out of the direct line of mist.
- Diffuse in 30-60 minute intervals with ample break periods for safe and effective use.
Your trust and confidence is very important to us. As part of our S.A.A.F.E. Promise™ to you, we provide GC/MS (Gas Chromatography / Mass Spectrometry) test results from a verified third party, independent lab for each one of our essential oil products.
GC/MS tests verify purity and quality of the oils we sell, so you can be sure you're using the highest quality oils available on the market today.
GC/MS Test:Click Here
For batch specific GC/MS test click here.
Tangerine Essential Oil FAQ
What is tangerine essential oil used for?

Low motivation, difficulty focusing, stress, burnout, seasonal depression, DIY natural beauty, anti-aging skincare, homemade cleaning products, yoga, meditation, and more.

What does tangerine oil mix well with?

With its bright, sweet, and energizing aroma, Tangerine Essential Oil mixes well with other citrus oils like orange, grapefruit, and bergamot. You can also mix tangerine with earthy oils like frankincense, cinnamon, and sandalwood to create a blend that's uplifting yet calming.

What are the emotional benefits of tangerine essential oil?

Tangerine Essential Oil helps you let go of stress and overwhelm. It has a fresh citrus aroma that's energizing yet calming, which makes Tangerine Oil perfect for navigating day-to-day anxiety and avoiding burnout. It can also help treat seasonal depression thanks to its sunshiney top notes.

Which is better, sweet orange or tangerine essential oil?

The difference is that sweet orange oil is a softer, more gentle aroma, while tangerine oil is stronger and sharper. For families with young children, Sweet Orange Essential Oil may be a better choice to avoid overstimulation, while Tangerine Essential Oil is great for older kids and teens.

If you're looking for a citrus oil to use topically or in homemade skincare products, Tangerine Essential Oil is a better choice because it is non-phototoxic. Sweet Orange Essential Oil may cause increased sensitivity to sunlight and result in sunburn.

Can you put tangerine essential oil directly on your skin?

Yes! Many people use tangerine oil for skin conditions as well as natural, homemade beauty products. Tangerine Essential Oil helps clear dead skin cells and can help tighten, brighten, and smooth your skin.

However, please be advised that some citrus oils can increase photosensitivity and may result in sunburn. Do not apply Tangerine Essential Oil topically if you're going to be in the sun, and avoid direct sunlight for at least 12 hours after using tangerine oil on exposed skin.