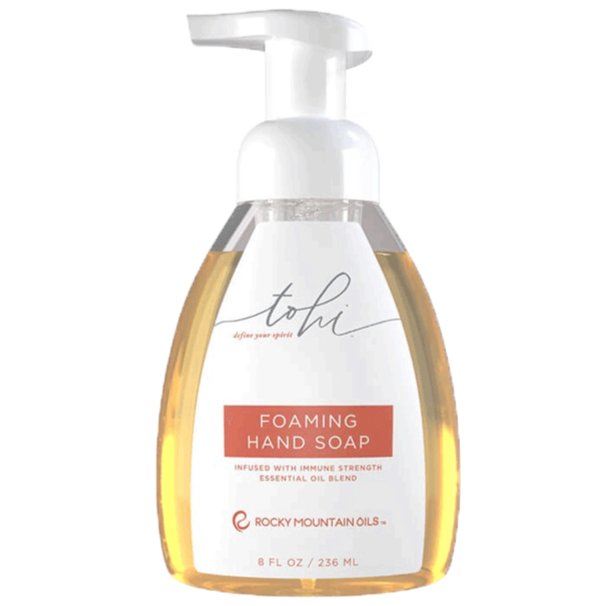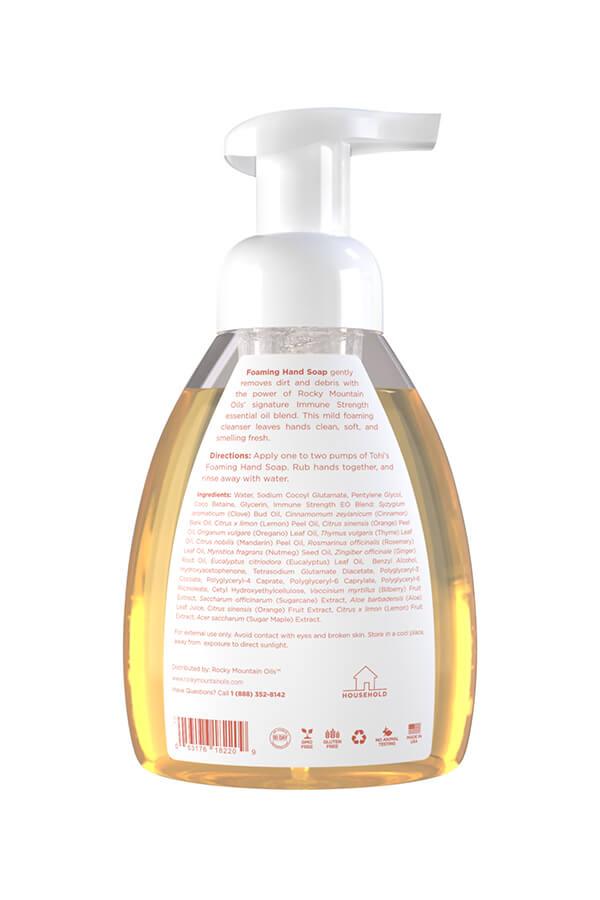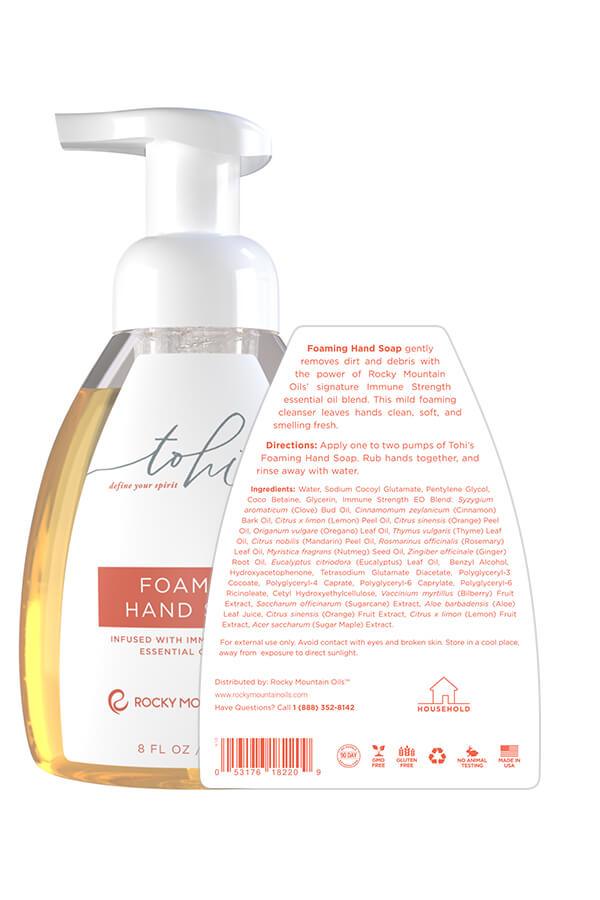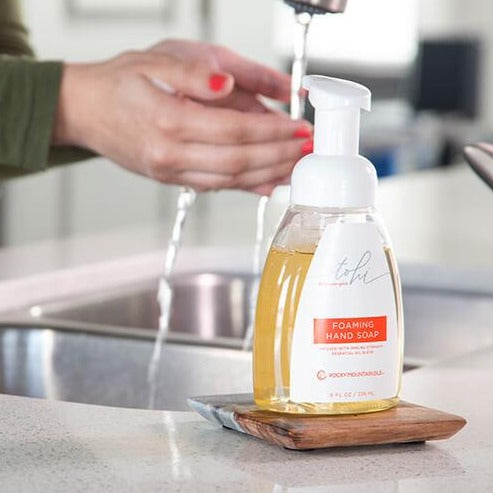 Tohi Foaming Hand Soap
90 DAY
RETURNS
100% RECYCLED
PACKAGING
S.A.A.F.E
PROMISE
Protect yourself and your family from germs and viruses with our Tohi Foaming Hand Soap, a gentle yet powerful foaming cleanser that's infused with Rocky Mountain Oils' Immune Strength Blend.
The essential oils in this blend include Clove Bud, Cinnamon Bark, Lemon, Orange, Oregano, Thyme, Rosemary, Nutmeg, Ginger Root, and Eucalyptus citriodora. This gives our Tohi hand soap a bright, citrusy aroma with a hint of spicy sweetness and cooling medicinal herbs. Together, these oils offer antimicrobial, antiseptic, and antifungal benefits to keep your household healthy.
Tohi Hand Soap leaves your hands feeling clean and smelling fresh, while moisturizing with soothing essential oils to heal the skin's natural protective barrier. It's the best foaming hand soap for anyone seeking an all-natural alternative to mainstream antibacterial products that contain harsh chemicals and artificial ingredients.
We named our homecare line Tohi because it means harmony between the mind, body, and spirit. By choosing chemical-free products, you can create more harmony and balance in your life without sacrificing quality or effectiveness. Try this hand soap today and feel the difference.
Water, Sodium Cocoyl Glutamate, Pentylene Glycol, Coco Betaine, Glycerin, Immune Strength EO Blend, Benzyl Alcohol, Hydroxyacetophenone, Tetrasodium Glutamate Diacetate, Polyglyceryl-3 Cocoate, Polyglyceryl-4 Caprate, Polyglyceryl-6 Caprylate, Polyglyceryl-6 Ricinoleate, Cetyl Hydroxyethylcellulose, Vaccinium myrtillus (Bilberry) Fruit Extract, Saccharum officinarum (Sugarcane) Extract, Aloe barbadensis (Aloe) Leaf Juice, Citrus sinensis (Orange) Fruit Extract, Citrus x limon (Lemon) Fruit Extract, Acer saccharum (Sugar Maple) Extract.
Apply 1-2 pumps of foaming hand soap to wet hands. For excess dirt and grime, use additional soap as needed.
Rub your hands together vigorously for at least 20 seconds, making sure to clean the nails and nail beds as well as the spaces in between each finger and the thumb.
Rinse with running water.
Pat dry with a clean towel or use an air hand dryer.
Keep out of reach of pets. For external use only. Do not ingest. Not recommended for use as a face wash or body wash, as excess dryness may occur. Avoid contact with the eyes and broken skin.
If you have sensitive skin, perform a patch test prior to using this product for the first time. To patch test this soap, wash one small part of the skin, then wait 15 minutes to see if irritation or allergic reaction occurs.
Store in a cool, dry place away from direct sun exposure.
Tohi Foaming Hand Soap FAQ
Why is foaming hand soap better than regular soap?

Foaming hand soap is better than regular soap because it saves time at the sink. When you dispense foaming hand soap, it's already lathered up! This also conserves water because you can pump it directly into your hands without running them under the tap to work the soap into a foam. According to research, people who use foaming hand soap use 16% less water on average compared to people who use traditional liquid soap.

How long should I wash my hands with foaming soap?

For thorough washing that eliminates dirt, grime, and germs, wash your hands for at least 20 seconds. You can time this by counting to a measure of "one-Mississippi" until you reach 20, or silently sing the Happy Birthday song twice in a row. As you wash, make sure you vigorously clean your entire hands from the palms to the fingertips and scrub your nails for complete cleanliness.

Is this a refillable foaming hand soap?

Can I put Tohi Foaming Hand Soap in my own soap dispenser?

Yes. If you have a refillable ceramic or metal soap dispenser, you can fill it with Tohi hand soap. However, please note that the foam may not lather properly unless your container includes a specialized pump that aerates the soap. While you can still experience the fresh scent and cleaning power of Tohi in any soap dispenser, you'll miss out on the water-saving and time-saving benefits of foaming soap.