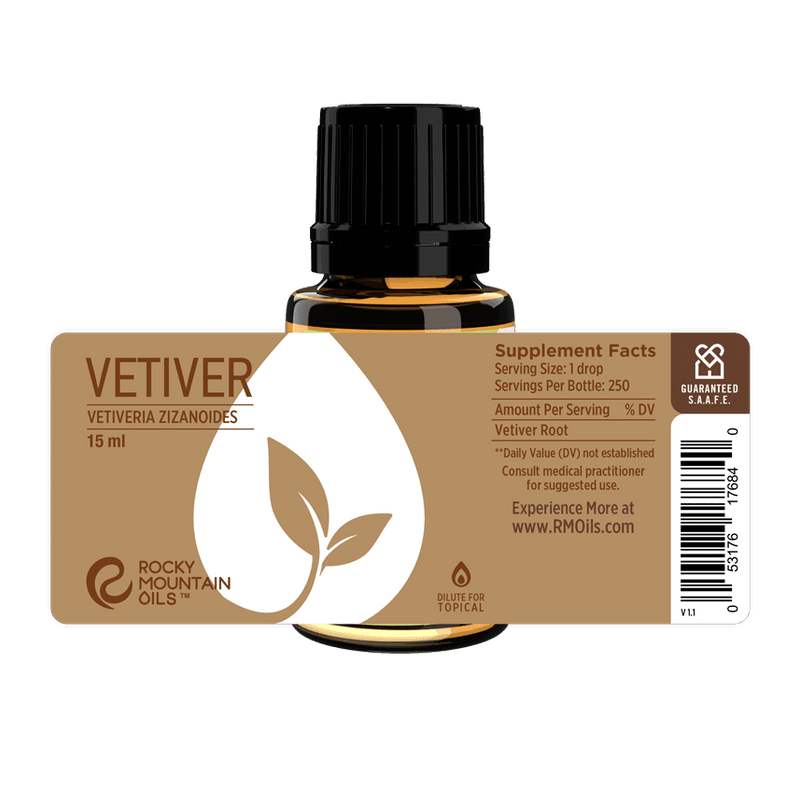 Vetiver Essential Oil
GC/MS
TESTING
90 DAY
RETURNS
100% RECYCLED
PACKAGING
S.A.A.F.E
PROMISE
Feel grounded and support mental wellness with Vetiver Essential Oil. Steam distilled from the roots of the Vetiveria zizanioides plant, Vetiver (also known as Ruh Khus, Khus, or Bunchgrass) provides a deep, smoky aroma that's woody and earthy. It evokes the fresh scent of petrichor, a pleasing smell that fills the air after rainfall on cut grass or tilled soil.
Vetiver essential oil uses mental clarity and brain health. Diffusing this essential oil helps the mind release anxious thoughts, reduces distractibility, supports working memory, and enhances focus. It's an excellent aroma for students, people working from home, or anyone who needs help concentrating.
Try diluting with a carrier oil to wear as a Vetiver perfume, cologne, or beard oil. The strong scent of this essential oil makes it a popular choice for men. It's also great for adding calming fragrance to DIY candles, soaps, cleaning products, and more.
With anti-inflammatory and antimicrobial benefits, this oil may also help strengthen your immune system during cold and flu season or any time you've been exposed to a bug. Other Vetiver essential oil benefits include repelling insects, digestive relief, healing skin irritation, and promoting healthier hair and nails.
---
The statements contained herein have not been evaluated by the Food and Drug Administration. Neither Rocky Mountain Oils nor its products are intended for the purpose of diagnosing, treating, curing or preventing any disease. If you are pregnant, nursing, taking medication, or have a medical condition, consult your physician before using these products.
Diffuse to promote relaxation and reduce stress. Diffusing Vetiver essential oil can also help improve sleep quality and concentration.
Dilute and apply topically to help reduce acne, eczema, and psoriasis. Vetiver essential oil benefits also tone and brighten the skin, while reducing signs of aging.
Added to a carrier oil, shampoo, or conditioner to help nourish and strengthen your hair while stimulating new follicles.
Dilute with a carrier oil and apply topically to the abdominal region to alleviate digestive issues such as bloating, gas, constipation, and indigestion. You can also inhale or diffuse for relief from nausea.
Diffuse to help fight off microbes, viruses, and bacteria while purifying the air in your space.
Vetiver Room Spray
Fill your home with a distinctive aroma of Vetiver while eliminating odor-causing bacteria and harmful germs with this easy DIY room spray.
10 drops Vetiver Essential Oil
4 oz. Distilled Water
Instructions: Add ingredients to a spray bottle and shake well to combine. Shake again before each use. Mist generously as needed. (Caution: Do not use near candles or open flames.)
Botanical Name: Vetiveria zizanioides
Country of Origin: Haiti/Indonesia*
Extraction Method: Steam Distilled
Plant Part: Root
Aroma: Woody, Earthy
Consistency: Thick
Blends Well With: Frankincense Serrata, Lemon, Red Mandarin, Orange, Juniper Berry, Sandalwood, Ylang Ylang
Popular Vetiver Blends: Feminine Aid, Skin Tone, Attention Assist
*Some of our oils have multiple countries of origin. To confirm which country your specific bottle of oil originates from, please consult its GC/MS test by clicking here.
May cause irritation in its pure form. Always dilute with a carrier oil and patch test prior to extensive topical use. Do not use if pregnant or breastfeeding. Do not use on broken skin. Keep out of reach of children and pets.
Safe to use topically with children ages 2 years old and up when diluted to a .5-2% dilution rate. Click here to learn more about using essential oils for kids.
Safe Diffusing Tips:
Diffuse in an open, well-ventilated area.
Keep children and pets out of the direct line of mist.
Diffuse in 30-60 minute intervals with ample break periods.
Your trust and confidence matter to us. As part of our S.A.A.F.E. Promise™, Rocky Mountain Oils offers GC/MS (Gas Chromatography/Mass Spectrometry) test results verified by a third-party, independent lab for every essential oil and essential oil blend in our catalog.
GC/MS tests verify the purity and quality of all Rocky Mountain Oils products, so you can be sure you're using the safest, highest-quality essential oils available on the market.
GC/MS Test: Click Here
For batch-specific GC/MS tests, click here.
Vetiver Essential Oil FAQ
What does Vetiver essential oil smell like?

Vetiver has a rich, earthy aroma that is distinctly dry and woody. For some, the scent of Vetiver is reminiscent of freshly cut grass after a warm spring rain. When warmed between the hands or worn as a Vetiver perfume, it may also offer citrusy notes and a pleasant hint of clean soap.

What does Vetiver do to the brain?

According to a 2016 study, smelling Vetiver improved cognitive function and mental alertness. It may also help lift brain fog, improve memory, and enhance focus and concentration. If you or someone in your family struggles with symptoms of Attention Deficit Hyperactivity Disorder, try diffusing Vetiver essential oil to turn the volume down on loud, distracting thoughts.

What are the different types of Vetiver?

There are several varieties of Vetiver, which are named based on their country of origin. Try Haitian Vetiver, Indonesian Vetiver, Indian Vetiver, or Sri Lankan Vetiver. At Rocky Mountain Oils, our Vetiver essential oil is steam distilled from plants grown in Haiti and Indonesia. To determine the exact country of origin for each batch, check your bottle's batch number on our GC/MS test results page.

Does Vetiver essential oil make you sleep?

Vetiver essential oil uses include better sleep hygiene and treating insomnia. Try diffusing this essential oil at bedtime, or dilute it with a carrier oil and massage it into the soles of your feet, neck and shoulders, or dab it onto the forehead and temples. Breathe deeply and allow the rich, soothing scent to help you fall asleep faster and sleep more deeply. Vetiver essential oil benefits also include less tossing and turning, fewer nightmares, and resetting the body's biological clock after jet lag.