Head Over Heels Bath Salt
If you're enjoying a low-key Valentine's evening at home, treat yourself to a relaxing bath that will calm and soothe. Assemble this simple bath salt and just add water to achieve a new level of tranquility.
Ingredients
:
1 ½ cup Epsom Salt

½ cup Coarse Sea Salt
15 drops RMO Blend of Jasmine
11 drops RMO Blend of Sandalwood
4 drops RMO Patchouli
3 drops RMO Clary Sage
2 drops RMO Ylang Ylang Complete
Directions:
Combine salts in a metal or glass bowl and stir with large wooden or metal spoon
In a small blending bottle combine essential oils.
Drip a few drops at a time and stir and incorporate the oil blend into the salt mixture, repeat until incorporated.
Mix until all small clumps saturated with oil return to texture of coarse salt.
Place in a container with a lid and keep lid closed when not in use.
Fill bath with water, add approximately ½ cup bath salts mixture, immerse yourself and fall head over heels with the perfect bath.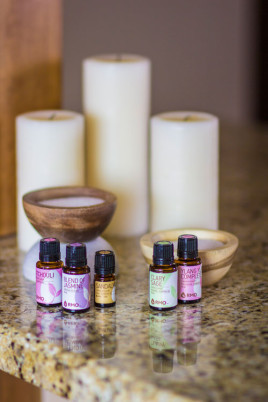 As with all of our recipes at Rocky Mountain Oils, you can change the essential oils used in the bath salt depending on your preference and what you have available. Don't have Ylang Ylang Complete? Try adding two drops of Love instead.
Disclaimer:
 Rocky Mountain Oils is not liable for any damage caused by use of these recipes. Each recipe was tested by employees of RMO and did not cause damage to home or person, but we still implore our customers to use caution before trying a recipe in their home. Test recipes on small areas before applying them to the entire surface and do not apply recipes to areas that are potentially sensitive (i.e. priceless Victorian tubs, Baby Grand pianos, etc.).