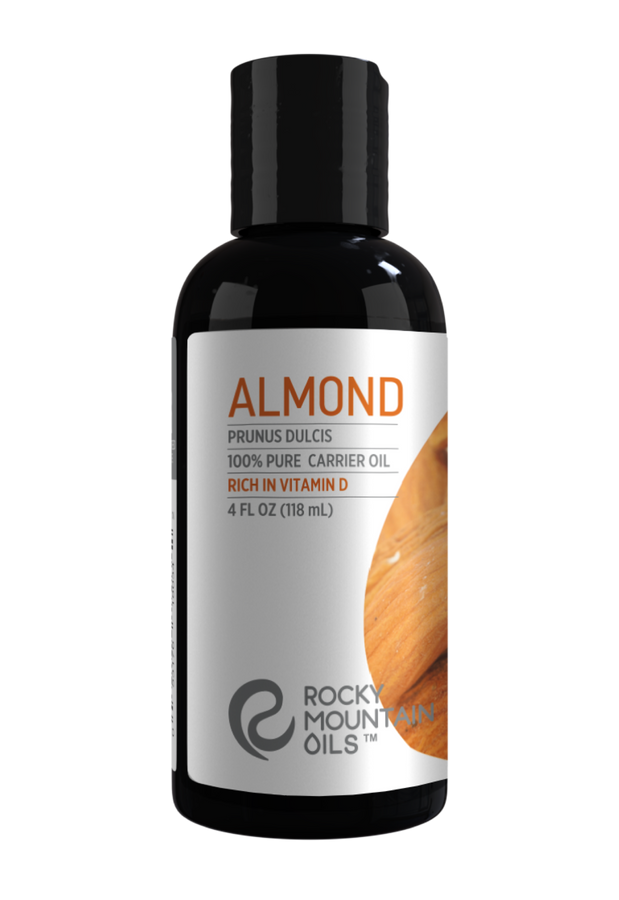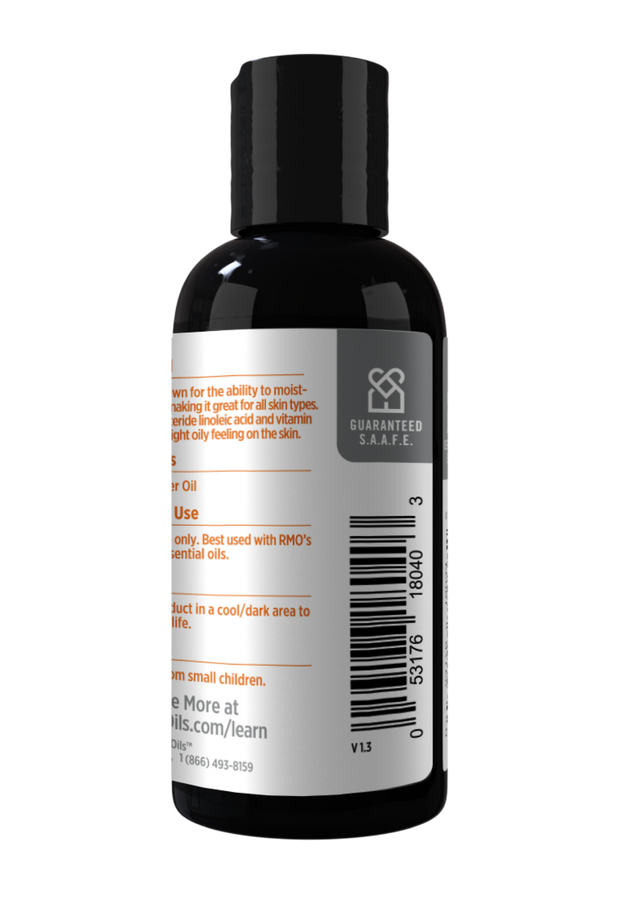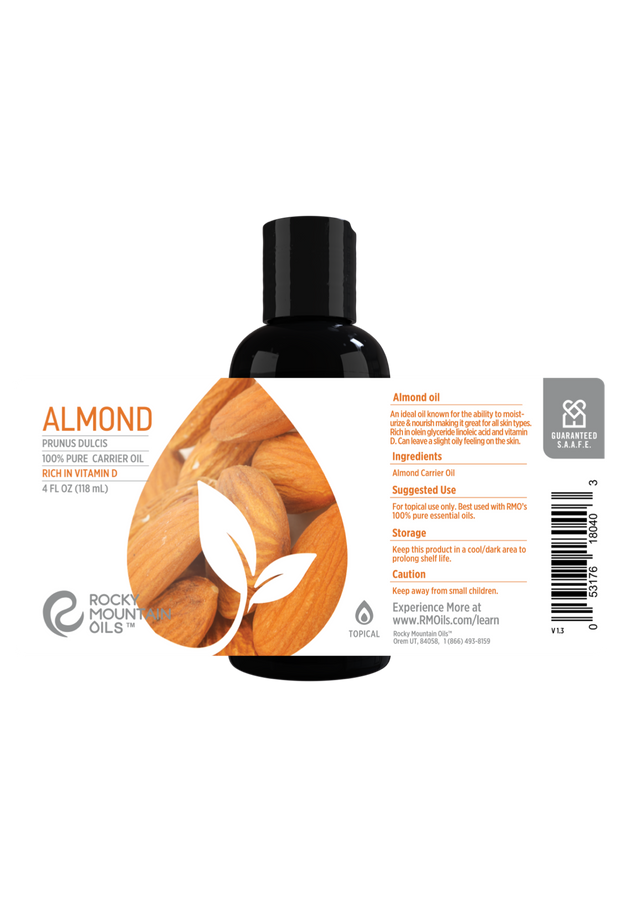 Almond Carrier Oil
GC/MS
TESTING
90 DAY
RETURNS
100% RECYCLED
PACKAGING
S.A.A.F.E
PROMISE
Heal and hydrate your skin with this luxuriously smooth Almond Carrier Oil. Also known as Sweet Almond Carrier Oil, it's perfect for diluting essential oils for topical use in skincare, DIY beauty, haircare, and more.
When used as a carrier oil, it helps your skin absorb the therapeutic benefits of other essential oils while nourishing your epidermal layer with deeply moisturizing omega fatty acids, zinc, Vitamin E, and Vitamin A – also known as retinol, a potent acid that naturally reduces the appearance of fine lines and wrinkles. 
The natural aroma of this Almond Oil is very gentle, slightly sweet, and faintly nutty, and won't overpower other scents when using essential oils for natural perfumes or colognes. Enjoy this carrier oil on its own as a natural makeup remover, moisturizer, exfoliant, and more.
Try adding 1-3 drops of an essential oil for skincare and use for a soothing, healing facial massage, or as a lubricant for gua sha or jade rolling. You can also add it to your existing personal care products to enhance moisturizing, reduce inflammation, and balance your skin.
Add 1-2 drops to your daily moisturizer or cleanser to boost hydration.
Use as a makeup remover or gentle cleanser to remove grime, gently exfoliate, and hydrate the skin.
Use as a carrier oil to dilute your favorite essential oils for topical application. Makes a perfect base for DIY skincare and haircare products.
Massage into cracked, dry hands or other areas with inflamed skin to heal irritation.
Use as a natural remedy for acne, rosacea, psoriasis, eczema, or other skin conditions. Helps fade the appearance of scars and other blemishes.
Use in a moisturizing hair mask to reduce dry, itchy scalps and dandruff while promoting healthier roots, thicker follicles, and new hair growth.
One of the most popular uses of Sweet Almond Oil, also known as Almond Oil, is diluting essential oils for topical use in skincare, natural beauty, haircare, wound care, and more.
To avoid potential irritation or sensitivity, pure essential oils need to be diluted before you can apply them to your skin. Diluting with carrier oils also prevents the oils from evaporating too quickly and losing their therapeutic benefits due to early oxidation.
By using essential almond oil to dilute other essential oils and blends, you can absorb the full plant compounds in the essential oils without skin irritation or inflammation. Diluting with carrier oils like carrier oil almond also makes oils safer to use on children and certain pets.
Almond Carrier Oil also helps you get more applications from every bottle of essential oil. When it comes to essential oils, remember that a little goes a long way! Using undiluted, pure essential oils or blends does not mean you'll receive more benefits or see faster results. Always dilute with carrier oils, like sweet almond carrier oil, to ensure your safety.
Moisturizing Facial Serum
Use this moisturizing facial serum to gently exfoliate and repair the skin's natural protective barrier while hydrating and reducing inflammation.
Instructions: Blend all ingredients together in a small bowl or jar. With clean fingers or a cotton pad, apply the serum to a freshly-washed face and massage it into the skin in slow circles. Use a clean washcloth to pat away any excess oil or allow it to absorb into the skin.
Botanical Name: Prunus dulcis
Extraction Method: Cold Pressed/Refined
Country of Origin: USA
Color: Light golden yellow
Scent: Light, sweet nutty aroma
Consistency: Medium
Absorption: Slower absorption. Leaves a slightly oily residue on the skin.
Shelf Life: 1-2 years. Keep in a cool dark place to prolong shelf life.
As part of our S.A.A.F.E. Promise™, we provide FAMES (Fatty Acid Methyl Esters) test results from a verified third party, independent lab for each one of our essential oil products.
FAMES tests verify the purity and quality of all our oils, so you can trust that you're using the very best carrier oils and other essential oil products on the market.
For batch-specific FAMES test for this product, click here.
Almond Carrier Oil FAQ
Is Almond Oil a carrier oil?

If you're wondering, is Almond Oil a carrier oil? The answer is yes! Almond Oil is one of the most popular carrier oils for diluting your essential oils and blends, especially for DIY skincare. It has a soft, gentle aroma that won't overpower other essential oils and is rich in compounds like Vitamin A (also known as retinol) and Vitamin E that support healthier, more youthful skin.

What is Almond Oil good for?

Almond Oil is good for moisturizing, exfoliating, repairing dry or damaged skin, diluting pure essential oils for topical use, reducing inflammation, nourishing the skin with antioxidants and vitamins, repairing the skin's natural protective barrier, restoring a balanced pH level, reducing excess oil, and healing irritation. It's also great for DIY haircare, supporting scalp health and new hair growth.

Is Almond Oil for face or hair?

Although essential Almond Oil is used more frequently in skincare products for the face, it also provides many benefits when used in haircare. Try adding 1-3 drops of Almond Carrier Oil to your regular shampoo or conditioner for deeper hydration, or create a moisturizing hair mask to treat dry scalps, repair damaged hair, and promote new growth.

What does Essential Almond Oil smell like?

Essential Almond Oil has a light, gentle aroma that's slightly sweet and nutty. Because this aroma is so soft, it's the perfect carrier oil for diluting other essential oils or pure blends. When using almond oil as a carrier oil, it won't alter or overpower the scent of the other oils.