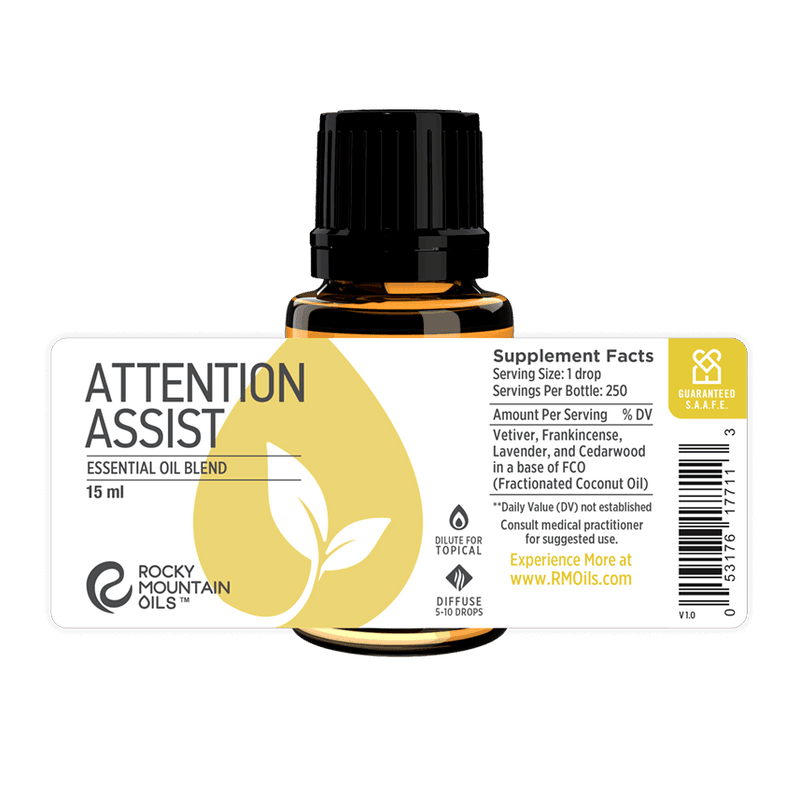 Attention Assist Essential Oil Blend
GC/MS
TESTING
90 DAY
RETURNS
100% RECYCLED
PACKAGING
S.A.A.F.E
PROMISE
Enhance your attention span and sharpen your focus with this Attention Assist Essential Oil Blend. It's a unique blend of pure Vetiver, Frankincense Serrata, Lavender, and Cedarwood essential oils in a base of Fractionated Coconut Oil. It has a crisp, earthy, herbaceous, and slightly floral scent.
When your attention starts to wander, breathe in the grounding aroma of these essential oils for focus to help bring your awareness back to the task at hand. This blend combines some of the best essential oils for attention and focus, so you can free your mind from distractions and allow yourself to be fully present in the moment. It's perfect for students of all ages, as well as adults who have trouble focusing at work.
If you or someone in your family has attention deficit hyperactivity disorder (ADHD), using Attention Assist may be able to provide relief from common symptoms such as distractibility. It's also deeply relaxing and can help calm your central nervous system, allowing you to focus all your attention where it belongs. As one of the best essential oil blends for focus, it may help you lengthen your natural attention span over time.
Attention Assist also helps lift brain fog, boost memory recall, improve sleep, and slow your heart rate when you're in fight-or-flight mode. Use it to deepen meditation practices, increase productivity, and stabilize your emotions. It's great for topical use, room sprays, or simply taking deep breaths to enhance attention and focus.
---
The statements contained herein have not been evaluated by the Food and Drug Administration. Neither Rocky Mountain Oils

®

nor its products are intended for the purpose of diagnosing, treating, curing, or preventing any disease. If you are pregnant, nursing, taking medication, or have a medical condition, consult your physician before using these products. 
Use this blend of essential oils for attention to enhance focus and lengthen your attention span for work, studying, or any occasion where you need to concentrate for an extended period of time.
Use in a DIY room spray and mist as needed to freshen, deodorize, and invite new energy into your space.
Apply 1-2 drops to the forehead, throat, chest, or pulse points in the morning before your daily commute.
Put a few drops into your palms, rub them together, and inhale the deep aroma of this essential oil blend when you find your mind wandering during a task.
Use to attain more mindfulness during your meditation practice.
Add to DIY candles and soaps for college care packages. It's also great for homemade bath bombs, massage oils, cleaning products, haircare, and skincare.
Use it at night to help you release anxious thoughts and sleep more deeply so you're well-rested and focused the next day.
Always patch test before extensive topical use. To patch test, apply a small drop to one area of the skin, then wait 15 minutes to see if irritation or allergic reaction occurs.
Kids Safety: Click here to learn more about essential oil safety and children.
Keep out of reach of children and pets. Do not use if pregnant or breastfeeding.
As part of our S.A.A.F.E. Promise™ to you, we offer GC/MS (Gas Chromatography/Mass Spectrometry) test results from a verified, third-party independent lab for every essential oil product in our lineup.
GC/MS tests verify the quality and purity of our oils, which guarantees you're using the safest, purest, and highest quality products on the market.
To see the GC/MS test results for each essential oil in your product, click here.
Attention Assist Essential Oil Blend FAQ
What are the best essential oils for attention?

Popular essential oils for attention and focus include Vetiver, Frankincense Serrata, Lavender, and Cedarwood essential oils. These essential oils help you stay grounded yet alert, while soothing the central nervous system so you can release anxious thoughts and ignore distractions.

How do I use essential oil blends to improve focus?

There are several ways to use essential oils for attention and focus. Try applying a few drops to your pulse points, neck, chest, or forehead before studying or taking exams. You can also inhale the aroma of Attention Assist whenever you find your mind wandering, or use it in a DIY room spray to feel re-energized and boost concentration.

Can essential oils help with focus and ADHD?

Yes. Although more research is needed, studies indicate that using essential oils for attention may help some individuals manage the symptoms of ADHD naturally. It's believed that plant compounds in essential oils are absorbed through the skin and into the bloodstream, where they may have a calming and focusing affect on the central nervous system.

Can kids use Attention Assist Blend for focus and concentration?

Yes, this blend is safe for children ages 2 and up when properly diluted to a .5-2% dilution rate in a carrier oil. Click here to learn more about essential oils and kid safety.