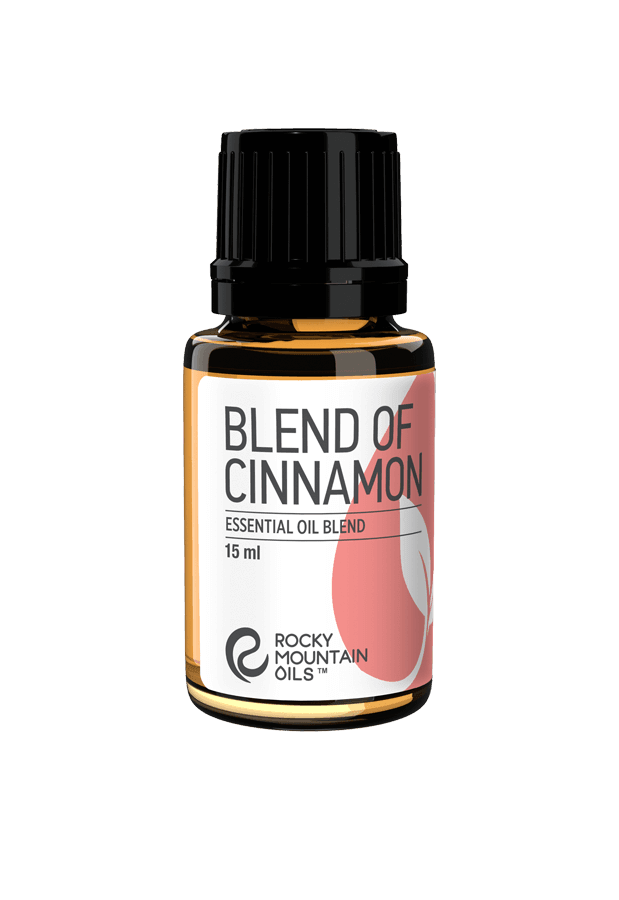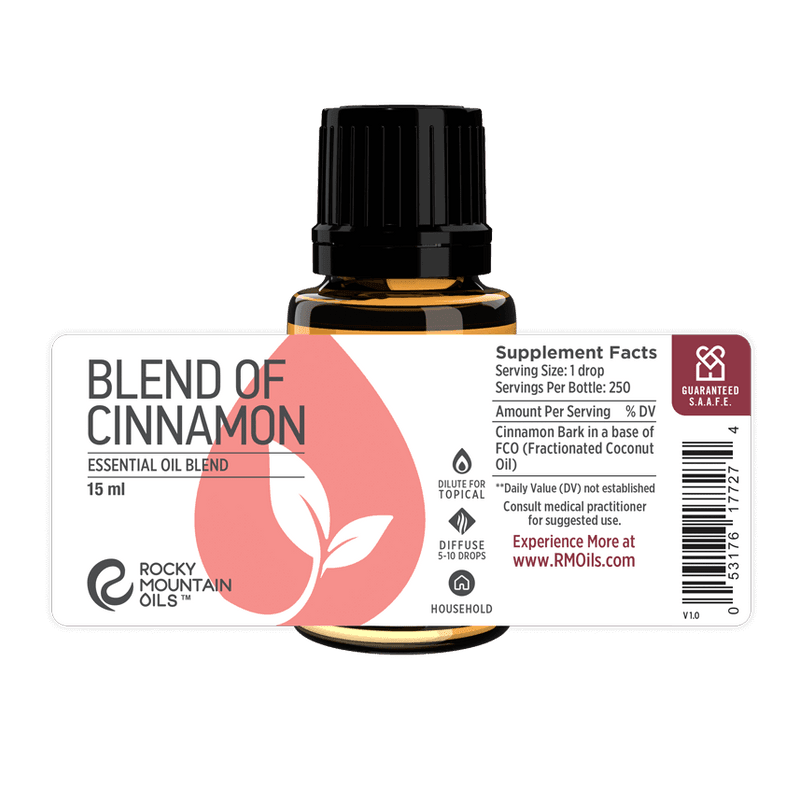 Blend of Cinnamon
GC/MS
TESTING
90 DAY
RETURNS
100% RECYCLED
PACKAGING
S.A.A.F.E
PROMISE
Feel warm and cozy while boosting your immune system with Blend of Cinnamon. This essential oil blend is an aromatic mix of Cinnamon Essential Oil, from cinnamon bark, in a nourishing base of 75% Fractionated Coconut Oil that's ready for topical use on adults.
With a deep, spicy scent that's slightly sweet, Blend of Cinnamon is unmistakable and calls to mind a cozy winter night or freshly baked cinnamon rolls on a holiday morning. But cinnamon blends offer numerous benefits year-round. Blend of Cinnamon helps boost immunity, treat digestive issues, purify the air, sanitize surfaces, and more.
Use this cinnamon essential oil blend for its natural anti-inflammatory properties as a topical analgesic, providing a warming sensation that soothes aching joints and sore muscles. Essential oil blends with cinnamon also help increase blood flow, reduce stress and depression, promote better respiratory health, and contain antimicrobial compounds that can help prevent you and your family from getting sick.
Try Blend of Cinnamon in your favorite DIY massage oils for gentle, warming relief. Blend of Cinnamon is perfect for cold and flu season or any time you're exposed to someone sick. Use at the first signs of illness to help strengthen your body's natural defenses, while inhaling the spicy-sweet aroma to feel calm and relaxed.
---
The statements contained herein have not been evaluated by the Food and Drug Administration. Neither Rocky Mountain Oils® nor its products are intended for the purpose of diagnosing, treating, curing, or preventing any disease. If you are pregnant, nursing, taking medication, or have a medical condition, consult your physician before using these products. 
Blend of Cinnamon Uses
Use in a DIY air freshener to promote better breathing and respiratory health, purify the air, eliminate odor-causing bacteria, and neutralize germs that may cause illness.
Apply to the upper chest to clear congestion, open the airways, and promote better circulation.
Massage into the soles of the feet to absorb anti-inflammatory and anti-microbial compounds to help strength the immune system during cold and flu season, or any time you're exposed to a bug.
Use on sore, stiff muscles and joints for relief from pain and inflammation. Great for pre- or post-workout massages.
Apply to the abdomen for relief from digestive issues such as cramps, bloating, gas, and constipation.
Add to DIY household cleaning products, soap, candles, aromatherapy jewelry, and more.
Use to naturally treat inflammatory skin conditions like eczema and psoriasis. Apply to the scalp to increase blood flow and stimulate new hair growth.
Blend of Cinnamon Essential Oil Blend Recipes
Deodorizing Room Spray
Freshen the air, eliminate odors and invite vibrant energy into any space with this natural deodorizing room spray.
1 drop Blend of Cinnamon
2 drops Clove Bud
2 drops Cedarwood
4 drops Tea Tree
4 drops Lemon
Distilled Water
Instructions: Add essential oils to a 4-ounce fine mist spray bottle, then fill the bottle with distilled water. Shake well before each use. Spray liberally as needed.
Caution: Cinnamon Bark is a "hot" oil and should always be diluted with a carrier oil prior to topical application.
Kids Safety: Safe to use on children aged 10 years and older. Dilute to a .1-.5% dilution rate with a carrier oil before application, and perform a patch test prior to application.
---
Your trust and confidence is very important to us. As part of our S.A.A.F.E. Promise™ to you, we provide GC/MS (Gas Chromatography / Mass Spectrometry) test results from a verified third party, independent lab for each one of our essential oil products.
GC/MS tests verify purity and quality of the oils we sell, so you can be sure you're using the highest quality oils available on the market today.
Click here for the GC/MS test results for your bottle of Blend of Cinnamon Essential Oil Blend.
Click here for dilution rates.
Your trust and confidence matter to us. As part of our S.A.A.F.E. Promise™ to you, Rocky Mountain Oils provides verified, third-party GC/MS (Gas Chromatography/Mass Spectrometry) test results from an independent lab for every essential oil product we sell.
GC/MS tests verify the quality and purity of every Rocky Mountain Oils product, which guarantees you're using the safest and highest quality essential oils and essential oil blends on the market.
For batch-specific GC/MS test results, click here.
Blend of Cinnamon FAQ
What is cinnamon essential oil used for?

Cinnamon Essential Oil and Cinnamon Essential Oil Blends are used for aromatherapy, boosting immunity, sanitizing surfaces, reducing inflammation, antibacterial and antifungal uses, insect repellents, air freshener and air purifiers, and DIY household cleaners. When properly diluted in a carrier oil, Cinnamon can also be used in haircare and skincare. When applied topically, cinnamon oil can help with digestive issues, muscle aches, and joint pain.

What is the difference between cinnamon leaf oil and cinnamon bark oil?

Cinnamon Leaf Oil has a softer, lighter aroma that's less potent, while Cinnamon Bark Oil is a hotter oil with a stronger, deeper aroma profile. However, both oils should be diluted prior to use on the skin. Rocky Mountain Oils Blend of Cinnamon is made from Cinnamon Bark Oil.

Can I put cinnamon essential oil on skin?

Yes. However, cinnamon is a "hot" oil and should always be diluted in a carrier oil prior to topical application. We also recommend conducting a patch test before extensive use on skin. To patch test, apply a small amount to one area of the skin, then wait approximately 15 minutes to see if any irritation or allergic reaction occurs. Discontinue use if sensitivity develops.

Is cinnamon oil anti-inflammatory?

Yes! Studies indicate that Cinnamon Essential Oil and essential oil blends with Cinnamon reduce inflammation in the body. Although cinnamon oil and cinnamon oil blends should never be ingested orally or used internally, applying properly diluted cinnamon oil may help reduce swelling, pain, and discomfort caused by inflammation.

What other essential oil blends with cinnamon?

There are many essential oils that complement the warm, spicy aroma of cinnamon. Some popular cinnamon blends include Clove Oil, Orange Oil, Lemon Oil, Frankincense Serrata, Bergamot Oil, and Ginger Root Oil.