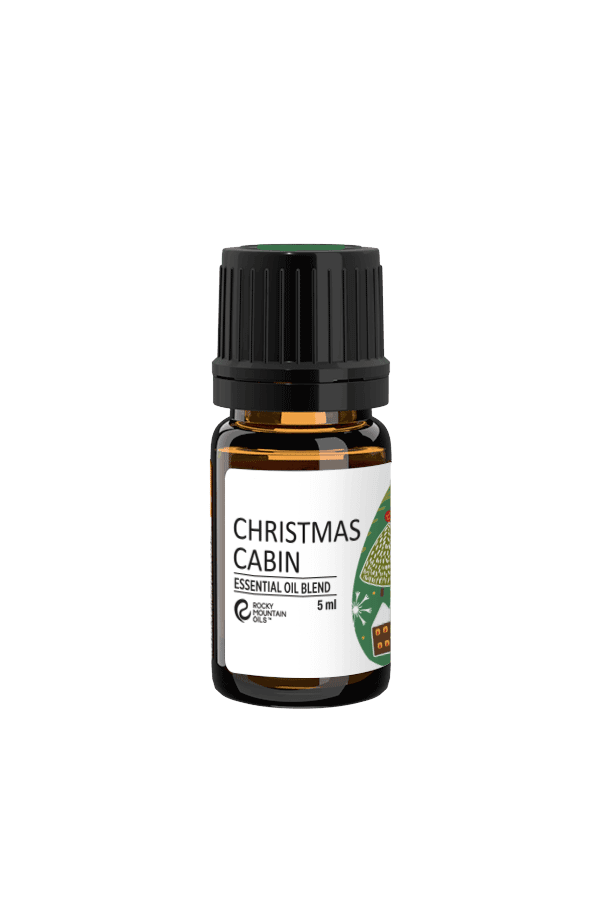 Christmas Cabin Essential Oil Blend - 5ml
GC/MS
TESTING
90 DAY
RETURNS
100% RECYCLED
PACKAGING
S.A.A.F.E
PROMISE
Create a cozy winter wonderland and fill your home with a festive forest scent with our Christmas Cabin Essential Oil Blend. Christmas Cabin is one of our favorite holiday oils, with a deep yet crisp aroma that evokes freshly fallen snow over a quaint cabin getaway.
It's a bright and cheer blend of Cedarwood (Himalayan), Fir Needle (Douglas), Cedarwood (Texan), Fir Needle (Balsam), Mint Bush, Balsam Fir (Absolute), Vanilla, Eucalyptus Dives, Tonka Bean essential oils. 
Diffuse this Christmas essential oil blend to create a festive atmosphere for holiday parties while purifying the air and banishing the winter blues. This blend has a woodsy aroma with a hint of vanilla that smells fresh, sweet, and energizing. It's also perfect for DIY cleaning products, soothing muscle rubs, first aid balms, and more. 
The essential oils in this blend also provide anti-inflamamtory benefits that may help strengthen the immune system, while antimicrobial properties neutralize odor-causing bacteria and sanitize against germs and viruses. Try diluting this Christmas essential oil in a carrier oil to help reduce redness and heal skin.
Diffuse to create a cozy, festive atmosphere that helps reduce anxiety as well as seasonal depression.
Dilute with a carrier to make a holiday travel roll-on to help combat stress on-the-go.
With a carrier oil, massage into sore muscles to reduce pain and inflammation while letting go of busy thoughts.
Add 1-3 drops to your regular skincare products to tone and brighten the skin while reducing redness.
Add to a personal aroma inhaler or aromatherapy jewelry to feel uplifted and refreshed, or apply with a carrier to wear the scent as a festive cologne or perfume.
Add a few drops to a warm bath to soak away stress and feel renewed.
Use in DIY cleaning products, soaps, candles, linen sprays and room sprays, deodorants, and more.
Cozy Christmastime Room Spray
Fill your home, office, car, or any space with Christmas cheer with this cozy and comfortable holiday room spray.
20-25 drops Christmas Cabin
4 oz. Distilled Water
Instructions: Add oil and water to an empty spray bottle and shake vigorously to combine. Shake again before each use. Spritz liberally to neutralize odor-causing bacteria and freshen your space. You can refill the water 3-4 times before you'll need to add more oils.
Dilute with a carrier oil and patch test before topical use. To perform a patch test, apply a small amount of oil to one area of the skin and wait 15 minutes to confirm that allergic reaction or sensitivity does not occur.
For external use only. Do not ingest. Do not use near the eyes, nose, mouth, sensitive areas, or on broken skin or abrasions.
Diffusing Safety Tips:
Diffuse in an open, well-ventilated area.
Keep children and pets away from the direct line of mist.
Diffuse in 30-60-minute intervals with ample break periods in between.
CAUTION: Due to the thicker, darker oils in this blend, we recommend cleaning your diffuser between each use. To remove any residual oily buildup, dip a cotton swap in white vinegar and gently wipe clean, then rinse with distilled water.
Your trust and confidence matter to us. As part of our S.A.A.F.E. Promise™ to you, Rocky Mountain Oils provides verified third-party GC/MS (Gas Chromatography/Mass Spectrometry) test results from an independent lab for every essential oil product in our collection.
GC/MS tests verify the quality and purity of every Rocky Mountain Oils product, which guarantees you're using the safest and highest quality essential oils and essential oil blends on the market.
To view the GC/MS test results for your essential oil blend, click here.
Christmas Cabin Essential Oil Blend - 5ml FAQ
Why do pine trees smell like Christmas?

The resin found in pine trees is rich in a substance called pinene, which gives them their distinctly fresh, clean woody aroma. Many people associate this scent with the holidays because of the tradition of bringing a freshly cut pine tree into the home to decorate as a festive Christmas tree. This is why many Christmas smelling essential oils use pine ingredients like Fir Needle.

Do essential oils make a good Christmas gift?

Yes! A Christmas essential oil blend can be a wonderful gift for anyone on your holiday shopping list, from family and close friends to neighbors and coworkers. These blends also make a great "stocking stuffer" for adults. Try pairing Christmas Cabin with a personal handheld diffuser for a charming holiday gift set.

Can I use holiday essential oil blends year-round?

Absolutely! Holiday essential oil blends like Christmas Cabin will lift your spirits any time of year. If you're feeling stressed out or depressed, diffusing this blend can improve your mood by reminding you of happy holidays filled with family and friends. Even if you don't celebrate winter holidays, the pleasing aroma of this essential oil blend will lift your spirits and fill your space with cozy, comforting vibes.

How do I make a Christmas scents essential oils candle?

To make a Christmas-scented candle, melt beeswax or soy wax in a pot and add a bottle of Christmas Cabin essential oil blend. As the wax and Christmas essential oil melts together, tie your wicks to a skewer or pencil and position them in the center of a glass jar or other glass container you're using for the candles. Pour the wax and oil mixture into these containers, allow to cool, then trim the wicks and light your candles to enjoy the warm and soothing aroma of Christmastime.