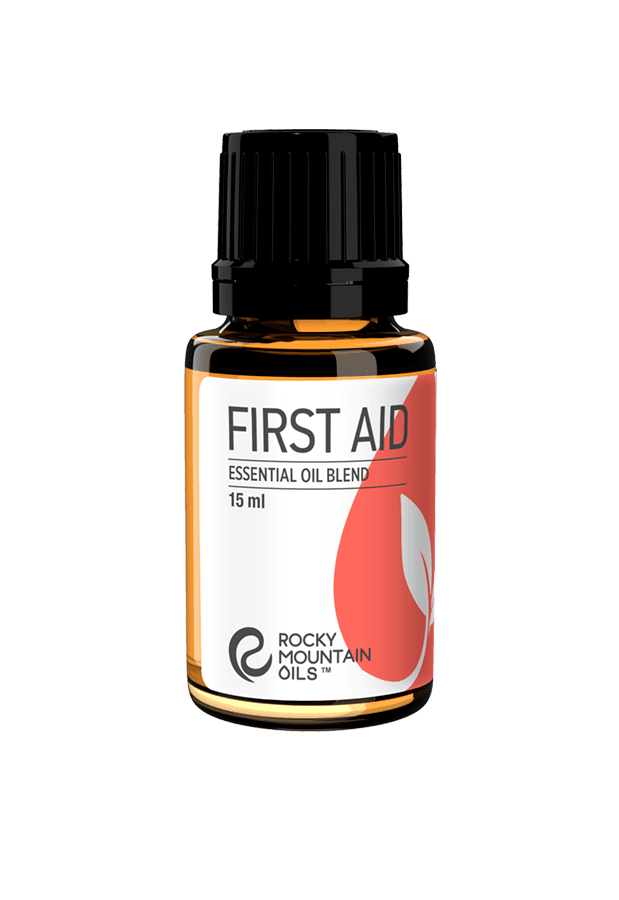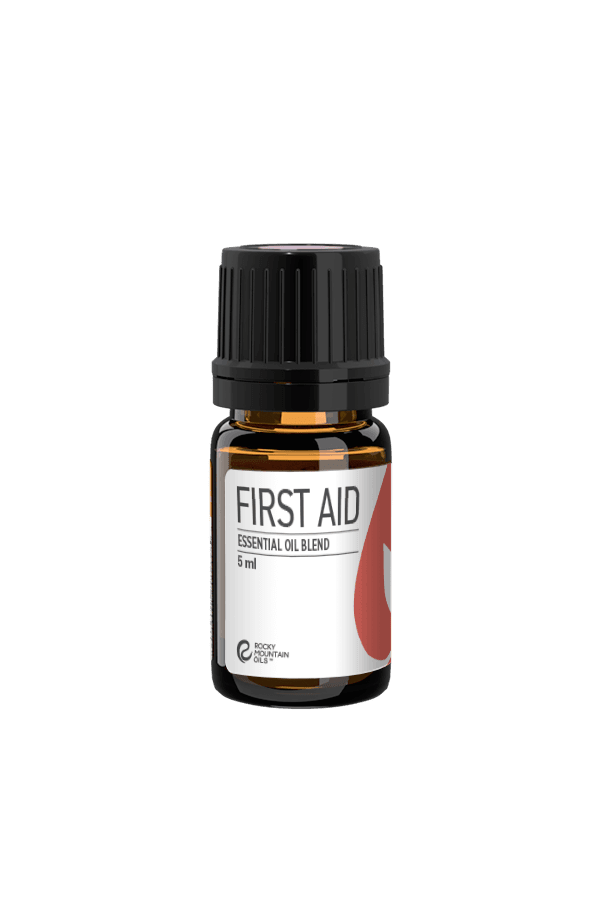 First Aid Essential Oil Blend
GC/MS
TESTING
90 DAY
RETURNS
100% RECYCLED
PACKAGING
S.A.A.F.E
PROMISE
Help your body heal itself with our First Aid Essential Oil Blend. First Aid is a powerful healing blend of Rosemary, Tea Tree, Clove Bud, and Helichrysum italicum essential oils. It offers a clean, crisp, calming aroma that's herbal, earthy, and slightly warming.
Cuts, bruises, scrapes, and burns are a part of life. When you need first aid, this essential oil blend offers natural healing benefits to promote faster recovery time. It's antimicrobial and antiseptic, which means it can help neutralize harmful bacteria that causes infections. This blend also reduces the appearance of scars as you heal.
Thanks to the Rosemary oil in this blend, First Aid is also a great essential oil blend for hair. Apply a few drops in a carrier oil onto the scalp, or add to your daily conditioner, then massage along the roots of your hair to stimulate new follicles and promote thicker, fuller hair.
Use First Aid topically with your preferred carrier oil, or add it to a personal diffuser to fill your space with a bright medicinal scent that helps lower your stress levels and promotes cognitive health. You can also add a few drops to a warm bath to soak away sore muscles.
"Learn why First Aid Essential Oil Blend is Michael & Phoenix's favorite product"
Dilute with a carrier oil to use as a natural healing salve on small cuts, burns, bruises, and abrasions.
Diffuse to support cognitive health, stimulate memory, clear mental fatigue, and reduce anxiety.
Apply to the soles of the feet to absorb benefits for healthier hair, skin, and nails.
Dilute with carrier oil or add 1-3 drops to your daily cleanser or moisturizer to hydrate skin, fade scars, treat acne, exfoliate, and tone and brighten your complexion.
Use as an essential oil for hair to balance scalp pH, reduce oily buildup and dandruff, and promote new hair growth.
Add to DIY roll-ons or keep a bottle in your backpack, bag, or purse for on-the-go use.
Muscle Soreness Relief
For relieve from sore muscles and stiff joints, try this anti-inflammatory muscle cream that's free from harsh chemicals and toxic ingredients.
20 drops First Aid
10 drops Wintergreen
1 teaspoon FCO
1 cup Shea Butter
Instructions: Melt shea butter and add FCO. Once the shea butter and FCO have melted, remove from heat and mix in the essential oils. Pour into a clean glass jar or another container and allow to cool. Once cooled, massage into affected area 2-3 times a day.
For external use only. Do not ingest. Always dilute in a carrier oil and patch test prior to extensive topical use. Click here to learn more about dilution rates.
Safe to use topically with children ages 10 years old and above. Dilute to a .5% dilution rate for topical application and patch test before using continously. Click here to learn more about using essential oils for kids.
Tips for Safe Diffusing:
Diffuse in an open, well-ventilated area.
Keep children and pets out of the direct line of mist.
Diffuse in 30-60 minute intervals with ample break periods.
Your trust and confidence are very important to us. As part of our S.A.A.F.E. Promise™, Rocky Mountain Oils offers GC/MS (Gas Chromatography/Mass Spectrometry) test results verified by a third-party, independent lab for every essential oil and essential oil blend in our catalog.
GC/MS tests verify the purity and quality of all Rocky Mountain Oils products, so you can be sure you're using the safest, highest-quality essential oils available on the market.
For batch-specific GC/MS tests, click here.
First Aid Essential Oil Blend FAQ
Can I use essential oils for injuries?

Yes, many essential oils provide medicinal benefits that help heal injuries and prevent infection. Essential oils like our First Aid blend are antibacterial, antiviral, and antiseptic, which means they can help cleanse wounds and promote faster healing. You can also use essential oils for anti-inflammatory and analgesic effects to relieve muscle pain.

Is First Aid essential oil safe to use on open wounds?

Yes. However, this essential oil blend must first diluted in a carrier oil like Fractionated Coconut Oil, Almond Oil, or Jojoba Oil. We also advise patch testing on uninjured skin before applying to cuts or sores. After diluting and patch testing, apply a small amount to minor cuts, scrapes, and burns. The essential oils in this blend will help sanitize your wounds, prevent infection, and promote faster healing. The blend may sting slightly. However, if serious irritation or allergic reaction occurs – or if your injuries worsen – discontinue use immediately.

Do essential oils help you heal faster?

Yes! Although research is still limited and ongoing, some medical studies demonstrate that using essential oils will help your body heal faster after injury or surgery. They may also help prevent infection due to their antimicrobial properties. Additionally, it's well documented that chronic stress slows the body's ability to heal itself. By using essential oils to lower your anxiety levels and release your nervous system from fight-or-flight mode, you can allow your cells to rejuvenate more quickly.

What are some other uses for First Aid essential oil blend?

In addition to first aid, you can use this blend as an essential oil for fatigue, stress, anxiety, depression, and insomnia. Try diffusing First Aid when you feel overwhelmed or have difficulty focusing. The crisp, herbal aroma of this essential oil blend will help reduce brain fog and promote clearer focus.