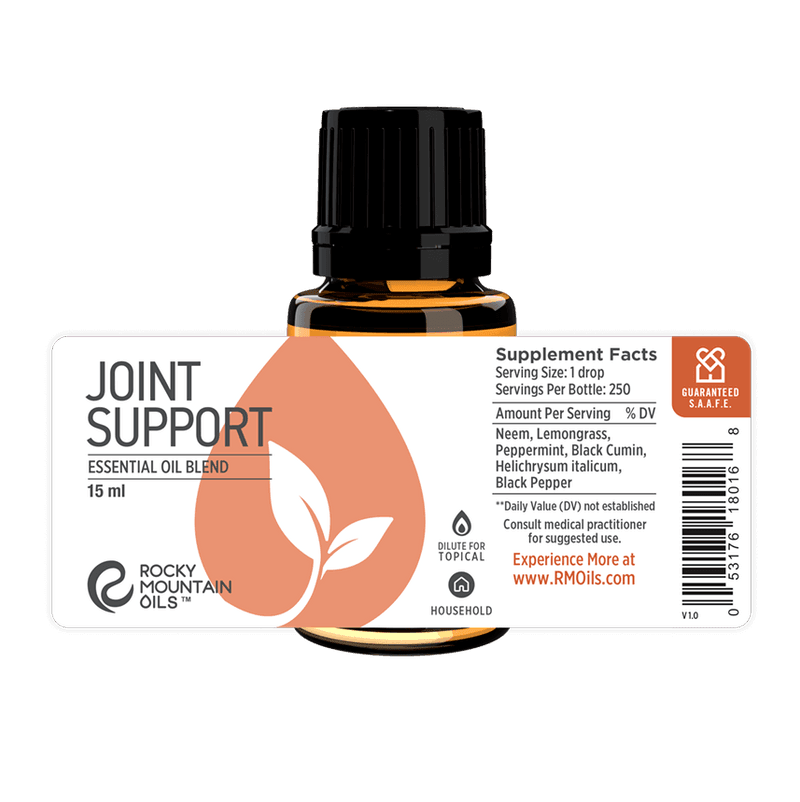 Joint Support Essential Oil Blend
GC/MS
TESTING
90 DAY
RETURNS
100% RECYCLED
PACKAGING
S.A.A.F.E
PROMISE
Feel more limber and soothe aching joints with our Joint Support Essential Oil Blend. This blend includes many oils that can each be considered the best essential oil for joint pain: Neem, Lemongrass, Peppermint, Black Cumin, Helichrysum italicum, and Black Pepper essential oils. Together, they create the ultimate anti-inflammatory blend.
Whether you're looking for essential oil for knee pain, hip pain, arthritis, or general stiffness, this blend can help. Dilute it with a carrier oil like Fractionated Coconut Oil, then apply it to the affected area for quick relief. Joint Support offers a mild cooling sensation, from natural menthol in Peppermint Oil, to gently numb pain while the anti-inflammatory compounds in the other oils take effect.
Use this blend to make a topical healing balm for pain relief without harsh chemicals or artificial ingredients. You can also add 3-5 drops to a warm bath to soak away stiffness and release tension held in the body. It's also perfect for diffusing. 
Joint Support has a strong, lemony aroma with a hint of menthol and a sweet pepper undertone. When used in aromatherapy, this scent creates feelings of deep relaxation and helps you let go of anxious thoughts. Use it to reduce your daily stress levels, which often trigger inflammation due to cortisol. Meditating with this blend can strengthen your mind-body connection and help you achieve deeper healing.
Dilute with carrier oil such as Fractionated Coconut Oil and massage into achy joints or other painful areas for relief from inflammation, swelling, and stiffness.
Apply to the soles of the feet to absorb anti-inflammatory benefits, promote better circulation, and support the body's ability to heal itself.
Use in a diffuser to fill your home or office with a grounding aroma to reduce stress and anxiety.
Add 3-5 drops to a warm bath to soak away stiffness and body aches after working out, running, or heavy physical labor.
Add to DIY first aid salves and pain relief balms, bath salts, and more.
Overused Joint Relief
When your joints start aching from overuse, show them some love with this soothing balm that naturally reduces inflammation, relieves pain, and helps you feel more limber.
30 drops Joint Support
2 ounces Shea Butter
1 tablespoon Vitamin E oil
½ teaspoon Lanolin
3 capsules Evening Primrose oil
Instructions: Melt Shea Butter and Lanolin in a small pot and remove from heat. Add Vitamin E and Evening Primrose oils. Stir well. As the mixture continues to cool, stir in essential oils and pour into a clean glass container. Allow to cool completely, then cap and label. Once cooled, apply 1-3 times daily, as needed, to affected joints.
Always dilute with a carrier oil and patch test prior to extensive use on the skin. Do not use while pregnant or breastfeeding. Do not use near the eyes, nose, mouth, sensitive areas, or on broken skin or abrasions. For external use only. Do not ingest.
Safe to use topically with kids ages 2 and up. Dilute to a 1-2% dilution rate for topical application. Click here to learn more about using essential oils for kids.
NOTE: This blend may thicken in colder temperatures. If you cannot release the oil from the bottle, hold it in your hand or place in your pocket for 5-10 minutes to warm the oil, or use a sterilized pin to widen the dropper hole.
Safe Diffusing Tips:
Diffuse in an open, well-ventilated area.
Keep children and pets out of the direct line of mist.
Diffuse in 30-60 minute intervals with ample break periods.
Your trust and confidence matter to us. As part of our S.A.A.F.E. Promise™ to you, Rocky Mountain Oils provides verified third-party GC/MS (Gas Chromatography/Mass Spectrometry) test results from an independent lab for every essential oil product in our collection.
GC/MS tests verify the quality and purity of every Rocky Mountain Oils product, which guarantees you're using the safest and highest quality essential oils and essential oil blends on the market.
To view the GC/MS test results for your essential oil blend, click here.
Joint Support Essential Oil Blend FAQ
What essential oil is good for joint pain?

Many essential oils contain powerful anti-inflammatory compounds which help naturally treat stiffness and joint pain. Several oils could be considered the best essential oil for joint pain, including Neem, Lemongrass, Peppermint, Black Cumin, Helichrysum italicum, and Black Pepper essential oils. If you experience joint pain, try these oils or enjoy them together in our special Joint Support Essential Oil Blend.

Do essential oils reduce inflammation?

Yes, most essential oils contain bioactive compounds that reduce inflammation. When used topically with a carrier oil or in a warm bath, your body will absorb these compounds and begin to heal inflamed joints as well as sore muscles. Some types of inflammation are also triggered by cortisol, a hormone released by chronic stress and anxiety. Using essential oils can help you relax more deeply and feel calmer. Over time, they may make your body less reactive to stressful situations and anxious thoughts.

Do essential oils help with rheumatoid arthritis?

Yes, studies have shown that using some essential oils may offer therapeutic benefits to arthritis patients. Essential oils may help reduce swelling and chronic pain in joints, reduces stress hormones, and help balance the autoimmune system. However, if you have a serious medical condition, it's always recommended to talk to your doctor before using new products like essential oils. If you use essential oil for joint pain and your discomfort worsens, discontinue use immediately.

How often should I use essential oils for joint pain and inflammation?

Use essential oils for joint pain and inflammation as often as needed. For flare-ups, apply directly to the affected area and massage into the tissue with firm but gentle pressure. You can also add 3-5 drops of Joint Support to a warm bath to soak away stiffness and swelling. When you're not experiencing a flare-up, you can also use this essential oil blend for daily maintenance by applying a few drops in carrier oil to the soles of your feet, or diffusing it.