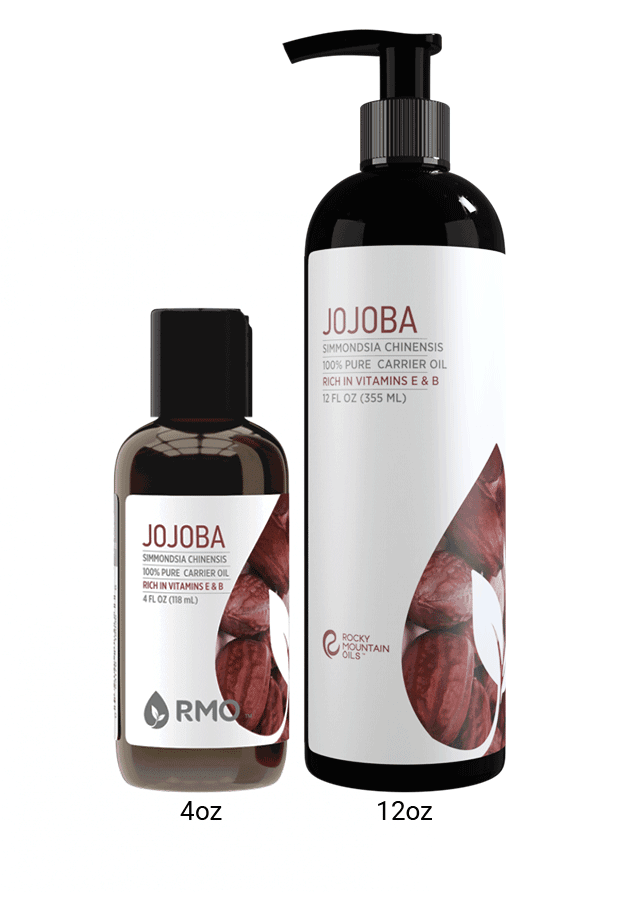 Jojoba Carrier Oil - 4oz
GC/MS
TESTING
90 DAY
RETURNS
100% RECYCLED
PACKAGING
S.A.A.F.E
PROMISE
Nourish and hydrate with this nongreasy, fast-absorbing Jojoba Carrier Oil. It's perfect for skincare and haircare on its own, or use it as a carrier oil to dilute pure essential oils for topical application. 
Extracted from the seeds of the Simmondsia chinensis plant, Jojoba (pronounced "ho-ho-ba") is a liquid wax ester that closely resembles our skin's natural oil. Thanks to this similarity, Jojoba Oil quickly absorbs, helps balance pH, and helps control breakouts caused by excess oil. It is also antimicrobial, hypoallergenic, and safe for daily use as a moisturizer or makeup remover.
With a faint aroma that's slightly sweet and nutty, Jojoba Oil is a perfect carrier oil for diluting stronger essential oils for topical use. Try using this Jojoba Carrier Oil to dilute lavender, tea tree, or other oils for DIY skincare, beauty, and haircare.
Jojoba Carrier Oil Dilution
This Jojoba Carrier Oil is a perfect compound for diluting other oils to use in skincare, natural beauty, haircare, first-aid, and more.
Many pure essential oils need to be diluted prior to topical use. They are often volatile substances that will begin to evaporate or break down before they can be fully absorbed through the epidermis. Using a carrier oil such as Jojoba Oil prevents evaporation so you and your family can experience the full benefits of an essential oil.
Additionally, some pure essential oils may cause skin irritation or exacerbate conditions like acne if undiluted. By using Jojoba Carrier Oil, you can dilute stronger essential oils to a gentler ratio for consistent topical use. Diluting in a carrier oil like Jojoba Oil is especially important before using essential oils on children and pets.
With essential oils, a little goes a long way. Using pure, undiluted essential oils does not mean you'll achieve better, faster results or more benefits. Always have a carrier oil such as Jojoba Oil to get more applications from every bottle and ensure safer long-term topical use.
Moisturizing Scalp Treatment Recipe
To add moisture and regulate a dry and flakey scalp.

Add Jojoba and essential oil drops to a glass container
Pour the blend into the palm of your hand, and then massage it into your scalp.
Let sit for 30 minutes to as much as overnight. Rinse out with your favorite shampoo.
Botanical Name: Simmondsia chinensis
Extraction Method: Cold Pressed/Refined
Country of Origin: USA
Color: Golden yellow
Scent: Soft pleasing scent
Consistency: Thin
Absorption: Quick absorption. Leaves a satin finish on the skin.
Shelf Life: Stable Shelf Life. Store in a cool dark place.
Your trust and confidence is very important to us. As part of our S.A.A.F.E. Promise™ to you, we provide FAMES (Fatty Acid Methyl Esters) test results from a verified third party, independent lab for each one of our essential oil products.

FAMES tests verify purity and quality of the oils we sell, so you can be sure you're using the highest quality oils available on the market today.

FAMES Test: Click Here

For batch specific FAMES test click here.
Jojoba Carrier Oil - 4oz FAQ
How do you pronounce Jojoba Oil?

Jojoba is pronounced "ho-ho-ba" because the word comes from the O'odham language, which is spoken by indigenous people native to Mexico and Arizona. The original word for jojoba, hohowi, means "plant that is good for everything." Over time, the spelling became standardized as "jojoba" due to the influence of Spanish settlers in the region.

Is Jojoba Oil a carrier oil?

Yes. Jojoba Oil is one of the most popular carrier oils for making essential oil blends for topical use and skincare. Jojoba closely resembles human sebum and is easily absorbed by the skin, so it won't clog pores when used in DIY face moisturizers, scrubs, or beauty products.

What's Jojoba Oil used for in skincare and haircare?

For skincare, Jojoba Oil can be used to moisturize, remove makeup, soothe irritation, and control oily skin to help prevent breakouts. When used in haircare, Jojoba Oil may help promote new hair growth, treat dandruff, tame frizzy flyaways, and help repair damage to hair caused by excess heat treatments or coloring. Jojoba Oil is also a perfect carrier oil for using other essential oils in skincare and haircare.

Does Jojoba Oil go bad?

Jojoba Oil is shelf stable for up to two years when properly sealed in an airtight container and stored in a cool, dark place. If you're wondering how to tell when Jojoba Oil goes bad, do a smell test. Fresh Jojoba Oil has a very light, faintly sweet, slightly nutty aroma, whereas Jojoba Oil that has expired will smell rancid.

Can you use Jojoba Oil as a makeup remover?

Yes! Jojoba Oil is an effective, natural makeup remover and can be used to cleanse the skin of cosmetic products including waterproof lipsticks and mascaras. Jojoba Oil will gently break down the makeup while moisturizing, nourishing, and balancing skin pH.

Is Jojoba Oil safe to use every day?

Jojoba Oil is a gentle wax ester which is considered safe for daily use by people of all skin types because its chemical composition mimics our skin's natural oil, also known as sebum. However, it is always recommended to do a patch test prior to extensive topical use to ensure you do not have an allergic reaction.