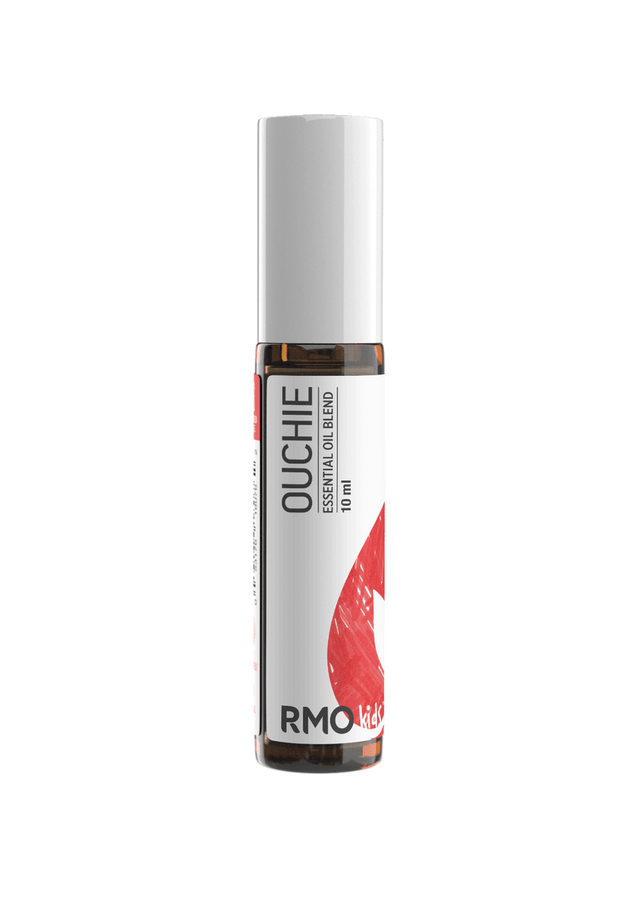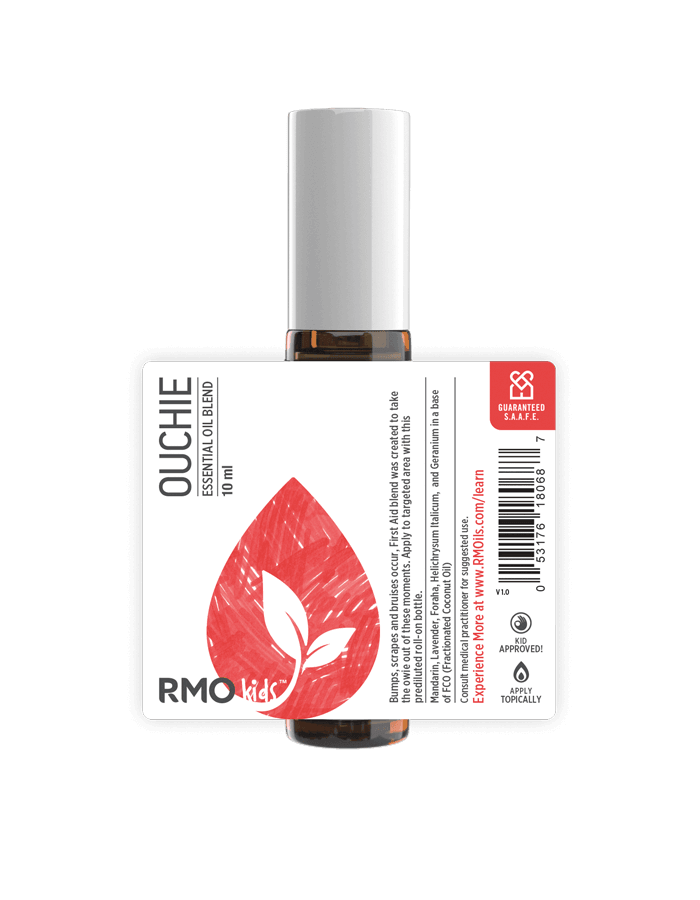 Ouchie Roll-on
GC/MS
TESTING
90 DAY
RETURNS
100% RECYCLED
PACKAGING
S.A.A.F.E
PROMISE
When your little one gets a boo-boo, reach for this Ouchie Roll-on. Ouchie is a kid-safe essential oil roll-on for muscle pain, cramps, body aches, and minor strains and sprains. It's naturally anti-inflammatory and soothing without harsh chemicals or artificial ingredients.
It's one of the best roll-on muscle pain relief products, made with pure Mandarin, Lavender, Foraha, Helichrysum, and Geranium essential oils in a base of 98% Fractionated Coconut Oil. This gentle 2% dilution is ready for immediate topical use on kids ages 2 and up. 
Our Ouchie Roll-on offers a clean, crisp aroma that's herbal, floral, and slightly earthy. It's an effective essential oil roll blend for joint pain, stiffness, or soreness after physical activity. Although this Roll-on is designed for children, it's great for pain relief for adults, too! 
You can also use this essential oil blend to calm stressful emotions, soothe irritated skin, and promote better sleep thanks to the addition of deeply relaxing Lavender essential oil.
Use this roll-on for muscle pain relief, cramps, minor strains and sprains, or general soreness from physical activity.
Roll the oil onto the affected area using gentle yet firm pressure. For added comfort, massage it into the skin in slow circular motions.
Apply the oil to the palm of your hand, rub your hands together to warm it, then take a deep breath to relieve anxiety attacks or emotional tension brought on by pain.
Rub into the soles of the feet to absorb anti-inflammatory benefits.
For topical use only. Do not use near eyes, mouth, nose, or mucus membranes. Always patch test prior to continuous use on the skin. Discontinue use if irritation occurs.
Kids Safety: Safe for kids ages 2 and up.
ALLERGY WARNING: This blend contains the tree nut Foraha (tamanu), which may cause allergic reactions in individuals with tree nut allergies.
CAUTION: This blend contains Mandarin oil, which may temporarily increase photosensitivity and the risk of sun damage. Use sun protection for exposed skin when using this product and avoid direct sunlight and tanning beds.
Your trust and confidence matter to us. As part of our S.A.A.F.E. Promise™ to you, Rocky Mountain Oils provides verified third-party GC/MS (Gas Chromatography/Mass Spectrometry) test results from an independent lab for every essential oil product in our collection.
GC/MS tests verify the quality and purity of every Rocky Mountain Oils product, which guarantees you're using the safest and highest quality essential oils and essential oil blends on the market.
To view the GC/MS test results for this roll-on, click here.
Ouchie Roll-on FAQ
Where can I use an Ouchie Roll-on?

After patch testing for safety, you can use this Roll-on on your child's arms, legs, torso, abdomen, or forehead, as well as the hands and feet. Avoid applying the healing oils near mucus membranes including the eyes, nose, and lips.

Does Ouchie offer other benefits for kids?

Yes! In addition to its healing benefits, this roll-on for muscle pain offers many aromatherapy benefits for children. It can help boost their body's immune system, improve focus and concentration, and reduce the intensity of tantrums and meltdowns. The Lavender oil in this blend can also help children fall asleep faster and sleep more soundly without nightmares or other disruptions.

How does an essential oil roll-on for muscle pain work?

Although essential oils have been used for centuries in traditional medicine, modern science is still studying how these healing oils work in the body. However, it has been well-documented in studies that many essential oils reduce inflammation, which is known to be a cause of many physical ailments including muscle pain. An essential oil roll-on for muscle pain relief, like Ouchie, also offers a soothing analgesic effect when used topically. This sensation helps numb pain receptors to reduce discomfort and allow the body to heal itself.

How often should I use an Ouchie Roll-on?

Use this roll-on at the first sign of pain, then reapply as needed while discomfort persists. However, if your child's injuries worsen or persist, discontinue use and consult your pediatrician.