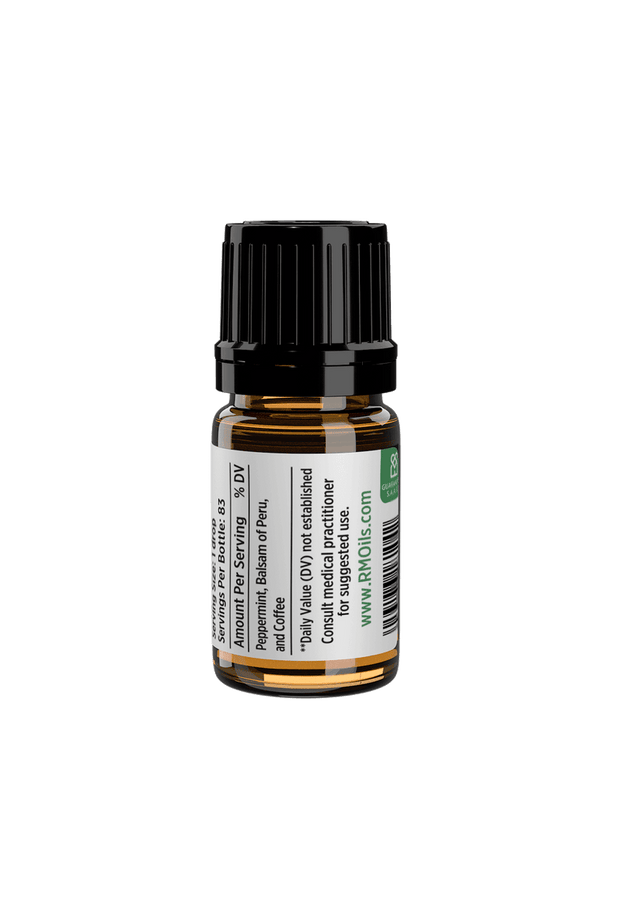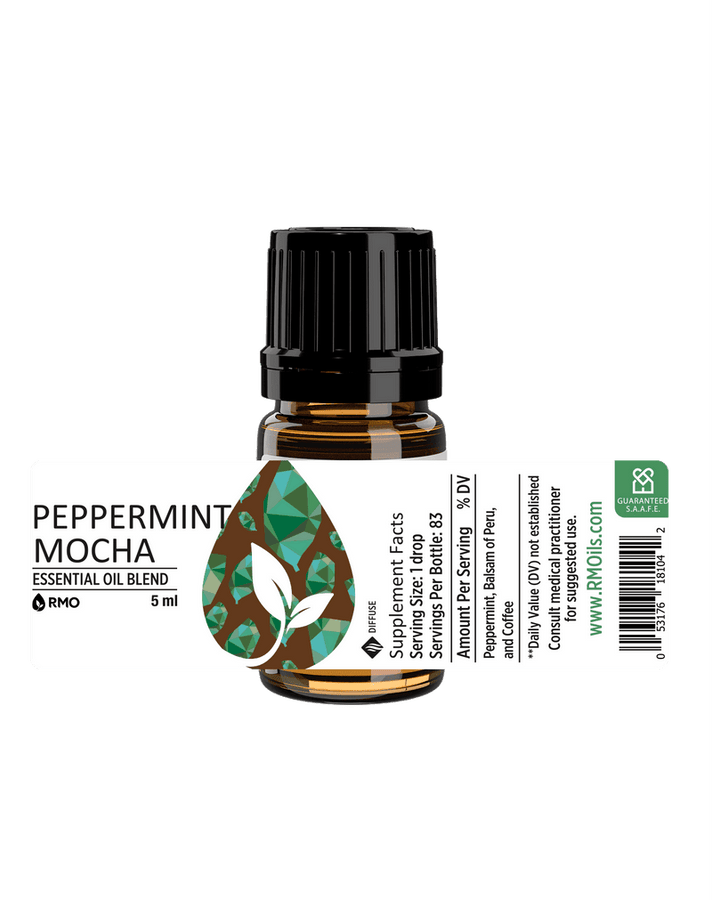 Peppermint Mocha Essential Oil Blend
GC/MS
TESTING
90 DAY
RETURNS
100% RECYCLED
PACKAGING
S.A.A.F.E
PROMISE
Feel inspired and uplifted with the delectable, cozy aroma of our Peppermint Mocha Essential Oil Blend. This signature scent combines Peppermint, Balsam Peru, and Coffee essential oils for a delicious aroma that's rich, sweet, chocolatey, and minty fresh. 
It's cool and crisp, yet evokes a warm and comfortable feeling that's like cuddling up with a good book on a chilly afternoon or hanging out with friends in your favorite coffee shop. Peppermint Mocha is naturally invigorating and helps you feel recharged while releasing stress, lifting brain fog, and clearing negative energy. It may also improve memory and enhance concentration.
Enjoy this Peppermint Mocha Essential Oil Blend in your favorite diffuser or room spray recipe, or dilute it with a carrier oil to apply topically. This blend possesses anti-inflammatory benefits and offers a cooling methol effect to help relieve pain. Additionally, it may help boost the immune system and prevent infection due to antimicrobial benefits.
You can also add a few drops of this blend to make a delightful peppermint mocha candle, soap, bath salts, room sprays, or use it in skincare products to tone and brighten your complexion.
Dilute with a carrier oil and massage into sore, stiff muscles to relieve pain and reduce inflammation. Apply to pulse points to wear as a natural fragrance.
Add to a personal aroma inhaler or inhale for cheerful energy that also feels calming and promotes mental clarity.
Diffuse to fill your home, office, car, or any space with cozy, delicious coffee shop vibes.
Add to this peppermint mocha fragrance oil to DIY candles, soaps, bath bombs, cleaning products, and more. Using this blend in natural products makes a great gift!
Uncap and inhale for a quick burst of energy to clear brain fog and fatigue. Try this blend to replace coffee and energy drinks.
Peppermint Mocha Candle
This homemade Peppermint Mocha candle is one of our favorite DIY recipes, and makes a great holiday gift!
1.5 cups Beeswax
5ml bottle of Peppermint Mocha Blend
Cotton wicks
8 oz. mason jars or other small glass containers
Instructions: Cut the beeswax into small chunks and place them in a heat-safe glass measuring cup. Fill a sauce pot halfway with water and bring it to a boil, then carefully lower the measuring cup into the boiling water to melt the wax.
While the wax melts, wrap your wicks over a pencil or skewer and center them over your mason jars or other glass containers. Once the wax is melted, add oil and stir until blended. Pour the wax into the jars. Top with optional decor like crushed peppermint candies or chocolate sprinkles. Allow to cool, then trim the wicks.
Dilute with a carrier oil and patch test before topical use. To perform a patch test, apply a small amount of oil to one area of the skin and wait 15 minutes to confirm that allergic reaction or sensitivity does not occur.
For external use only. Do not ingest. Do not use near the eyes, nose, mouth, sensitive areas, or on broken skin or abrasions.
KIDS SAFETY: Safe to use on children ages 6 and up. Dilute to a 1-2% dilution rate before applying topically on children. Click here to learn more.
Diffusing Safety Tips:
Diffuse in an open, well-ventilated area.
Keep children and pets away from the direct line of mist.
Diffuse in 30-60-minute intervals with ample break periods in between.
NOTE: This blend contains thicker, darker oils, which may stain diffusers and cause buildup. We recommend cleaning your diffuser with a damp cloth after each use. To clear any lingering oily residue, dip a cotton swab in white vinegar to remove.
Your trust and confidence matter to us. As part of our S.A.A.F.E. Promise™ to you, Rocky Mountain Oils provides verified third-party GC/MS (Gas Chromatography/Mass Spectrometry) test results from an independent lab for every essential oil product in our collection.
GC/MS tests verify the quality and purity of every Rocky Mountain Oils product, which guarantees you're using the safest and highest quality essential oils and essential oil blends on the market.
To view the GC/MS test results for your essential oil blend, click here.
Peppermint Mocha Essential Oil Blend FAQ
What are the benefits of peppermint fragrance oil?

Essential oil blends that include Peppermint oil are uplifting, grounding, and energizing. Peppermint oil helps enhance focus, memory, and reduces mental fatigue. It's also a natural source of menthol, which provides a cooling sensation that helps numb pain and relieve discomfort. It is also anti-inflammatory, antifungal, and antimicrobial.

How do I make a chocolate scented essential oil blend?

If you're looking for a delightful chocolate scented essential oil blend, why not try our Peppermint Mocha Essential Oil Blend? This blend is a delicious, delectable combination of Peppermint, Balsam of Peru, and Coffee essential oils.

Is there caffeine in Peppermint Mocha essential oil?

Our Peppermint Mocha blend includes coffee oil, which does trace amounts of caffeine. If you're using this blend on the skin, it's possible that you may absorb a very small amount of caffeine. We recommend that individuals who are very sensitive to caffeine, or avoiding caffeine for medical reasons, use this blend with caution.

Can I add Peppermint Mocha oil to my coffee?

No. Although this blend smells delicious enough to eat, it is for external use only. Do not ingest or use orally. Keep this oil out of reach of children and pets.