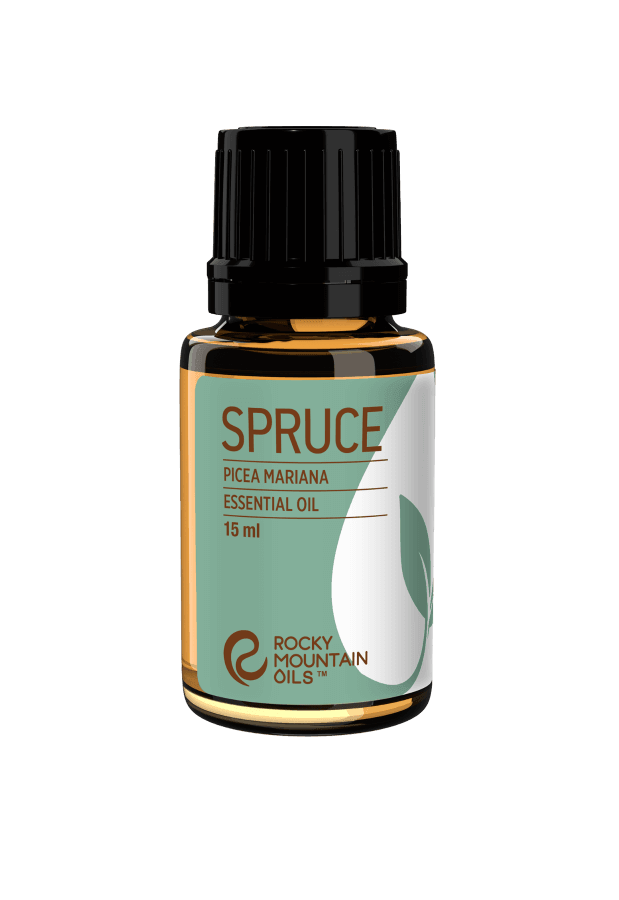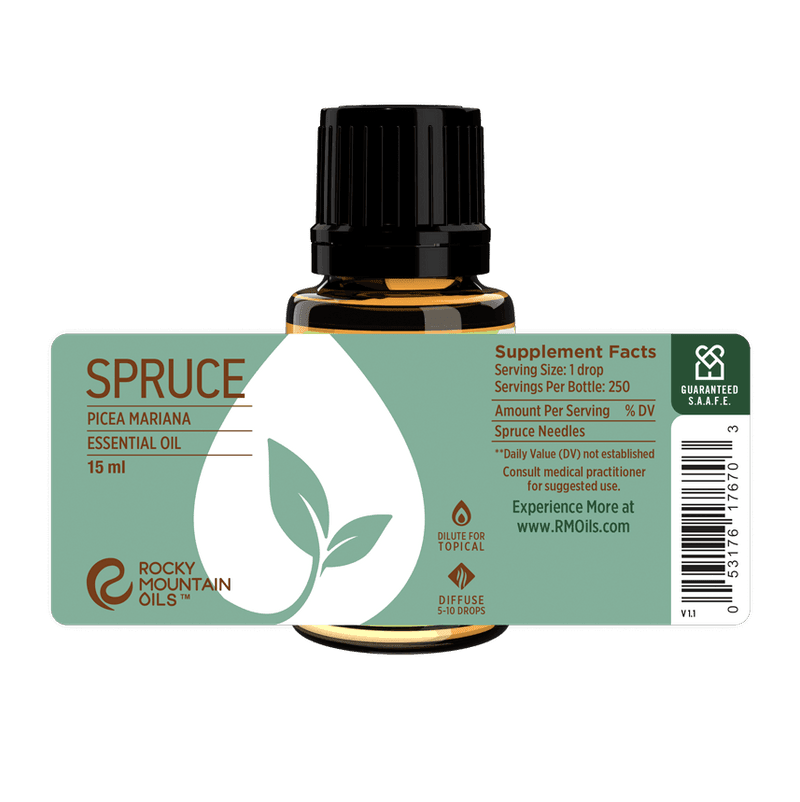 Spruce Essential Oil
GC/MS
TESTING
90 DAY
RETURNS
100% RECYCLED
PACKAGING
S.A.A.F.E
PROMISE
Call upon the natural healing properties of the forest with Spruce Essential Oil. Our Spruce Essential Oil is steam distilled from the pine needles of the Picea mariana tree. It has a medium-strength aroma that's fresh, evergreen, woody, and earthy with a top-middle fragrance note.
Spending time in forests has powerful benefits for the mind, body, and soul. Using Spruce Essential Oil (also known as Black Spruce Essential Oil) allows you to connect with nature wherever you are. It helps with mental fatigue, turns the volume down on anxious thoughts, and provides a feeling of rooted stability.
Spruce Essential Oil is a robust source of natural compounds called monoterpenes and esters. These compounds are anti-inflammatory and may help relieve chronic pain, muscle aches, and more. Additionally, studies have shown that Spruce Essential Oil may help support the upper respiratory system and ease breathing issues.
With a comforting scent that reminds many people of Christmastime, Spruce Essential Oil is also naturally antimicrobial and antibacterial. Try adding to DIY cleaning products for a natural disinfectant.
---
The statements contained herein have not been evaluated by the Food and Drug Administration. Neither Rocky Mountain Oils nor its products are intended for the purpose of diagnosing, treating, curing or preventing any disease. If you are pregnant, nursing, taking medication, or have a medical condition, consult your physician before using these products.
Spruce Essential Oil Uses
Spruce Essential Oil benefits include support for breathing problems, sinus congestion relief, hormonal imbalances, and may provide relief from pain caused by chronic inflammation.
Due to its natural antibacterial and antimicrobial properties, Spruce Essential Oil is great for disinfecting and cleaning. Dilute 1-2 drops in water or add to a carrier oil to make a natural hand sanitizer.
Diffuse or mist Spruce Essential Oil to feel more grounded and secure, calm a busy mind, and promote feelings of optimism.
Use topically with a carrier oil after workouts to maximize muscle recovery.
Perfect for meditations to connect with the Earth, animals, and nature.
Spruce Essential Oil Recipes
Forest Walk Room Spray
Try this spray to cleanse, ground, and connect with nature no matter where you are.
Instructions: Add all ingredients to a 4 ounce mister or fine spray bottle. Shake well before each use and spritz as needed. Refill the water 3-5 times before adding more oils.
Botanical Name: Picea mariana
Country of Origin: Canada
Extraction Method: Steam Distilled
Plant Part: Needles
Aroma: Conifer, Menthol, Herbal
Consistency: Thin
Blends Well With: Cedarwood, Cinnamon Bark, Cypress, Eucalyptus, Lavender, Lemon, Orange, Pine, Sandalwood
Possible skin irritant if oxidized. Use a carrier oil for topical application.

Click here for dilution rates.
Kids Safety: Safe to use topically with children 7 months of age and older. Dilute to a .5-1% dilution rate for topical application.
Practice safe diffusing:
- Diffuse in an open, well-ventilated area.
- Keep children out of the direct line of mist.
- Diffuse in 30-60 minute intervals with ample break periods for safe and effective use.
Your trust and confidence is very important to us. As part of our S.A.A.F.E. Promise™ to you, we provide GC/MS (Gas Chromatography / Mass Spectrometry) test results from a verified third party, independent lab for each one of our essential oil products.

GC/MS tests verify purity and quality of the oils we sell, so you can be sure you're using the highest quality oils available on the market today.

GC/MS Test: Click Here

For batch specific GC/MS test click here.
Spruce Essential Oil FAQ
What is spruce essential oil used for?

Mental fatigue, anxious thoughts, feeling overwhelmed, breathing problems, sinus congestion, skin irritations and outbreaks, hormonal imbalances, natural disinfectant, meditations to connect with nature, and more.

What does spruce essential oil smell like?

Spruce Essential Oil smells like fresh evergreen trees. For many people, this woodsy essential oil reminds them of Christmastime or camping in the woods. The aroma of Spruce Essential Oil is sweet, warming, piney, and earthy, and has a top-middle fragrance note that is crisp and clarifying.

What is the difference between black spruce essential oil and blue spruce essential oil?

Black Spruce Essential Oil has a deeper, smoother, earthier scent, while Blue Spruce Essential Oil is lighter and has a sharper top note that's more reminiscent of pine needles. Both types of Spruce Essential Oil offer numerous benefits for aromatherapy, natural products, and home remedies. However, Black Spruce Essential Oil is considered more versatile for blending.

Is spruce oil good for inflammation?

Yes! Spruce Essential Oil is a rich source of monoterpenes and esters, which are naturally occurring plant compounds that have anti-inflammatory properties. The monoterpenes and esters in Spruce Essential Oil may help reduce chronic inflammation and may provide relief from headaches, inflamed joints, muscle aches and strains, menstrual cramps, and more.

Can I use black or blue spruce essential oil on my dog or cat?

No. Many of the compounds in Spruce Essential Oil (including black spruce oil and blue spruce oil) are harmful to dogs, cats, and other pets. Do not use on animals and keep pets away from diffusers.

To learn more about essential oils and pet safety, please see our blog article Are Essential Oils Safe for Pets?